Upon arrival in Kilkenny we walked around town some and then went to Smithwick's for a brewery tour. There was a lot to learn about on this tour, which was very different from the one at Guinness. Here there were no displays, and old machinery, this brewery was still brewing beer, albeit not much longer. After gearing up in our safety clothes we entered the 1710 courtyard and viewed the building that the Smithwick family once called home. Next we went to a church, which is actually a national landmark that happens to be confined within the brewery. It was neat to see how after all the years of development the brewery was still able to grow around the ruined church and maintain a place for it. After that we were able to enter the brewery and see a few men at work, as well as how the machines worked. Our guide was very knowledgeable and entertaining which also made the tour enjoyable. Our last stop on the tour was the bar, and basement area where they used to store the beer that was transformed into a modern bar where we were served our complimentary pint. One neat thing that we learned is that in order to taste Smithwick's at its best it should be poured in stages like Guinness. Who Knew?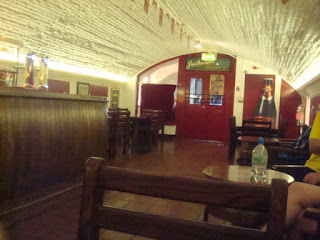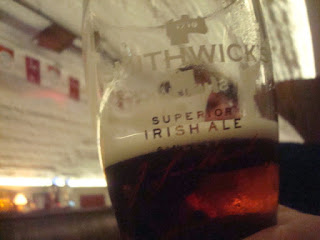 Next we headed downtown for dinner. Chuck wasn't feeling well so we started off with a pot of tea, had dinner, which I will get to in a minute, and another pot of tea. Once it started to cool off outside, we headed inside for a few beers, and a few hours later a side of fries, and some more beers. One of my favorite parts about Ireland is that it's a regular occurrence to go and hang out at a pub for hours on end, sipping tea or beer. Since they don't tip they aren't in a rush to turn tables, and they just assume you sit enjoy yourself, and make their job easy. We spent nearly 6 hours at one place and enjoyed every minute of it. I think more bars in the US should be like that.
Now for the lamb stew! Here is the recipe that I found and followed to a T. I chose to use a crock pot recipe, because with the weather in the 90's having the stove running in our tiny kitchen did not sound appealing at all. But overall I am happy with how it turned out. The rich broth, fresh vegetables and lamb from the farmers market really pushed it over the top for me. I will be making this again. I daresay it was even better than I remember it. I think starting with the bacon really helped add a little salt, and smokiness that added so much depth. My friend Amy was over and had never had lamb before, she's not really the type of person I would expect to like it either, but even she said it was delicious!
Irish Lamb Stew
Ingredients
5 sliced of bacon, diced
1 lb bone in lamb shank
½ cup dry white wine
1 ½ cups beef broth
¼ cup all-purpose flour
1 small onion, chopped
2 large carrots, chopped
2 medium potatoes, chopped
2 whole bay leaves
1 teaspoon dried thyme
½ cup frozen peas
Salt & pepper to taste
Instructions
In a large skillet cook the bacon until crispy over medium high heat. Remove and set aside, leaving the grease in the pan.
Add the lamb to the pan and brown on all sides. Once browned place the lamb in the crock pot.
Deglaze the pan with the beef broth and white wine, scraping the browned bits form the bottom of the pan. Whisk in the flour until well blended and remove from heat.
Add the onion, carrots, potatoes, bay leave and thyme to the crock pot. Then pour the broth and flour mixture over the top, scrapping the pan.
Cover and cook on high for 4 hours or low for 8 hours. 30 minutes before the stew is finished use tongs to carefully remove the shanks from the crock pot. Separate the meat from the bone with a fork and shred. Return the shredded meat to the pot, and discard the bones.
Stir in the frozen peas, cover and allow the stew to finish cooking.
Adjust seasonings and serve immediately.