Sometimes when Chuck is out of town I treat myself. He's not a HUGE fan of seafood like I am, so I take the time when he's not home to indulge. I actually made this dish for my friend Amy who came over for the evening but since I have also made it for just myself a few times I decided to make it part of my Dinner 4 one Series.
This recipe I love for summer because I can so easily walk out to my garden and collect nearly everything for the sauce. In fact this time around everything in this recipe came from my garden or someone close to me.  There is no lying when they tell you fresh is better. It is! And the delicious smell that continued to waft through my house the rest of the evening and into the next morning could not be more welcome.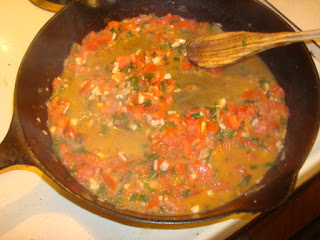 The recipe for Fresh Tomato Sauce is below, for the clams I simply grilled them on medium heat until they opened up. It's the same idea as steaming, or boiling them, but this is perfect for summer because it doesn't heat up the house, and there is way less mess.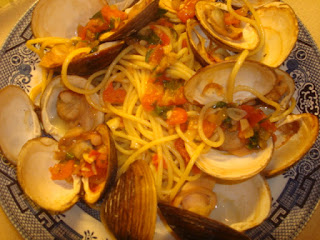 Once everything is done cooking I lay down some fettuccini, the warm clams and drown them in sauce. The recipe can be a little on the garlicky side for some (I can't ever seem to get enough), so some may want to reduce it down to 1 or two cloves depending on taste. I really hope you enjoy this as much as I do!
Fresh Tomato Sauce
1 large tomato, diced
3 cloves of garlic, minced
½ a small onion, chopped
2 tablespoons butter
2 sprigs fresh oregano, chopped
1/4 cup fresh basil, chopped
Salt & Pepper to taste
1 cup dry white wine
 Melt the butter in a skillet, add onion and cook until the onion has softened. Add garlic, and cook for roughly one minute. Deglaze with wine, and allow some reducing. Stir in fresh herbs, and simmer roughly 3-5 minutes, or until the liquid has reduced to half. Serve over prepared pasta.