Here is a fairly simple recipe that I really enjoyed, I think even better than the Maple Salmon one I posted recently, though Chuck doesn't agree, then again being a Vermonter he has a special affinity for anything maple flavored.
This recipe is pretty quick and simple, though there are a number of ingredients. I paired it with what was supposed to be summer vegetable risotto (I'm still working on perfecting that one).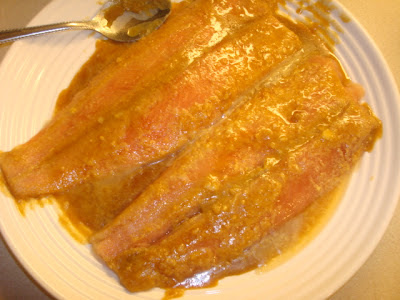 Brown Sugar & Mustard Glazed Grilled Salmon
3 tbsps brown sugar
1 tbsp honey
2 tbsps butter
1/4 cup Dijon mustard
2 tbsps soy sauce
2 tbsps olive oil
1 tbsp finely grated ginger (or 1 tsp ground ginger)
Vegetable oil
Salt and freshly ground black pepper
8 salmon fillets, 6 ounces each
Melt the brown sugar, honey and butter in a small sauté pan over medium-high heat. Remove from the heat and whisk in the mustard, soy sauce, olive oil and ginger. Let cool and pour over salmon. Allow to marinate for roughly 20 minutes. Grill on medium for 6 to 8 minutes to medium doneness, turning once after 5 to 6 minutes.