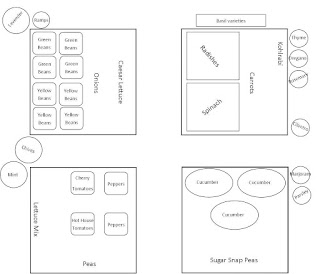 I have been waiting for a long time to have my own garden, and that time is finally here. I am so excited to have fresh produce right at my fingertips. I decided to do a raised bed garden for several reasons: First the ground here is very rocky, to the point where there are boulders right below the ground, which makes it hard for plants to root, secondly there has been pine trees on this property for years, and as many people know they make the ground very acidic, which is not ideal for many plants, lastly a raised bed helps with drainage, and we tend to get quite a bit of rain up our way. I decided to go with (4) 4-ft. x 4-ft. boxes, I know this is small but I was afraid of taking on too much for my first garden, besides the woman who lived in this house before left a ton of pots in the garage so I can very easily plant my herbs in pots around the garden which is actually part of my plan. Above is my plan sketch of what I would like the garden to be, including several of the herbs I would like to grow as well.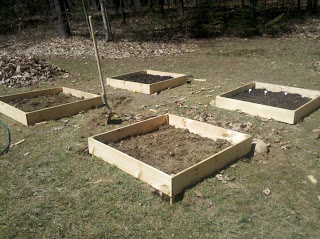 I also have a small herb garden that was left by the previous inhabitant as well that has several herbs coming to life. A few of them are labeled, but not all so I can't wait to see what actually grows here. Wild strawberries are growing all throughout our yard so I transplanted some of the larger ones to a single location on the edge of the yard and may buy a few to mix in, but I wanted a designated spot for them to grow so that they wouldn't get trampled and maybe we will get some fresh strawberries as well! To the Left is a picture of the completed raised beds with some pea and lettuce seeds already planted.
This weekend I will be planting some carrots, onions, lettuce, and spinach, as well as transplanting my kohlrabi. Below is some of the plants that i started indoors, includeing beans, cucumbers, peppers, and various herbs. They are getting so big, I am so excited to transition them outside.