This past weekend was a blustery one. Chuck and I spent most of our time cozily indoors. I was gung ho for spring cleaning, and after his hectic schedule at work he needed some r&r. There were a lot of video games, tea, beads, a few projects and some long baths. It was nice and quiet, we all need those kinds of weekends sometimes don't we?
Meals can be the same way. Sometimes we need to take the simple route, and cook not only from the heart, but with ease and grace. I know it's easier said than done and that sometimes we just feel like opening up a package of some frozen concoction, heating it and throwing it on the table. Sometimes it's a struggle to get up and chop vegetables, marinade meats, and cook it all. But like everything else in life you get out what you put in, and even just a little effort goes a long, long way.
This recipe is made for ease, and simplicity while being full of flavor. Inexpensive chicken legs are the star of the show, marinated in a mouthwatering concoction of herbs then baked until crispy; they are a great pairing with nearly any side dish imaginable, though I usually prefer some kind of rice with it.
Sometimes to make this preparation even simpler I have been known to add a few chopped vegetables to the tray such as carrots, potatoes, parsnips, or squash while the chicken is cooking. After pulling it out of the oven the chicken is plated and the vegetables are scraped, along with all the juices and crispy bits on the tray into a bowl and tossed with a little lemon juice and some fresh herbs for brightness. And there you have a full well balanced meal that is full of flavor and richness with very little mess to
clean up afterward.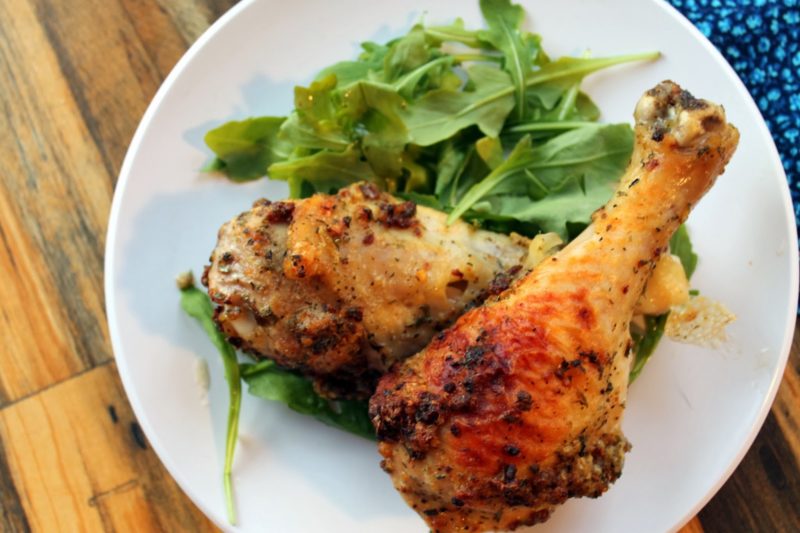 Garlic & Herb Chicken Legs
Ingredients
6 cloves of garlic, crushed
2 tablespoons extra virgin olive oil
1 tablespoon white wine vinegar
1 teaspoon salt
1 teaspoon pepper
1 tablespoon chopped fresh parsley (2 tbsp dried)
1 tablespoon chopped fresh basil (2 tbsp dried)
1 tablespoon chopped fresh oregano (2 tbsp dried)
8 large chicken Legs
Instructions
In a large plastic bag (or bowl) combine garlic, oil, vinegar, and herbs mixing well to combine.
Add chicken and toss to coat. Seal and refrigerate for at least 2 hours or as long as over night.
Preheat the oven to 375 degrees.
On a large sheet tray lay chicken skin side up and evenly spread out and roast in the oven for 45 to 50 minutes or until the juices run clear.
If the skin has not reached its desired crisp mess increase the heat to 425 degrees for the last 10 to 15 minutes.