This is a recipe for Garlic Parmesan Pasta with Leftover Chicken and fresh peppers. It's a great way to use up leftover chicken and please the whole family.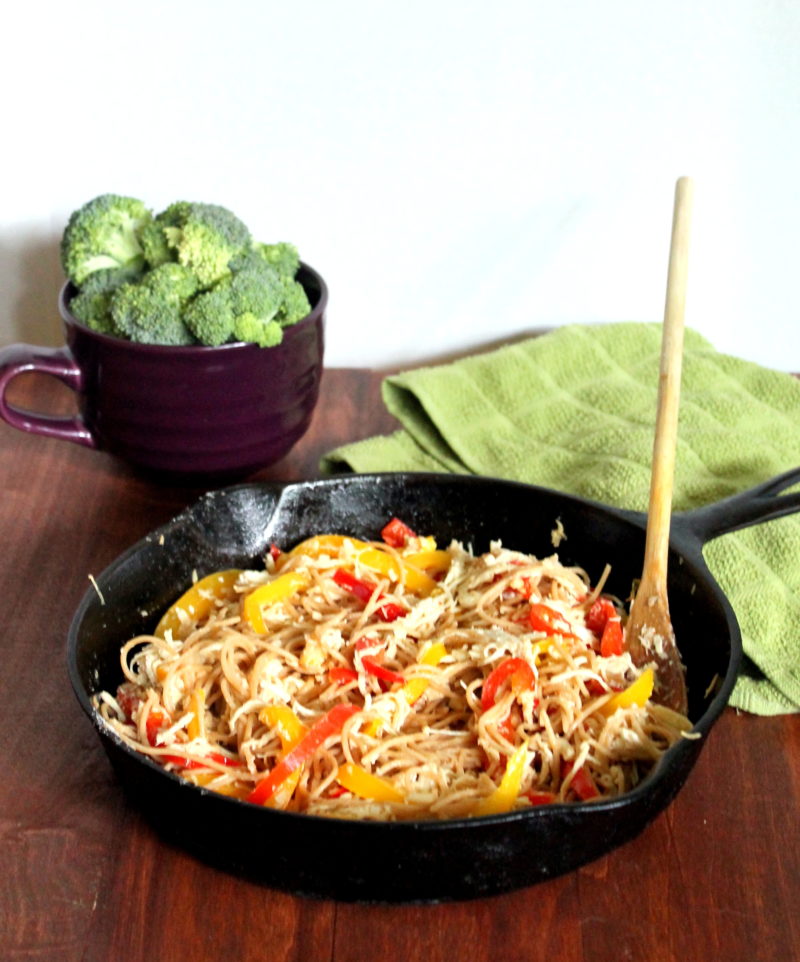 Sometimes when you stumble on fresh vegetable bounty you just have to throw caution to the wind and fly by the seat of your pants.
That's been the thing lately.
Despite not having a successful garden of our own right now we are still full of fresh veggies thanks to our family and friends. I'm so thankful that so many of them love to garden as much as I do, it has been awesome.
Zucchini, cucumbers, and green beans seem to be the big stars at the moment, though as summer winds down I'm looking forward to more tomatoes, peppers, squash, and root veggies.
Recently I walked into the store for some pantry staples and my jaw dropped when I saw the abundance of red, green, and yellow peppers lining the produce section shelves. I tossed my original dinner plan and decided to make something with these beautiful little babies instead.
I decided on a variation of Chuck's favorite Garlic Parmesan Pasta, needless to say this recipe got a double thumbs up. I just like that it's a different way to use up cooked chicken, which we always seem to have hanging around our house. The peppers wilt just a little and add a wonderfully sweet flavor to the dish balancing out the salty and creamy nature of the parmesan.
If you were interested in leaving the chicken out it would also make a really great side dish to go with a number of summer meals.
Garlic Parmesan Pasta with Chicken & Peppers
Ingredients
⅓ package whole wheat pasta
1 tablespoon olive oil
4 cloves of garlic, minced
1 red pepper, sliced thin
1 yellow pepper sliced thin
½ cup chicken broth
½ teaspoon crushed red pepper flakes
1 cup shredded, cooked chicken
¼ cup fresh grated parmesan
Salt & pepper to taste
1 tablespoon chopped basil for garnish (optional)
Instructions
Cook pasta according to package directions and set aside, reserving ⅓ cup of pasta water.
Heat oil in a large skillet over medium high heat. Add garlic and sauté for 1 minute. Add peppers and cook for another minute.
Stir in broth, cover and simmer for 4 to 5 minutes, or until the peppers have softened.
Add the red pepper flakes chicken, pasta and reserved liquid tossing to combine.
Remove from heat and add parmesan cheese and toss gently.
Adjust seasonings and serve with garnish.