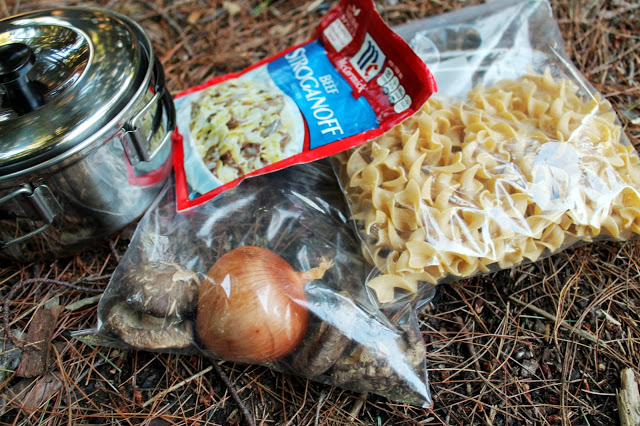 This recipe is one that came to me while standing in the
premade mix isle at the grocery store. I was standing there trying to think of
new and inventive things I could bring on our backcountry camping trip, that
were delicious, easy, and light weight. These premade mixes, though not the
healthiest are a huge help in this department because they cut down on the prep
time before you leave, are lightweight, and add a lot of flavor to what could
otherwise be just bland food. I have used them before, though I mostly just
stick to the plan gravies, I decided this time to branch out.
Unfortunately
sour cream doesn't travel well without a refrigerator, so I had to leave it
out. I also replaced the traditional beef with dried mushrooms, because they
don't need refrigeration either, and are super lightweight. Fresh mushrooms
could easily be used as well, but they don't travel as well as the dried which
can be mashed and mangled and still produce the same flavor and texture.
Hiker's Stroganoff
½ a cup of dried mushrooms, chopped

1 shallot

1 tablespoon parsley flakes

1 package dried stroganoff mix

1 cup egg noodles

1-2 cups water

Place the mushrooms in 1 cup of water to rehydrate (roughly
10-20 minutes), while chopping the shallot. Combine all other ingredients in
the pot, with enough water to cover pasta. Cook over the open fire until the
pasta has reached desired doneness. You may want to add more water if you want
a soupier result. Serve warm.