This is one of my favorite meals from this trip. It was
delicious and so much like eating at home.
One of the main goals of backpacking food is that it is
filling; you can easily loose 1000 calories in a day of hiking, and believe me
sandwiches get old fast. I like cooking orzo a lot because it is lightweight,
cooks quickly and can be altered to any flavor or taste based on what you add.
This recipe is probably the most basic recipe that I have
made with it. I personally prefer to lug around things like onions and garlic
for the sake of health and flavor, but if you are going for more lightweight
then you don't really need them, the bouillon adds a lot of flavor in itself.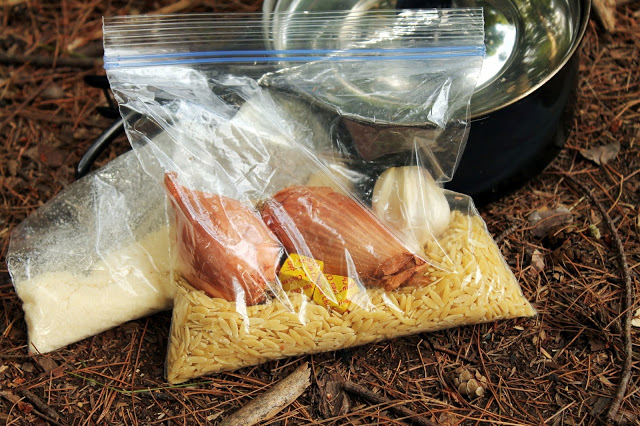 Back Country Creamy Orzo
2-3 gloves of garlic, peeled & chopped
1 onion (or shallot)peeled, and chopped
2 bouillon cubes, crushed
1 cup orzo
2 tbsp parmesan cheese

Combine all ingredients in a pan and cover with water. Place
over hot coals and allow the mixture to simmer, stirring regularly, as well as
scraping the bottom to stop the pasta from sticking. Cook until the pasta is
aldente. You may need to add more water for this, how much water you need
depends on hot your fire is, however you only want enough liquid in the pan
when the pasta is done to keep it creamy. Stir in parmesan cheese and serve
warm.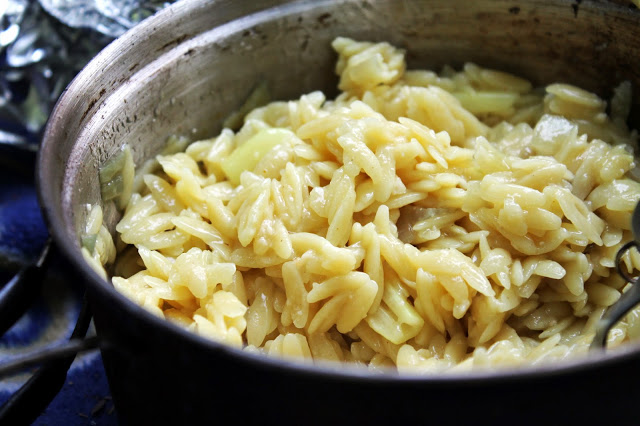 Another thing that I don't mind lugging into the woods is
fruits and veggies; it feels so good to refuel with good healthy, and natural
foods. Not all of them travel very well however, so the options can be limited.
Most root vegetables, and harder fruits (think apples, pears etc.) are good
options. For this particular meal I got a little fancy. I saw this recipe in my
Irish Pub Cook Book *** and knew I had to make it while we were camping, I mean
we usually bring a little whiskey anyway ha!
Ginger Roasted Carrots
2 cups baby carrots
1 tbsp extra virgin
olive oil
1 inch cube of fresh ginger,
cut into matchsticks
Combine all ingredients
in a large piece of tin foil, tossing to ensure the carrots are completely
coated. Create a packet with the foil and place over hot coals for 20 to 30
minutes, turning regularly. Once the carrots are tender remove from heat and
serve.