This is a recipe for a vegan Honey Chili Veggie Pizza with Lemon that can easily be made vegan and makes for a great appetizer.
Before we dive into today's recipe I want to take a moment to mention Food Blogger Pro, a website dedicated to helping food bloggers learn, grow, & monetize your blog. Membership enrollment will close on November 19th, and not be available again until spring 2016, with total membership being capped at 2,000 members! Don't wait join now before you miss out.
Now on to this cheese-less sauce-less pizza.
This is an interesting one. I came up with it on a whim as I was trying to come up with new and interesting appetizer's that are dairy free. Why dairy free you ask? Because one of our close friends has an allergy. I always make it a point to bring something that she can have, because that's what good friends do, plus it gives me an excuse to flex my creative cooking muscles. As it turned out this pizza is actually vegan and makes a great appetizer!
This pizza came together quite easily and I was pleased with the results, as was the rest of the crowd. I actually got the idea from another Blue Apron Recipe. My favorite part of that recipe was the honey chili and I thought that the cheese kind of took away from that, because well cheese is delicious and tends to steal the show. So in remaking this recipe I decided to go cheese less and on that same note I went sauce less too, using sliced whole tomatoes instead. I think this made the whole thing a lot fresher.
All in all I think this is a great summer/early fall recipe, since it's light and fresh and would go wonderfully with a nice chilled glass of sauvignon blanc. Now picture that on your back patio? Good scene right?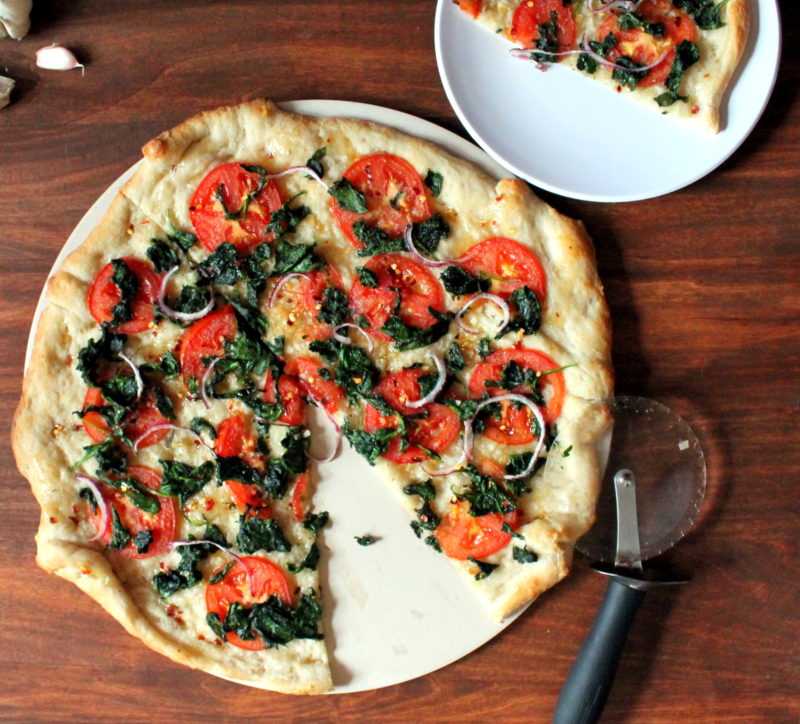 For the pizza dough you can use a pre-made store bought version or make your own. I really like this recipe and use it for pretty much all my pizzas. To make it vegan swap out the honey for maple syrup or agave.

Honey Chili Veggie Pizza
Ingredients
1 lb plain pizza dough recipe
4 tablespoons extra virgin olive oil (plus more)
3-4 gloves of garlic, minced
8 ounces baby spinach, chopped
1 tomato sliced thin
¼ red onion, sliced thing
Zest from 1 lemon
Juice from 1 lemon
2 tablespoons honey
¼ teaspoon cracked red pepperflakes
¼ teaspoon chili powder
Instructions
Preheat the oven to 475 degrees.
Lay the pizza out on a rimmed baking pan or pizza stone.
In a large skillet heat oil and garlic over medium high heat for 1 to 2 minutes or until the garlic begins to brown and become fragrant. Remove from heat and use a brush to gently spread the garlic oil over the pizza dough until it is coated in a thin glossy layer.
Add more oil to the pan if needed and return to heat. Stir in the spinach and cook for 2 to 3 minutes, until wilted. Remove from heat and set aside. Once cooled slightly use a strainer to press down the spinach and remove as much of the liquid as possible.
Arrange the sliced tomato and onions on the pizza dough. Sprinkle with lemon zest. Spread the spinach over the top of the pizza.
Place the pizza in the oven and cook for 18 minutes, or until the outer crust begins to brown.
While the pizza cooks combine the honey, cracked red pepper and chili powder.
Once browned remove the pizza from the oven and let stand for 2 to 3 minutes. Drizzle with honey chili combination and sprits with as much lemon juice as desired.
Cut into slices and serve Immediately.
What are some of your favorite pizza toppings?