It's been a while since I shared any new updates on the house, but we are chugging along pretty nicely on the monumental list of things that we want to get done. The list on the fridge seems to get longer just as fast as it gets shorter, but I guess that's just the way of home ownership right?
Anywhoodles since the wedding is over we have made the house a priority (right behind hunting season if you ask Chuck), and have gotten quite a bit done since my last update in August.
I moved the few flowers that survived the weed jungle of the front garden into the freshly weeded bed that sits directly in front of the house. I also planted a number of tulip and daffodil bulbs that I received as a wedding gift. I'm so excited to see all the pops of color in the spring.
We also got the vegetable garden beds started. I'm trying the lasagna method in these new beds. Basically you just layer organic materials in the fall to create a raised bed of soil for spring planting. I'm about half way done right now, since my injury a couple weeks ago stopped me from lifting anything heavy for a while. I just have to finish filling the last two and mulch the area that I planted garlic in.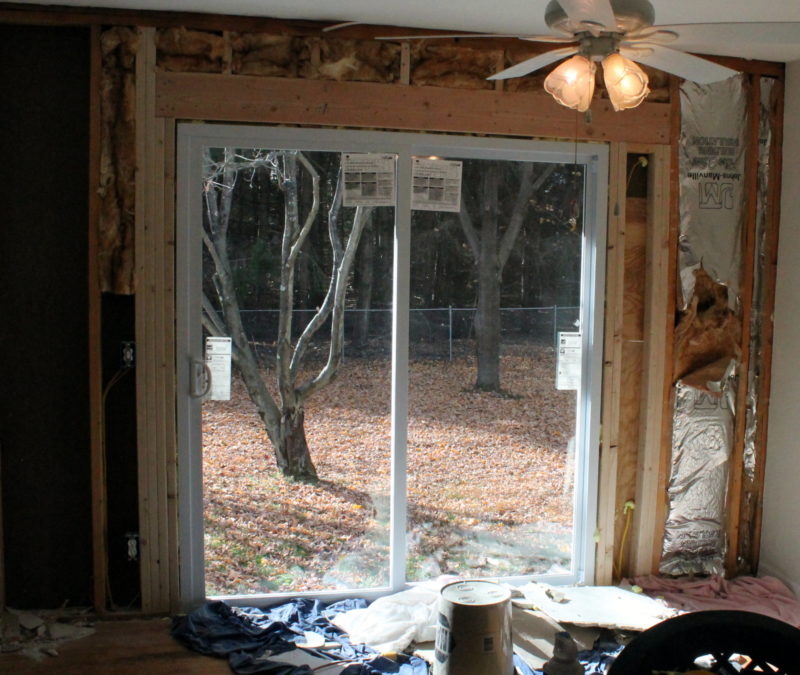 As far as the interior of the house a lot has happened there, although it may not look like it. First and foremost check out my new sliding doors to the back yard! (I originally wanted french doors, but they didn't work in the space)I'm so excited about this, not only does it allow us access to the back yard from inside the house (instead of the garage), but it lets in so much more light!! Right now it's kind of just a dangerous drop off, but we hope to put some stairs in before winter hits. in the spring or summer we will start work on the deck and patio. Eeek I'm so excited to be able to entertain outside!
There was hours and hours worth of organizing done. It's a constant battle right? I wish that I had taken before pictures of my closets to prove how bad it was before the wedding.
We got the majority of the guest room complete, hanging the last shelves and removing the extra boxes we had in there. Now I just have a few more decorative pieces to add and I think it will be done.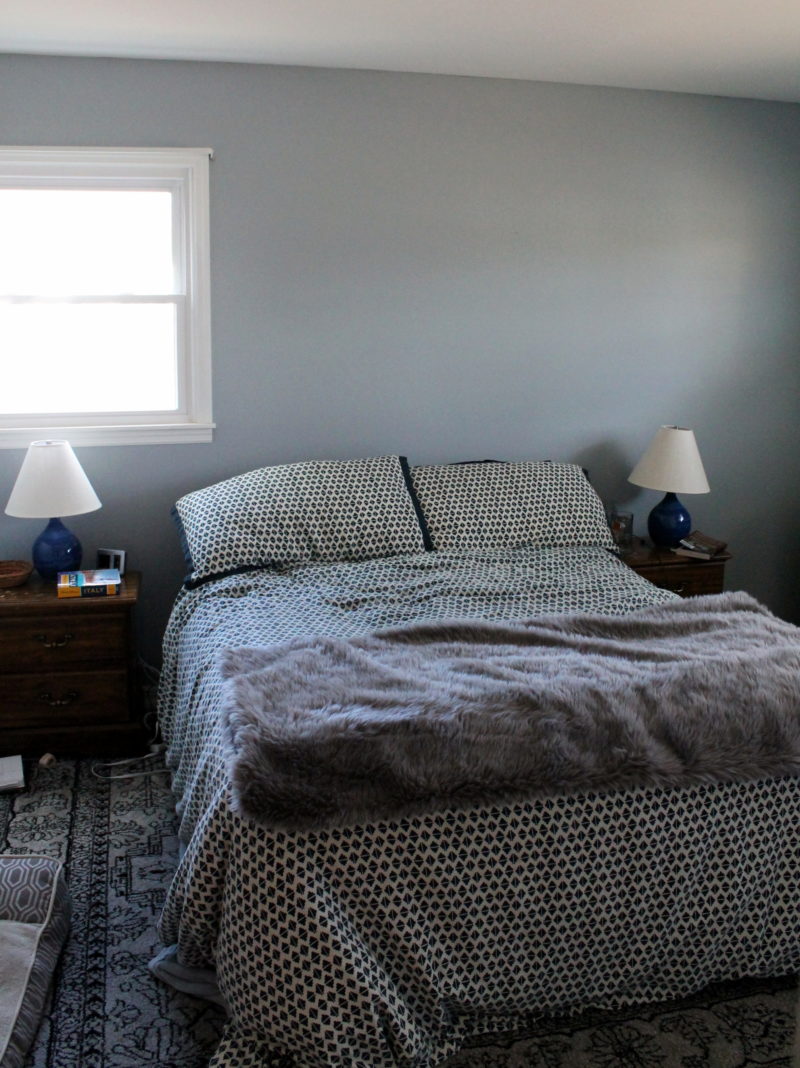 The master bedroom is another project that we have been working on. The brown walls have been replaced by a beautiful blue-grey color. We ordered a new rug for around the bed and finally put the new lamps that we got as a wedding gift in place. We still have to put molding around the ceiling, add curtains, finish the closets, figure out a plan for the dressers since this set clearly doesn't match (and needs pulls), and add some decoration to the walls. You can see the original color of the room in this post.
Now I have a question for you folks. How on earth do I dress these stubby little windows? I originally planned on long curtains, and I might still do that, but with the furniture there it seems really cluttered. Any advise?
As we head into winter I'm happy with all the projects we were able to complete, and I'm excited to get started on some more interior projects. I know the house is probably always going to be a work in progress but it's a process that I really am enjoying.