***this post has been updated here.
I think the roasted red pepper is a very versatile ingredient, and it can be used in so many different ways. As a topping on a sandwich, burger, or sausage, mixed into dips such as hummus, barbeque sauce or mayo, even as a salad topper.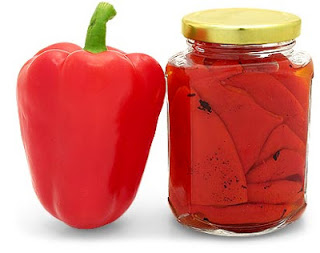 Now I know that a lot of people buy them from the store packed in oil, but the jarred kinds can have additives and preservatives, that are just down right unnecessary, besides in summer peppers are in season, so they are cheap on their own.  It doesn't take much to roast them yourself and they can add so much to a meal.
Here's how I do it:
1) Lightly rinse off peppers
2) Place on a preheated grill, or hold over a gas stove flame with tongs. Keep over flame  until the skin begins to blacken, roughly 2 minutes per side
3) Remove from heat and place in an enclosed container. This allows the pepper to "sweat" which will make removing the skin easier. Keep covered for roughly 10-15 minutes.
4) Remove the stem and seeds. Then carefully remove the blackened skin with your fingers. It may also help to run the skin against itself.
5) Once the outside skin is removed simple slice the remaining pepper into ½-1/4 inch sections and serve.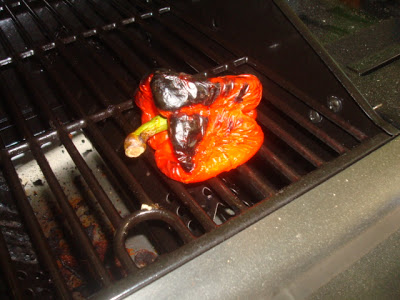 You can even roast a few extra peppers and pack them in oil in a leftover jar. They will keep in a fridge like that for a few weeks so you can use them in all kinds of things!
Now since I have freshly roasted red peppers I thought I would make a little puree to go with dinner. Something as simple as a puree can really add a whole new dimension to a simple dish such as the herb grilled chicken shown here. I really think it gives it that extra restaurant quality that makes it special.