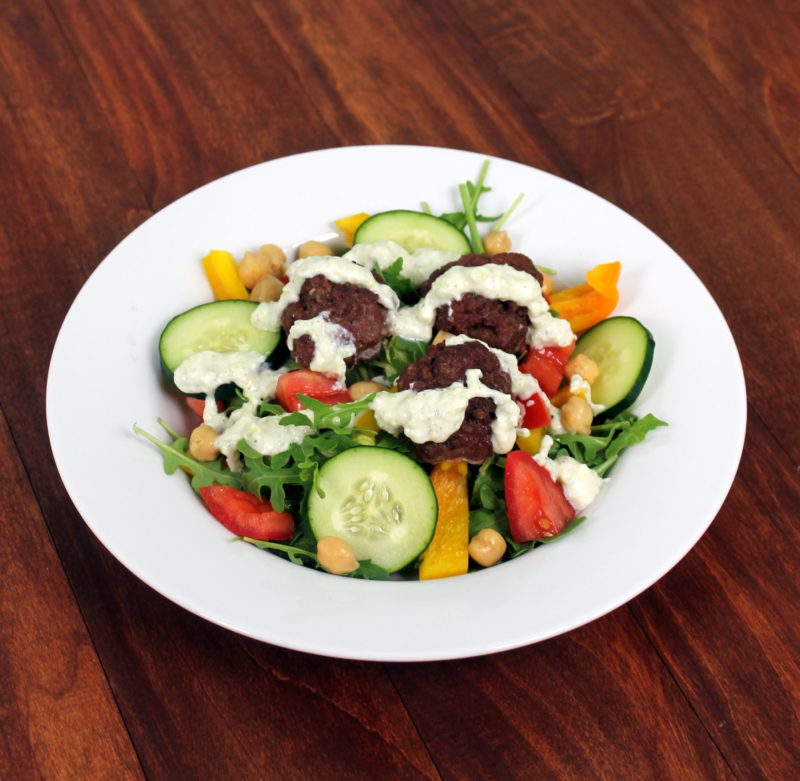 We eat a lot of salad in this house.
Like a lot of salad.
We are talking basically everyday for lunch and a dinner or two each week, sometimes more. Its A LOT.
Why so much salad you ask? Because it's easy, it's healthy and you pack a ton of veggies into salads and we love our veggies. But really sometimes we need to spice it up a bit right? Right.
I've been dreaming of warm summer days that are coming soon. I'm hoping that by then my deck might look a little more put together and my grill could possible be used for more than a tool rest. I'm picturing the kind of days we had the last time I made Kofta, with pretty blue skies and toasty warm weather. It's coming man, I can feel it.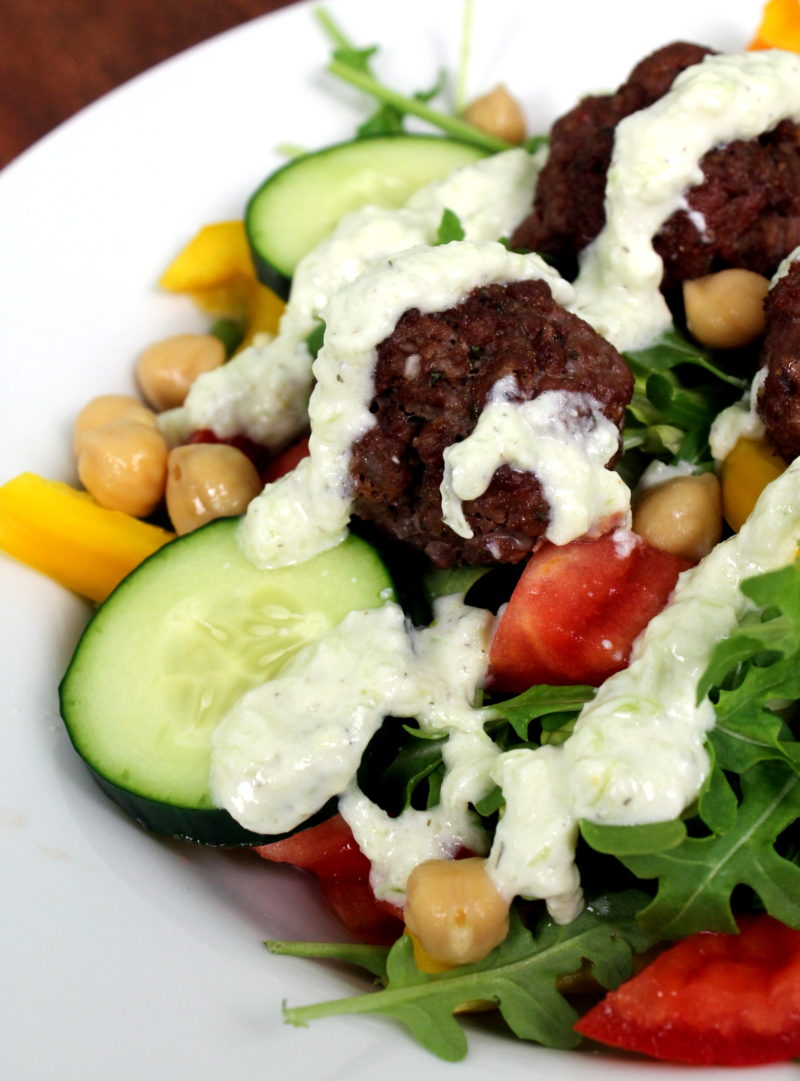 I decided to make Kofta Meatballs last week as a way to bring back those summer feelings and really liven up our kind of tired salads. I'm over winter vegetables for a little while man. I just want a really nice sun warm tomato right now so this salad hit the spot for the whole house.
The warm meatballs are bursting with flavor that is perfectly balanced by the cool and creamy tzatziki. You really couldn't ask for a better summer salad.
Kofta Meatballs with Tzatziki
Ingredients
1 lb lean ground lamb, beef or venison
3 garlic cloves, crushed
1 ½ teaspoon ground ginger
3 tablespoons fresh parsley, chopped
1 tablespoon fresh mint, chopped
2 teaspoon cumin
2 teaspoon coriander
1 teaspoon cinnamon
1 teaspoon fresh ground black pepper
1 teaspoon salt
Instructions
Preheat the oven to 400 degrees and spray a large rimmed baking sheet with cooking spray.
With your hands combine all ingredients in a bowl and mix until well combined. Using your hands shape golf ball sized balls and place them on the prepared tray about 1 inch apart.
Place in the oven and bake for 20 minutes. The meatballs should be browned and cooked through. Remove from heat and serve.
Tzatziki 
1 medium cucumber, peeled, seeded, shredded, & drained
1 cup of Greek yogurt
1 clove of garlic, crushed
1 tsp lemon zest
1 tbsp lemon juice
2 tbsp fresh dill
sprinkle fresh ground pepper
Combine all ingredients in a bowl and stir until well combined.
Serve chilled.