Oh the goodness. I cannot even begin to tell you how delicious this recipe is. From the intriguing flavor of the spiced lamb, to the cooling effect of the tzatziki, and the light fluffy texture of the pita there is so much awesomeness going on I can't even describe to you.
It's surprisingly not spicy, I say surprisingly because Middle Eastern food makes me think spice, but maybe that just goes to show that I need to step out of my box more.
Don't leave out a single spice, they blend together so well that I can't imagine any of them not being together. Also don't skimp on the spices, they are completely necessary to make this thing work. Though you can use whole ginger (about ½ inch piece peeled) I opted for
Penzys Dried ginger
 because I never use up a whole root before it goes bad, and it's a waste. Also Penzys cinnamon is the bomb just saying. In fact you should probably just go check out the entire store and stock up on everything there. Here is a store locator. No this is not a sponsored post, I just love that place.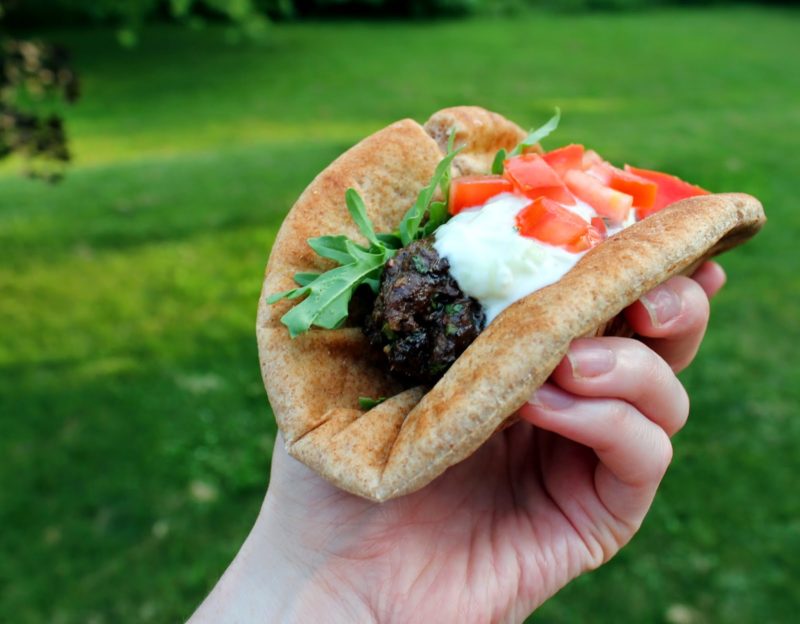 You could potentially use beef if lamb scares you, or is too expensive, but honestly I think the flavor of the lamb is what makes the spices work so well, and it the perfect vehicle, so really don't mess with that either.
 Tzatziki is awesome, enough said.
As for the pita, please, please don't break them open. Simply toast them up a bit and fold that beautiful round thing like a fluffy taco to hold all of your lamb-tzatziki goodness.
Toppings are simple, a bit of tomato, and arugula for a bit of brightness and crunch.  Then go right ahead dig on in. Let the juices run down your hand and make a big old mess. It's good. So good. Go ahead and enjoy it. You know you want to.


Kofta Kabobs (Recipe Adapted from TheBlackPepercorn.com)
1 lb lean ground lamb
3 garlic cloves, crushed
3 tbsp fresh parsley, chopped
1 tbsp fresh mint, chopped
2 tsp cumin
2 tsp coriander
1 tsp cinnamon
1 tsp fresh ground black pepper
1 tsp salt
Combine all ingredients in a bowl and hand knead until well
combined (Note: if using wooden skewered soak them in water for 15-20 minutes
before using them). Break the meat into 4 equal sections and form long thin egg
shaped balls. Thread them onto a skewer and place them onto a preheated grill.
Cook for 12-15 minutes, turning regularly until the center is no longer pink.
Remove from heat and serve with pita, and tzatziki. (Serves 4)


1 medium cucumber, peeled, seeded, shredded, & drained
1 cup of Greek yogurt
1 clove of garlic, crushed
1 tsp lemon zest
1 tbsp lemon juice
2 tbsp fresh dill
sprinkle fresh ground pepper
Combine all ingredients in a bowl and stir until well combined.
Serve chilled.
So maybe I didn't actually list a million reasons, but I think I praised it all well enough to make you see the light.