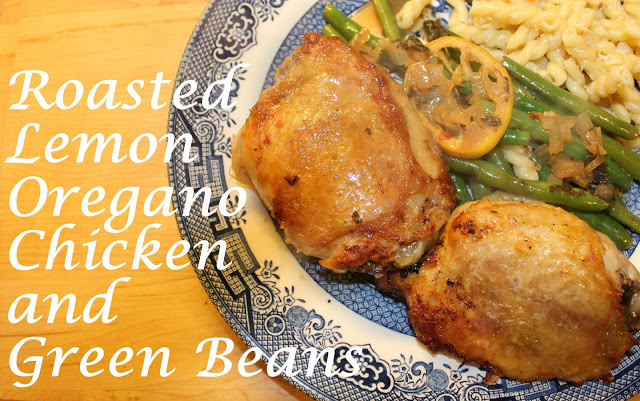 Today I want to share a recipe that I have made a few times. It is delicious! As well as a wonderful recipe to dress up a cheaper cut of meat. Now the original recipe called for boneless chicken thighs but after making it a few times I have altered it for bone-in thighs because let's be honest that's what usually on sale, and we all like it when we can use things that are on sale.
Another huge alteration is that I added some green beans to the mix. As you may know I am trying to add more vegetables to our diets, I am trying to make them the superstar of our meals, as opposed to the meat, and well though there isn't much for vegetables in this one it's certainly a start.
Lemon Oregano Chicken & Green Beans
1 lemon, sliced thin (discard seeds)
4 Large skin-on, boneless chicken thighs (for bon in us (x) cooking times)
Salt & pepper to taste
1 tbs olive oil
3 sprigs of oregano
1 minced shallot
1/8 tsp crushed red pepper flakes
1/4 cup dry white wine
1/2 cup low-sodium chicken broth
Preheat oven to 425°. Season chicken thighs with salt and pepper. Heat oil in a nonstick, oven safe skillet. Place the chicken skin side down and cook through, pouring off excess fat. Allow the skin to brown, for roughly 10 minutes (15-20 minutes). Scatter half the lemon slices over the chicken and the other half on the bottom of the skillet and place in the oven, roasting until the skin is crisp and slices in the skillet have caramelized, 5-8 minutes (10-15 minutes). Remove the chicken to a plate, skin side up (to keep it crispy), as well as the lemon from the skillet, leaving the slices on top of the chicken in the pan. Over medium heat add oregano, shallot and red pepper flakes. Cook until the shallot begins to soften and the mixture smells fragrant, about 1 minute. Add the green beans and toss. Add in the wind and continue to cook until it has reduced by half, 2-3 minutes. Next add in the broth and cook until thickened, about 3 minutes. Adjust the seasonings and return the chicken (skin side up) and lemons to the skillet to rewarm. Serve with sauce from the pan drizzled on top.
I suggest making a mellow side dish of pasta, without much fuss on it, maybe just some parmesan cheese, because the sauce from this dish is so good you will want to dowse your whole plate in it. The super crispy skin and crisp green beans add a dimension of crunch and taste that marries so well together you will think you've died and gone to heaven, at least that's how I feel about it. Every time I make this I feel as though I'm eating at a restaurant. And leftovers the next day are just as good, though you may lose some crispiness on the skin, the sauce has had time to really soak in and it's downright dreamy. Can you tell how much I like this recipe?
On a side note I am thinking of doing a giveaway soon. Any ideas?