I decided to separate house and garden updates because I have so much to talk about in the garden, and while house projects are happening they are happening at a bit slower pace.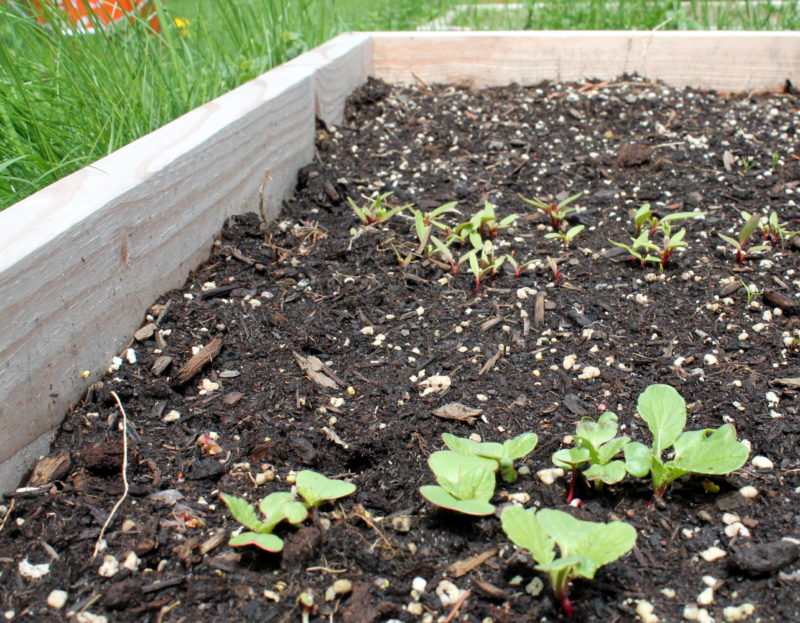 In early April I started some cooler weather plants, such as lettuce, radish, chard and peas, which have slowly been making their appearance as the days go by. Because I planted them so early I used a bit of plastic stretched over the top of the boxes and held down by some wood we had laying around to help fend off any frost. For reference I used 3.5 mm plastic bought in the paint section of Wal-Mart (it's similar to this). The flower bulbs and garlic that I planted last year also made their appearance and despite a late season snow storm bloomed beautifully throughout the yard. When I planted them I had followed the package instructions on spacing, but after seeing them come in I think this fall I will dig them up and place them closer together. Most of the other gardens I've seen have them much closer together than they currently are in my garden.
In addition to these few starts chuck and I planted 10 blueberry bushes along the property line to the right of the house. Hopefully in a few years these guys will be producing berries and grow up enough to be a nice privacy hedge as well.
We also have a bunch of thinnings that came from Momma Chucks garden that need to get in the ground. She gave us everything from raspberries, to roses and lilies so it's going to be fun to find spots for all these babies.
I would have liked to get a bit more done over Mothers Day weekend, but unfortunately my shoulder has really been bothering me and the doc told me to take it easy. I might have to have Chuck help me out this week to get everything in on time as well as fill the rest of my garden boxes with dirt for summer plantings like tomatoes and peppers.
I'm hopping I'll be able to get a few more veggie seeds in also since that shouldn't bother my shoulder at all. Things like beans, more lettuce, maybe some cabbage and other things.