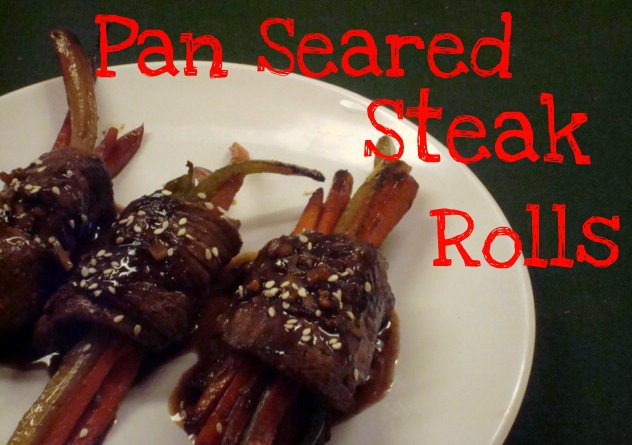 I have seen this recipe bouncing around the internet published by several people, though I believe the original was Steamy Kitchen (http://steamykitchen.com/363-pan-seared-steak-rolls.html). I love sesame, and soy, and you will find them in a lot of recipes I share here, such as Asian Marinated Scallops, and Double Crunch Sesame Chicken. When I saw this recipe I got very excited. First off it looked delicious. And though at first impressions it looks complicated and time consuming the recipe read like a dream, and it didn't look so hard, plus it was the perfect thing to bring to a potluck for something different, and the guest get their own individual roll!
As always I made a few minor changes to the original recipe, linked above. I fiddled with the marinade a bit, and changed the sauce to make a thicker version. I like thick, rich sauces; personally I find them more comforting, and less messy, as they don't run all over the plate.
Asian-American Pan Seared Steak Rolls
Thin Sliced sirloin steak
Marinade
2 tbs Worcestershire sauce
1tbs soy sauce
1 tsp garlic powder
1 tsp fresh ground pepper
Filling
1tbs Olive Oil
1 tsp minced ginger
1 clove garlic, minced
1 carrot, but into match sticks
½ red bell pepper, cut into match sticks
2 ribs celery, cut into matchsticks
1 tbs soy sauce
1 tsp sesame oil
12 chives, cut roughly 3-4"
 Sauce
1-2 cloves garlic, minced
1 tsp sesame oil
2 tbs soy sauce
1/2 cup chicken broth
1 tbs honey
1 tbs flour
1 tsp sesame seeds
Combine marinade in a bowl and add steak. Marinade for 15-30 minutes. Meanwhile Prepare the filling. Begin with a medium sized skillet and sauté garlic and ginger for just under a minute. Add all vegetables except chives, soy sauce & sesame oil and fry for another 1-2 minutes. Remove from heat and set aside. Meanwhile in a small saucepan whisk together sauce ingredients, bring to a boil, then reduce to a simmer. Simmer until thickened and reduce heat to warm. For the rolls; fill meat slices using chives and cooled filling, rolling the meat around the filling and securing with a tooth pick. In a medium skillet heat another tbs of olive oil and place the rolls, seam side down in the pan. Cook for one minute, before turning. Continue to cook, and turn rolls until meat is cooked through to desired doneness. To Serve plate, and remove toothpick, drizzle sauce over top and add sesame seeds. Serve warm.
As I said before this recipe looks complicated, but is actually super easy, and delicious, not to mention it can easily be a clean recipe; just use whole wheat flour, low sodium soy sauce, and chicken broth, and extra virgin olive oil. What a great recipe to use for potlucks, or appetizers at a party, and you can tell your guests that it's clean!
I think this one will be sticking around for the holiday season.