What more need be said? This recipe is simple and easy, and I cannot believe I have yet to post a carbonara recipe!
This is one of those stand by recipes that I love to have in my back pocket, anytime I have extras laying around the fridge to be used I whip up a carbonara. All you really need is a fatty meat, some pasta, an egg, and parmesan cheese. I like to through in some leafy greens, or onions and peppers, even sundried tomatoes and the like. I would like to point out that this is not a traditional carbonara, but a simplified version, one that is easy enough for anyone to throw together in a snap.
I think that this particular recipe is great for fall, especially if you use a smoked bacon, and don't be shy about swapping spinach for kale, it lends itself wonderfully to this recipe!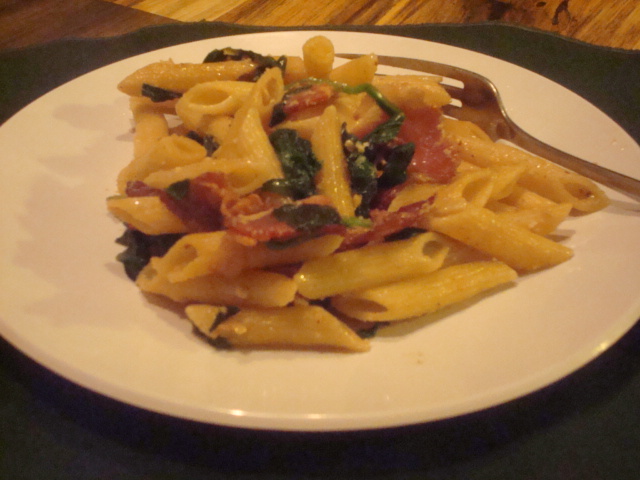 Quick Bacon Spinach Carbonara
1 lb dried pasta
½ lb bacon, cut into ½ inch chunks
2 large eggs
1 cup Parmesan cheese
2 cups baby spinach leaves
Salt & Pepper to taste
Place a pot of salted water over medium-high heat to boil. In a large skillet cook bacon until crisp. Drop the pasta into the boiling water and cook for roughly 5 minutes. While the pasta cooks whisk together the eggs and parmesan cheese and a touch of pepper in a small bowl. When the pasta is ready (very aldente) ladle about ½ cup of the pasta water into the egg, cheese mixture, continuing to whisk. Return the skillet to medium heat. Drain the pasta (reserving some of the cooking lioquid) and add to the skillet. Toss the pasta with the egg mixture until it is completely coated, adding more cooking liquid if it seems dry. Add spinach leaves and toss. The leaves will wilt a little, if you prefer them more wilted cover the skillet for 2-3 minutes. Serve immediately, while warm with parmesan cheese sprinkled on top.
Tip of the Day: Adding the pasta right to the pan with the sauce for it while it is still very aldente allows the starches to capture the sauce and bind it to the pasta, meaning there is more flavor in every bite!