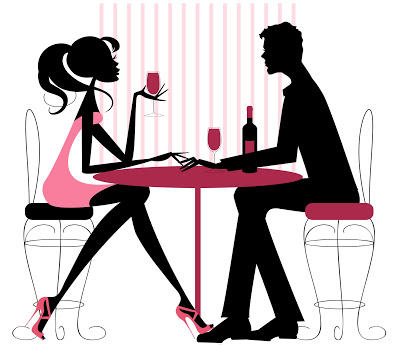 Source
Chuck and I we like to eat, we like to go out, and definitely enjoy the finer things in life. The problem with this is that it costs money; money that we don't always have. I don't think lack of funds should mean that we need to give up date night. I think that date nights are extremely important to any couple. That's why I decided to turn my dining room into a romantic dinner for two. Some dollar store candles, and a little Michael Buble can make a world of difference.
Next all I needed to do was some planning, and cooking. Don't frown at the idea of having to work for your date night. Pour a glass of wine, start some music, and cook in your date outfit, because nothings sexier than a cocktail dress, heals, and an apron.
The Menu:
Seared Scalloped with Apple Cider Beurre Blanc (See Below)
Baked Apples with Vanilla Ice-cream, and Caramel Sauce
Prep:
Make the soup, salad, beurre blanc and carbonara. Everything but the salad can be kept on a warmer as you serve the other courses (Note: keep some extra pasta liquid around if the carbonara cries out). Core the apples and cover them with cinnamon and sugar.
Serve:
The soup and salad can be served first. After these courses have your love clear the plates, and refill the wine, while you sear the scallops, and put the apples in the oven. Serve the scallops and as you are bringing out the carbonara take out the apples (they only need to cook for roughly 20-30 minutes) to cool a little. Again once these courses are done have your love clear the table while you spoon some ice-cream into the apples and top with caramel sauce. After desert there's only one more plate to clear.
There you have it the instructions to a five course meal for two. Now for the total cost tally.
Cost: Roughly $14 total, add a $14 bottle of wine and it's
about $28
. A similar meal in a restaurant would cost between $70 and $100. Even if you spend 5 dollars on decorations for the evening (that you can reuse)
you will save roughly $40 to $70
. That's amazing! Now keep in mind that I did this calculation using local prices and if you had to buy everything, however my cost, because I already had many things was actually closer less than $10, $22 if you count the wine.
Hot CHA
!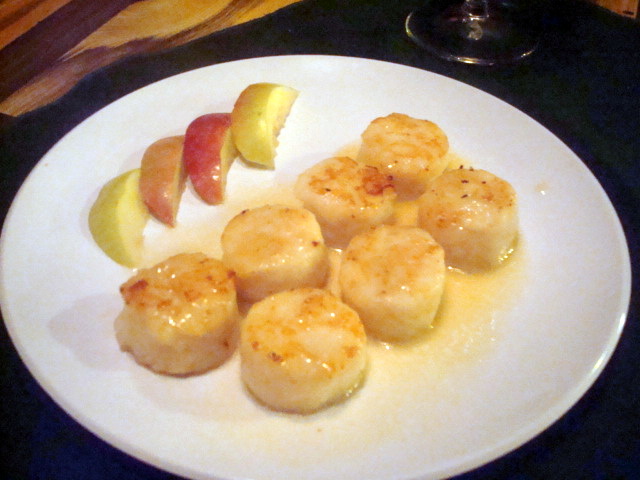 Fall Date Night, On a Budget
Ingredients
1 cup apple juice
1 tablespoon apple cider vinegar
½ tablespoon heavy cream
1 tablespoon butter
6 Scallops
Butter Salt & Pepper
1 apple sliced for garnish
Instructions
In a small saucepan boil apple juice and cider until reduced by half.
Reduce heat and add cream and butter.
Season scallops with salt and pepper. Sear in a hot buttered skillet for roughly 3 minutes a side, or until firm and opaque.
Arrange scallops and apple on a plate and pour beurre blanc over the top.
Serve immediately.