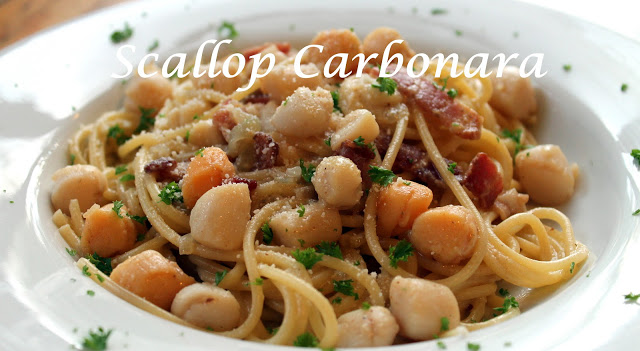 I haven't made carbonara in a while and the other night, after my grilling plans went out the window due to rain, I just needed to be made. It's super easy, and perfect for light fresh summer food. Plus as you may already know Chuck has a Parmesan cheese obsession, so of course he loves it when I make carbonara. I chose to add scallops because I had them in the freezer from a great sale a couple days before, and they defrost quickly.
I also made a pretty hearty salad while we waited for the scallops to defrost to ensure we got our vegetables in. One cannot have a meal without vegetables in our house.
I wasn't planning on posting it, but I think this may very well have been the best carbonara I have ever made, so basically I HAVE to share.
Scallop Carbonara
6 slices thick cut bacon, diced
1 lb spaghetti
1 tbs olive oil
2 shallots, sliced thin
>
1 tsp fresh ground pepper
1 lb bay scallops
3 eggs
1 cup parmesan cheese
1 tbs minced parsley for garnish
Heat a skillet over medium high heat, and cook bacon until it begins to crisp.
Meanwhile bring a large pot of water to a boil, and cook pasta until aldente, reserving 1-2 cups of pasta water.
Discard bacon drippings, and stir in shallot, oil, and pepper. Sauté until the shallot begins to soften,
roughly 2 minutes, and stir in scallops. Continue to cook until scallops become opaque, and firm, roughly 5-7 minutes, and then remove from heat.
In a small bowl whisk eggs, and cheese together. Whisk in 1 cup of lightly cooled reserve pasta liquid.
Add pasta and egg sauce to the skillet and toss. If it is dry add a little more liquid, and adjust seasonings.
Serve warm topped with sprinkled parsley (serves 4)