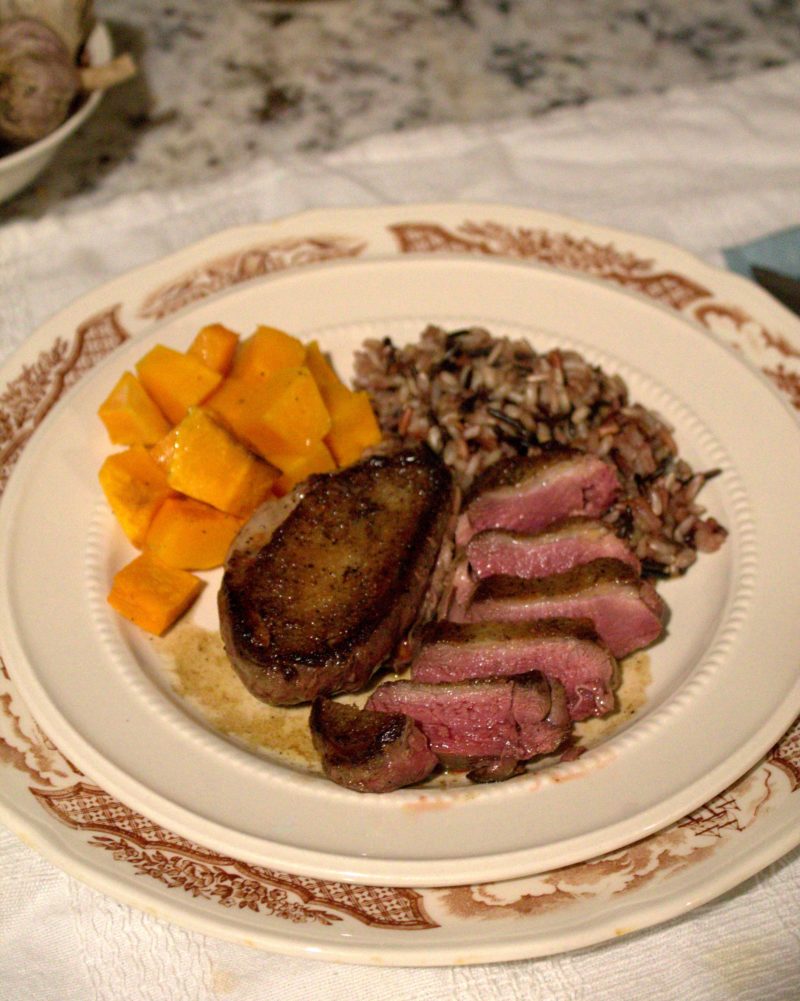 Wood ducks are some of the most beautiful ducks around, in my opinion. It seems fitting that they are also undeniably delicious. When cooked properly the meat is tender, juicy and full of flavor. Wood duck is easily one of my favorites.
They get their name because they typically make their nests amongst the bases of trees and prefer to eat acorns over anything else. This give the meat a delectable almost nutty flavor. Additionally, because they mostly eat nuts when available they tend to have less contamination that other ducks (read more about contamination in duck fat here). The only down side that I can see with these things is their size. They are a pretty small bird which makes preparing them difficult.
This was my first time preparing wood duck specifically so I had Chuck pluck the chest and pull out the breasts. I pan seared them and made one of our favorite household pan sauces to go with them. I served the seared duck breasts skin side up with the pan sauce below to ensure that the duck skin remained crisp. This, my friends, is an essential part of a well prepared duck breast.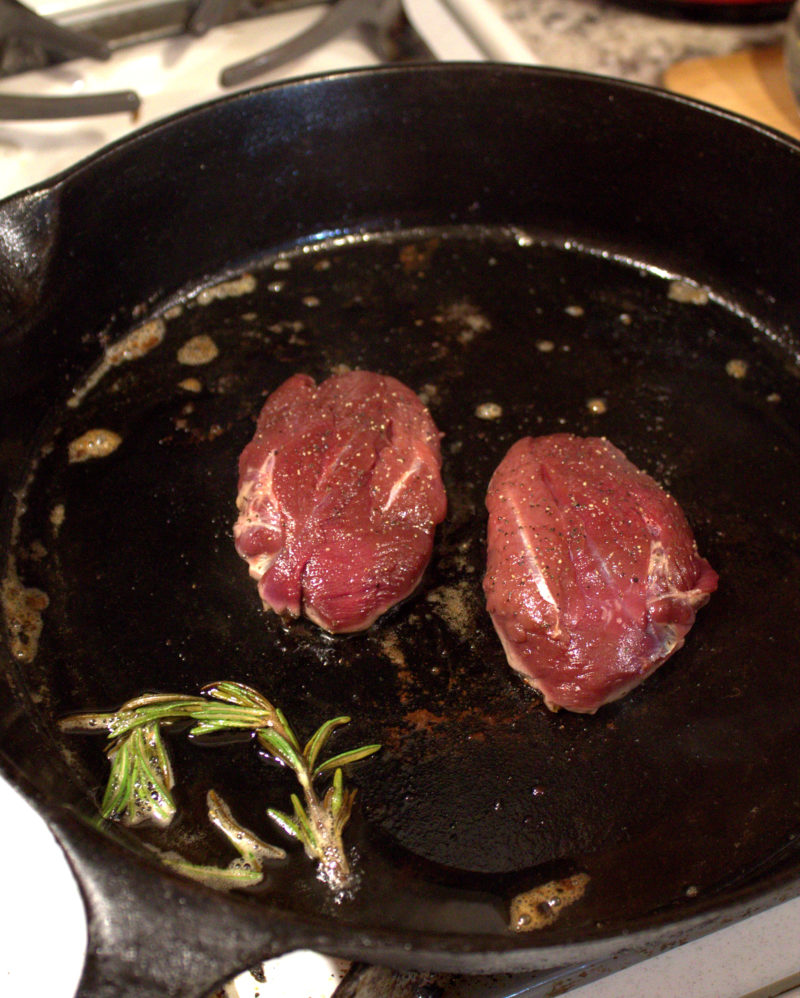 The major key to a well prepared duck breast, especially a wild duck breast, is to not over cook it. Sounds like an easy thing, I know, but when they are this small it happens quick. The easiest way to ensure a proper sear, and a crispy skin without over cooking the breast on a small duck is high heat. Crank that baby up and get the pan nice and hot, then drop those beauties in skin side down and press on the middle of the breast with a spoon or thongs (a flat spatula may not do the trick with a small breast).
Keeping pressure on the middle of the breast will flatten it to the pan and ensure that the skin in the middle gets seared well. Typically when you drop a duck breast into the pan the skin will tighten up immediately causing the edges to curl and prop up the middle of the breast. This means that the middle is not touching the hot pan. The skin cannot crisp without actually touching the pan.
Also, when cooking your duck breast do most of your cooking on the skin side. Leave it there until it is well rendered, crisp and begun to brown up the sides of the breast. When you finally flip the breast you only want to be finishing the cooking for a minute or two before removing it from heat to rest.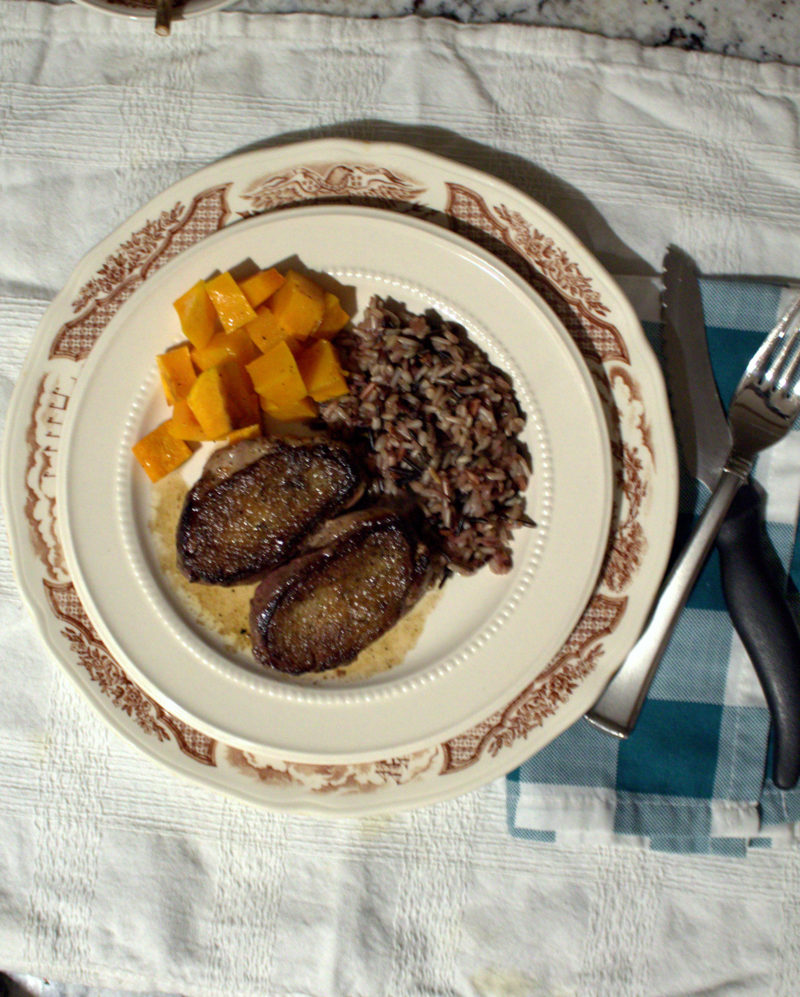 Finally, with a breast this small there really isn't a lot of resting time. It goes from well rested to stone cold in a minute or two. To prevent this I make sure I have all my pan sauce ingredients measured and ready to go before I even begin to sear the breasts. By the time the pan sauce is done the breasts are ready to be sliced and served.
I know these tips seem like little nonsense, but I'm telling you they make all the difference. There is nothing more unappetizing than a rubbery duck skin on an over cooked breast. You want to do these things. Trust me.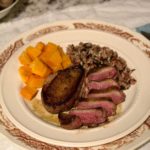 Seared Wood Duck with Maple Pan Sauce
Prep Time 30 minutes
Cook Time 10 minutes
Total Time 40 minutes
Ingredients
2 to 4 wood duck breasts
Salt
1 tablespoon butter
1 to 2 sprigs fresh rosemary
½ cup vegetable broth
¼ cup maple syrup
¼ teaspoon smoked paprika
Instructions
Take the duck breasts out of the fridge and season well with salt. Let stand for 30 minutes or so to come up to room temperature.

Heat the butter in a skillet over medium high heat. Pat the duck breasts dry with a paper towel and place them in the pan skin side down. It should sizzle while cooking. Add the rosemary sprig and cook until the skin is brown and crispy, about 3 to 4 minutes.

Flip and sprinkle just a bit more salt onto the skin. Cook for another 1 to 2 minutes (for medium rare) or more as desired. Remove from heat and let stand for 3 to 5 minutes.

While the duck rests, deglaze the pan with the vegetable broth, scrapping any bits form the bottom of the pan. Add the maple syrup and paprika and stir well to combine. Cook for 1 to 2 minutes until reduced by half. Discard rosemary sprig and remove from heat.

Slice the duck breasts and serve skin side up, with a small pool of sauce below.
Similar Recipes: