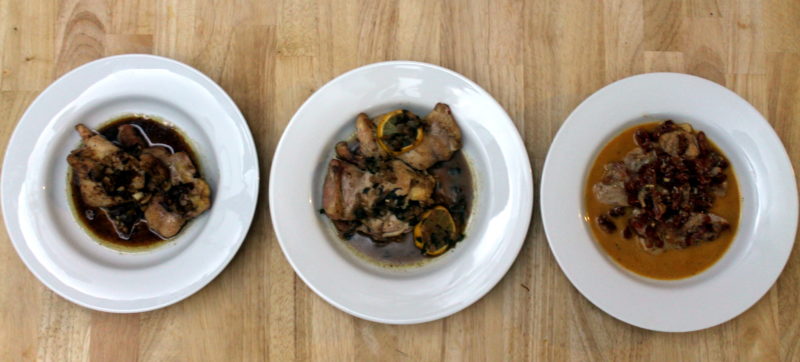 Adding a pan sauce to a dish is the easy way to take a simple piece of chicken or a plain steak and take it to another level. Whether you go with a light and silky sauce to blanket a chicken breast or something bright and tangy to go with a steak a little sauce can go a long way.
Pan sauces are typically made up of whatever is on hand, so they come together quickly and can be very different each and every time they are made.
The base of the pan sauce actually comes from the fond or browned bits left on the bottom of the pan from cooking the meat. Once the meat or fish is cooked through it is removed from the pan aromatics are added to saute and pick up some of the flavor left in the pan. Next, a liquid such as wine or broth is added in a process called deglazing. In this process, the liquid and aromatics simmer helping the fond to release from the bottom of the pan as well as concentrating the flavors together. When the sauce is reduced final enhancements such as adding butter, cream or jams are added before serving. Step by step instructions can be found at the bottom of the page.
These kinds of sauces are meant to be experimented with and following exact steps is not necessary. Below I added a few of my favorite combinations for pan sauces.

Combination 1 – Shallot, wine or broth, lemon, & oregano
Combination 2 – garlic, sun-dried tomatoes, broth, & cream
Combination 3 – Garlic, Onion, Sherry, & Butter
How to Make a Pan Sauce
1 – Sear the meat of choice in the pan over medium-high heat (finish in the oven if necessary – See How to Cook a Steak).
2 – Remove the meat from the pan and set aside.
3 – Add aromatics (onion, garlic, herbs, etc.) to the pan & saute over medium-high heat for 1 minute.
4 – Deglaze the pan with liquid (broth, wine, etc.). Stir and scrape the browned bits from the bottom until well blended and reduced to desired thickness.
5 – Reduce the heat and finish with final ingredients (butter, cream etc.).
6 – Return the meat to the pan and toss to coat.
7 – Serve immediatly.