There is something innately sexy to me about homemade ravioli;
the same thing goes for sea food. So in my mind the combination of these two
should pretty much be heaven.
Admittedly I may very well be the only one out there who
feels this way, but what can I say, aside from begging you to try it for
yourself. I know it looks like a lot of work making the dough and getting the
consistency right, rolling it out without holes, making the filling, and then
combining the two in some semblance of actual ravioli, but it is so very very
worth it.
The thing about this dish is that it's unexpectedly fresh, but with a complex note. You can actually taste each of the ingredients in the filling, as well as the wonderful light flavor of the sauce. It does require quite a few steps, and even more clean up, it is a little difficult, I know, but it again is so very worth it. Perhaps it's the kind of thing you would save for a special night, or a usually lazy Sunday. I'm just suggesting, because I think everyone should make homemade pasta at least once in their lives.
Shrimp and Parsley Ravioli
1 lb precooked shrimp, peeled & divined and cut into
small chunks

½ cup parsley

½ lemon juiced

2 oz grated parmesan cheese

2 tbsp extra virgin olive oil

1 lb pasta rolled out into sheets (3-4" width by 1 foot)

Combine all the filling ingredients (shrimp through olive
oil) in a food processor, and pulse until it reaches desired consistency. I
like mine a little chunky, but some may like a smoother mixture. Place
4 dollops of the shrimp mixture about the size of a half dollar in the middle
of a pasta sheet evenly spaced. Using your finger dip it into a small bowl of water
and trace the outside of the dollop. Place another sheet on top and press it
down around the dollop, using water to cement the dough together. Slice the
dough to create separate ravioli. Continue to do this for until the pasta is
gone. Bring a large pot of water to a boil and drop in the ravioli, they should
only take a few minutes to cook, rising to the top as they finish. Strain the
ravioli and set aside.
Red Pepper Scampi Sauce
1 tbsp butter

1 tbsp olive oil

½ a small onion, chopped

½ a red bell pepper, chopped

2 or 3 cloves of garlic minced

½ tsp red pepper flakes

½ cup of white wine

Fresh grated parmesan for garnish

2 tbsp fresh chopped parsley for garnish


Melt the butter and olive oil over medium high heat and sauté
onion for 1-2 minutes. Once the onion begins to soften add the garlic, and
pepper and sauté for an additional 2-3 minutes, allowing the pan to become aromatic.
Add the red pepper flakes and wine. Continue to cook at a light simmer until
the wine has reduced to about half. Remove from heat and add pasta tossing to
coat. If you like a more liquidy sauce add about ¼ a cup of reserved pasta
water. Serve warm, garnished with parmesan and parsley to taste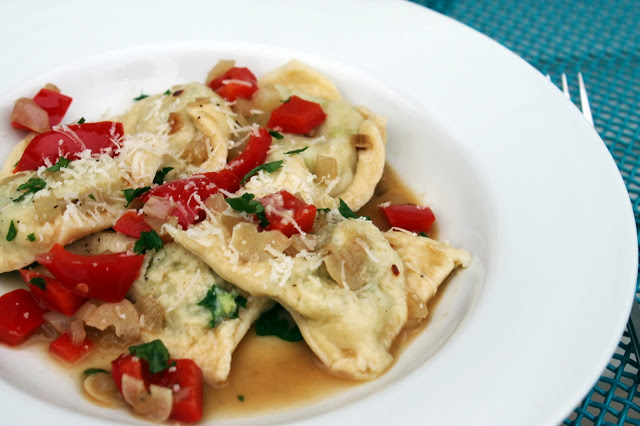 Basic Pasta Recipe
2 cups flour
(plus more for the work surface)

3 eggs

1-4 tbsp cold
water

1 tsp salt


In
a medium bowl add flour and eggs. Mix well using an electric mixer. The dough
should begin to form a ball. If the dough is too dry it will remain crumbly, so
add a few tablespoons of water until the ball forms. Use a pasta machine,
roller, or rolling pin to roll out the dough into 3 inch wide, foot long
sheets.