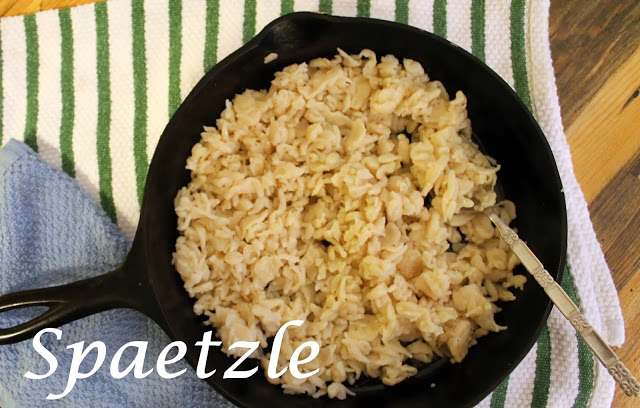 I'm going to continue on this whole German Style Food Kick I'm
on and spend a whole post talking about spaetzle.
Spaetzle is basically a quick and easy to make German pasta.
It is one of my favorite things to make at home because it adds texture and a
little finesse to our usual dinners in the place of pasta, potatoes or rice.
The secret is to sauté it after it has been cooked in the boiling
water. I don't mention this in my instructions because it's not necessary, and I
don't think it's the traditional way it's made either, but I really believe a
little sauté in butter or oil to give it
a little brown and crisp a few of the individual noodles makes all the
difference. I have been known to cook the spaetzle this way with a few herbs and
have that for a meal. I just love the textures!
I for some unknown reason always make it with pork, but
there's no reason to, I just usually do. It can go as a basic side dish for
nearly anything. It's great for sopping up gravy, from something like say
roulade, or the sweeter drippings from Apple Pork Chops. Just a few ideas for
you.
I don't know why I'm getting up on my soap box here to try
and talk you into loving spaetzle as much as I do. It really doesn't need my
enthusiasm but it's getting it any way I suppose.
Spaetzle
2 cups all-purpose flour
6 eggs
¼ cup milk
Bring a large pot of salted water to a boil. Meanwhile in a
bowl beat the eggs together with the milk to form an incorporated mixture.
Slowly add in the flour until smooth dough is formed. Either with a spaetzle
maker or a colander (I always use a colander). In small batches lightly press
the dough through the colander into the boiling water. When the spaetzle begins
to float remove it with a slotted spoon and set it aside. Add a drizzle of oil
to keep the pasta from sticking and serve warm, once all the spaetzle has
cooked.