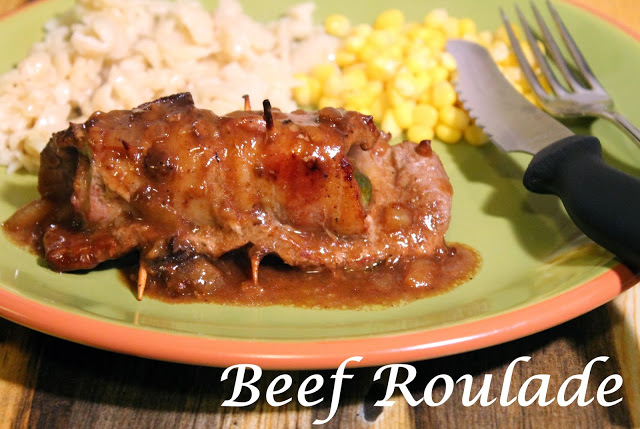 I think I'm on a German kick. as evidenced
here.
Way back in August when I read My Berlin Kitchen I really wanted to make so many of the recipes but it was far too hot outside to be cooped in my tiny kitchen so I waited patiently, day dreaming about all of her wonderful soups and stews. Since her setting was obviously in Germany, there was definitely a German lilt to my daydreaming.
Growing up I was lucky enough to try a cornucopia of different German dishes, thanks to my step mother, Miss Amy. She spent some time working for a family friend at their German restaurant The Brauhaus in my home town and subsequently learned to cook many them.
Roulade is a dish that I avoided at a young age but learned to love as an adult. I mean warm pickles in gravy? W-E-I-R-D right? Yes. But also delicious.
To many of you this may seem so far out of the realm of good food, but for others it will be something that you must try now. Even if you are on the fence about it allow me to give you a little push by saying that it has a surprisingly mild flavor that I think many pallets can appreciate. I STRONGLY suggest you give it a try.
Besides look how pretty it looks!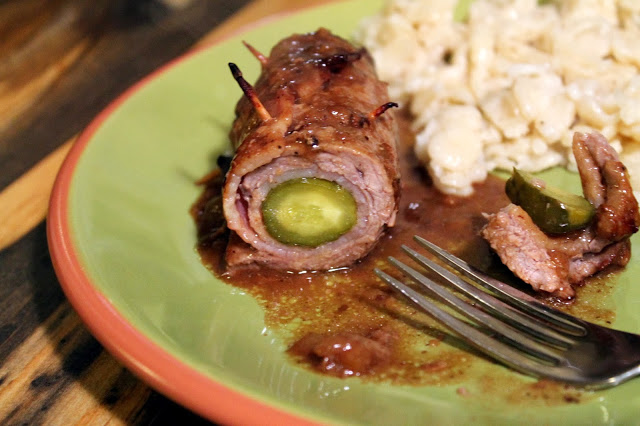 Classic German Roulade
1 tbsp butter
1 tbsp olive oil
1 lb beef sirloin or eye round steak, sliced thin
4-5 dill pickles
4-5 slices of thick cut bacon
1 medium onion, chopped
1 cup beef broth
1 tbsp flour
Fresh Parsley for garnish
Preheat the oven to 375 degrees. Slice the steak into 3-4
inch wide strips, and lay one piece of bacon on each piece of steak, then a
pickle, and roll the meat around the pickle securing with either cooking twine
or tooth picks. In a large oven safe pan melt butter and oil over medium-high
heat then sear the meat rolls for 2-3 minutes per side, or until it has
browned. Remove the meat rolls from the pan and set aside. Add the onion to the
pan and sauté it for 2-3 minutes or until it begins to soften. Add the flour
and cook for an additional minute, then deglaze with broth, stirring thoroughly
until thickened. Return the rolled meat to the pan and toss with gravy. Place
in the oven for 20 minutes, or until the meat has been cooked through. Serve
immediately garnished with parsley.