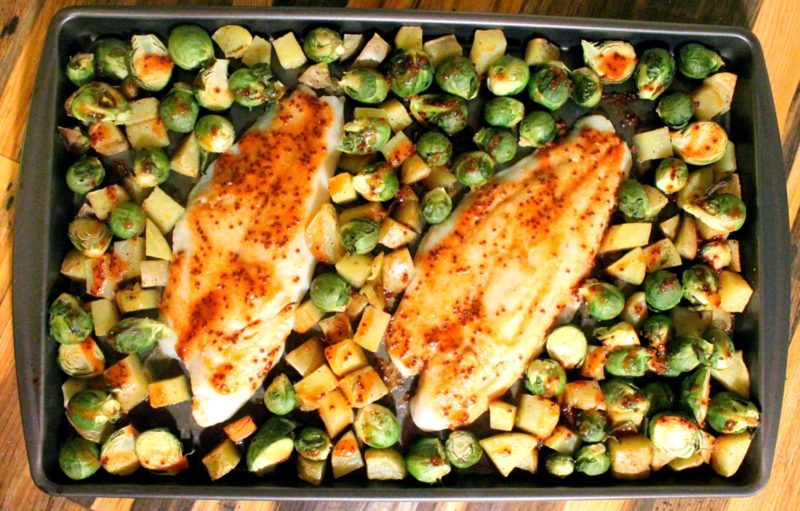 I've
mentioned before
that this is the time of year when we
are all surrounded by incredibly rich and heavy food. In an attempt to eat a
little better on the weeknights during this busy season I have been
experimenting with a number of different dishes that can be cooked easily and
quickly.
This particular recipe was a huge hit in our household,
which is quite impressive since Chuck is not really that in love with fish. He even went for seconds!
What I liked most about this recipe was the amazing sauce
that brought all of the different base flavors together. It was perfectly sweet
with a slight hint of smokiness from the paprika.
I want to mention quickly that it is possible to cook the
potatoes in the same pan as the Brussels sprouts and fish. They simply have to
start cooking 15-20 minutes before you add the fish and sprouts. The benefit of
doing it this way is that it is the entire meal can be prepared in a single
sheet tray, saving you a bit of clean up.
Swai with Brussels Sprouts & Potatoes in Sweet Mustard Sauce (Serves 2)
1lb yukon gold potatoes, cleaned and chopped into bite size pieces
2 tbsp extra virgin olive oil
salt & pepper to taste
1/4 cup grainy Dijon mustard
1 tbsp honey
1/4 tsp smoked paprika
1/2 tbsp olive oil
1/2 lb Swai fish fillets
1 lb Brussles sprouts




Preheat the oven to 425 degrees. Spread the potatoes out on a rimmed baking sheet and toss with oil, salt and pepper. Roast in the oven for 35-40 minutes, tossing again half way through. Meanwhile mix together the mustard, honey, smoked paprika, and oil in a small bowl until well combined. Dredge the fish in the mustard sauce and place on a greased rimmed baking sheet. Clean and dry the Brussles sprouts then cut the large ones in half so that they are all bite size.Toss the Brussels sprouts in the remaining mustard sauce and spread them out on the baking sheet with the fish. Place in the oven for 15 minutes. The fish should flake easily with a fork when done. Serve fish, potatoes, and sprouts together.
PS Since the holidays are fast approaching I will be taking a few days off from posting to enjoy them. I'll be back sometime after the 25th of course, but in the mean time I wish you all the best!