Chowder breathes reassurance.  It steams consolation.  ~Clementine Paddleford
Could this be any more true? I never really knew how much I liked seafood chowder before I met ol' Chuckles. It's one of his favorites, so of course I had to learn how to make it for him!
There couldn't have been a more perfect fall afternoon for it. We had spent most of the day outside and gotten rained on here and there. We were a little chilled and tired after an eventful weekend, so tired in fact that I fell asleep in the car on the way home. I woke up when "All my Life" by The Band Perry came on the radio. Seriously I will never get enough of that song.
As I serenaded Chuck the rest of the ride home we swung into the grocery store and picked up some clams, cod, and a small loaf of fresh baked French bread. As a side I sliced, the bread and brushed it with olive oil, garlic and rosemary. Then popped it in the oven for a while (10-20 minutes depending on size) at 425 degrees. The burst of rosemary flavor blended so beautifully with the creamy deliciousness of the chowder that I jam packed with seafood.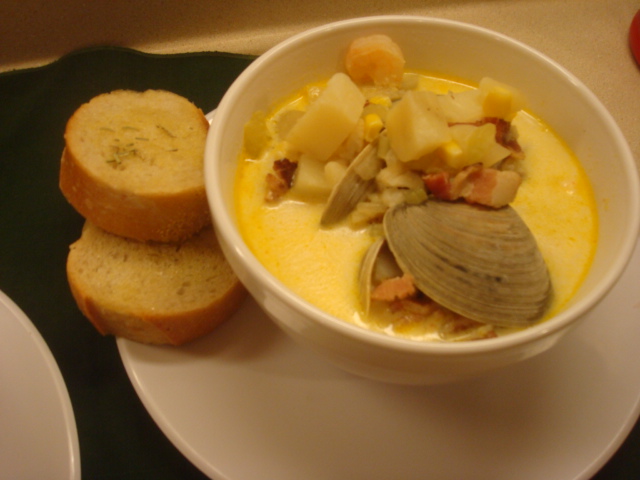 Seafood Chowder
¼ lb bacon, cut into ¼ inch cubes
1 tbsp olive oil
1 large onion, chopped
1 ½ cups chopped celery
1 quart fish stock
2 large potatoes, peeled & chopped
2 bay leaves
1 lb little neck clams
1 lb skinless, boneless cod fillet, cut into chucks
1 lb medium shrimp, shelled, deveined
½ cup frozen corn
1 cup heavy cream
1/8 tsp cayenne pepper
Salt & pepper to taste
In a large sauce pan or dutch oven cook bacon, and drain grease. Add olive oil and heat for roughly 5 minutes. Add onion and celery, cooking until soft. Add fish stock and bay leaves. Bring to a simmer, and add potatoes, cooking until they are just tender, roughly 15 minutes. Add shrimp, clams, fish and corn. Simmer for another 5 minutes. All the clams should open. Heat cream in a small sauce pan over low heat, and add to soup pot. Add final seasoning and serve hot.