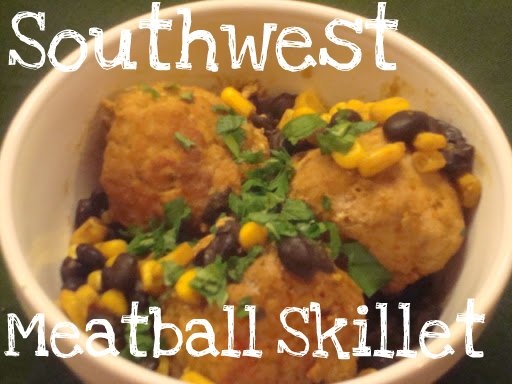 I could not be more excited to finally be sharing this recipe! Chuck Can attest as to how much I love it, seeing as I cook it all the time, but who wouldn't? It is quick, easy, and completely clean! One serving (2 meatballs, and roughly 1 cup of corn mixture the way I make it) is about 320 calories, and 37 grams of protein! Not to mention all the benefits from all the different spices.
This is one of those recipes that has everything I am looking for. It is deceivingly hearty, has a mixture of textures and flavors, and involves very little work. I can whip it all up in less than 20 minutes!
The original recipe can be found here, however I have made several huge changes. The first is the spices; I use a lot more spices in my recipe because I feel the original didn't have the southwest kick that the name lead me to believe it would. I also opted to use parsley instead of cilantro. Chuck HATES cilantro, and though I like it, I think this recipe is perfect with the slightly mellower parsley. Lastly I made the meatballs larger and added oregano; on their own the meatballs were kind of flavorless, and I think the larger size gives a better texture. Making the meatballs larger made me also add more broth to the recipe, waiting for the large quantity to reduce means that they will have more time to cook through completely.
Southwest Meatball Skillet
Ingredients
1lb ground turkey
1 egg white
¼ cup breadcrumbs
¼ tsp slat & pepper (each)
½ tsp oregano
2tsp olive oil
1 cup frozen corn
1 can low sodium black beans, rinsed
2 diced med. tomatoes (1 can diced can substitute)
1 cup low sodium chicken broth
1 tsp ground cumin
½ tsp turmeric
⅛ tsp cayenne pepper
1 tsp chilli powder
½ cup chopped fresh parsley
Instructions
In a large bowl, combine turkey, egg, bread crumbs, oregano, salt and pepper and mix well. With your hands shape into 8 meatballs.
In a large skillet, heat oil on medium-high. Add meatballs and cook for 3 to 5 minutes, turning frequently, until browned on all sides.
Add corn, beans, tomatoes, broth, lime juice, spices and mix well. Reduce heat to medium, partially cover and cook for an additional 5 to 7 minutes, until meatballs are cooked through.
Stir in cilantro and serve.