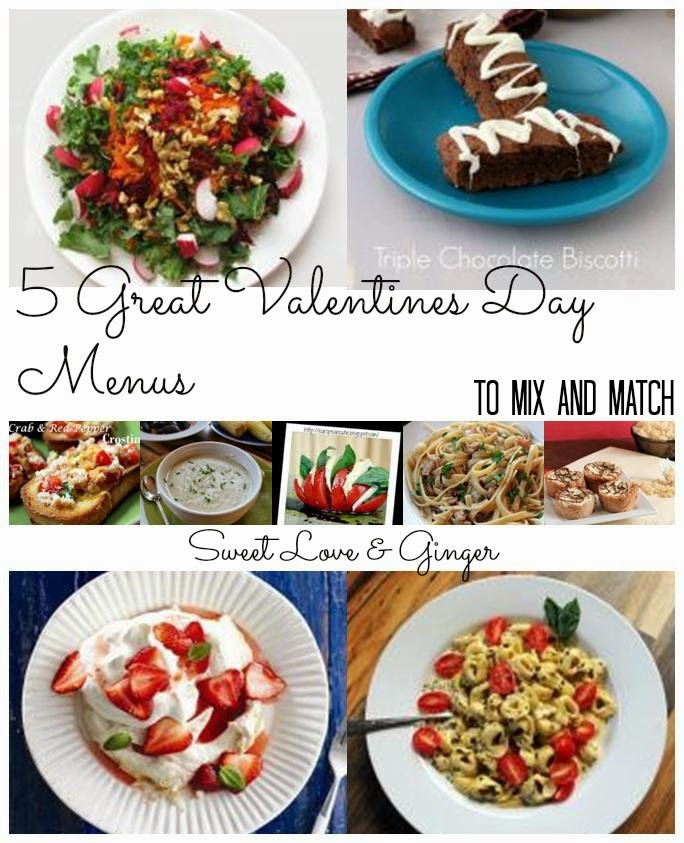 Valentine 's Day is a day
for love.
It's also a day that makes
card stores, candy companies, restaurants and jewelry stores million of
dollars.
I don't mean to be a Negative
Nancy about the whole thing. Having an extra day to celebrate love is pretty awesome;
I just hate how it's all about spending money (isn't everything?).
The last few years Chuck
and I have opted for something a little lower key for the big day. We don't
bother trying to get reservations; we would have to know what we felt like
eating about 2 months in advance which is simply not possible. We choose not to
do gifts, we have so much already. Instead of all of those things we usually
have a quiet night in with a somewhat fancy homemade dinner, a bottle of wine,
and snuggling on our couch.
In honor of the holiday I've put together a few easy dinner menus, including
the links to all of the recipes on My Recipe Magic. I chose to use My Recipe Magic for a couple reasons. Mainly because of the Menu feature. At the bottom of each recipe is an "add to menu" button, which allows you to collect a group of recipes into one list. Once you have all of your recipes
chosen you can then click on the menu tab at the top, and see them all in one place. From here you can click on the "make a shopping list" button to get a PDF shopping list of everything you will need to prepare your chosen recipes. If your interested you can also see the nutrition values, and points. I mean how convenient is this?
Each of the menu's below is meant to be a four course meal with a little something for everyone. I know that a lot of people are afraid to put together a meal with all these courses, but there are a lot of ways to make it easy. For starters I tried to choose recipes that were easy to prepare, and quite a few that can be prepared in advance. Give it a shot, and definitely mix and match to create your perfect menu.
Glutten Free
Insalata Caprese // Easy Cheesy Potato Soup // Butternut Squash & Spinach Risotto // Cheese Cake bites

Garlic Soup // Spinach & Apple Salad with Sweet Italian Dressing // Spinach & Mozzarella Stuffed Chicken with Rice // Basil & Strawberry Meringues
Beef

Simple Salad w/ Dijon Vinaigrette
//
Carrot & Ginger Soup
//
Blue Cheese Stuffed Steak
with Roasted Potatoes** //
Flourless Dark Chocolate Cake
Seafood

Crab & Red Pepper Crostini // Spinach Soup // Linguine with Clam Sauce // Triple Chocolate Biscotti & Tea


Vegetarian

Carrot & Beet Salad with Spicy Mustard Dressing //
Irish Roasted Shallots
//
Tortellini with Pesto Cream Sauce
// Maple Creme Brulee