I have never whole roasted a fish before, even though I have
eaten a lot of fish. I mean I grew up fishing, and have an obsession with sea
food. I don't know whether it's relaxing in the boat with a book that I enjoy
more or the actual fishing, but it's definitely an activity that Chuck and I enjoy
together. Even in the winter cold, ice fishing is pretty fun too.
Last weekend I let Chuck run off with his cousin Shecky (don't
ask where these names come from, I promise you that the stories are unoriginal)
for a day of ice fishing sans women. It has to be done once in a while, or the
poor guy ends up with estrogen overload and develops a little tick. That and it
was ranging between one and zero degrees out that day. I took one for the team
and stayed warm home practicing my camera skills.
I was pretty impressed that Chuck not only managed to remain
fairly sober, but was also able to catch an actual fish between beers and
shenanigans. I don't want you to get the wrong impression and think that Chuck
is a bad fisherman, it is more the fact that when these two hooligans are
together very little of what they set out to accomplish actually gets done, unless
of course their goal is to finish the thirty rack, they can handle that one
pretty well.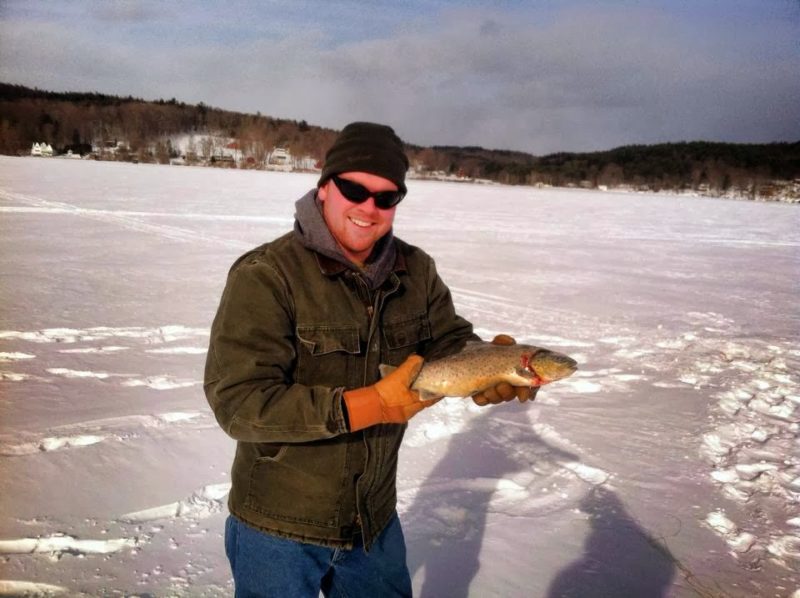 Anyway somehow between the two of them they managed to get
this fish, so of course it was up to me to cook it. I have wanted to try
roasting a whole fish for a while. Everyone says it's easy, they look
beautiful, and I was hoping they tasted as good as they looked. I scanned a few
recipes before I came up with this one, and was pretty impressed with the
result.


Whole Roasted Brown Trout
1 large whole trout, gutted and cleaned

1 tbsp olive oil

Salt & pepper

1 lemon, sliced

1 bunch fresh thyme

Preheat the oven to 425 degrees. Rub the trout with oil, salt
and pepper inside, and out. Then Stuff the stomach cavity with lemon and thyme.
Roast in the oven on the middle rack for 20 to 30 minutes or until the ski is
crisp and meat flakey.
Along with this I chose to serve potatoes. If you have been
following along recently you have probably noticed an upswing in the simplicity
of my meals. This is an extremely simple side dish that is adored in our
household. You can swap out these fingerlings for chopped russets or red
potatoes as well, whatever your preference.
1-2 tbsp extra virgin olive oil

3-4 cloves of garlic, sliced

1 lb fingerling potatoes, halved

Course sea salt

Preheat the oven to 425 degrees. In a large oven safe
skillet heat oil and garlic over medium high heat for 1 minute. Add potatoes
and toss to coat. Place in the oven for 10 to 15 minutes, or until potatoes can
be pierced with a fork. Remove from heat, sprinkle with salt and serve.