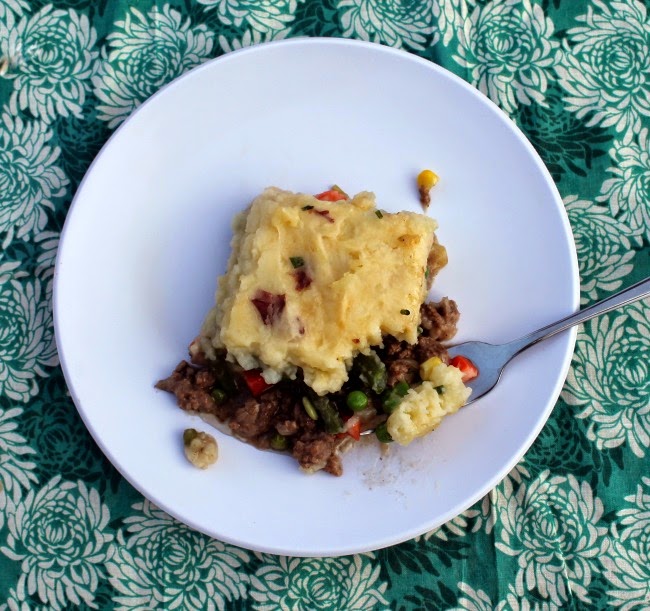 This dish right here is one of Chuck's favorite, in fact he requests it every year for his birthday. This guy of mine really likes his comfort food, piled high with fresh herbs and earthy flavors. It's easy, simple
and delicious what more could you ask for really?
This particular recipe I have been making since I met him, and trying desperately to perfect it for him. The meat must be tender, the leeks caramelized and all of it drowning in gravy. Then you top it with a pound and a half of mixed vegetables and top that with delightfully garlicky mashed potatoes, that is then topped with just a fine sprinkle of rich cheddar cheese and a pinch of fresh parsley.
Once that mashed potato crust is broken and the whole lot is piled on to the plate the gravy starts to ooze out and mix with everything else. The rich gravy mixed with the garlic and cheese in the mashed potatoes to form this earthy bomb in your mouth. The vegetables add a hint of texture and freshness to perfectly balance the whole thing. Now, all that is needed is a big glass of milk to wash it down and if you are me, a cup of weak tea to settle your overfull stomach afterward.
Now lamb is the favorite for this recipe in our house, but beef is a good second, however I suggest 90 lean beef or higher. The lower grade beef contains a lot of fat, that even when drained can make the gravy greasy, and totally change the mouth feel of the dish.
Lamb & Leek Shepard's Pie
Ingredients
1 lb potatoes, peeled & chopped
3 cloves of garlic, crushed
2 tablespoon butter
⅓ cup milk
¼ cup cheddar cheese (plus more for garnish)
1 teaspoon salt
1 tablespoon butter
1 lb lean ground lamb
2 medium leeks, chopped
1 teaspoon pepper
1 tablespoon all purpose flour
1 cup low sodium beef or vegetable broth
½ teaspoon dried thyme
24 ounces of frozen mixed vegetables, defrosted
Pinch minced fresh chives
Instructions
Preheat the oven to 400 degrees.
Fill a large pan with water, the potatoes, and garlic. Bring it to a boil and cook for 10 to 15 minutes, until the potatoes are softened through.
Drain and return to the potatoes to the pan. Add the 2 tbsp butter milk, cheese and salt and then mash together, until smooth and well blended.
In a skillet brown the ground beef.
Once browned drain the beef of grease and add the butter and leeks and cook until they are fragrant.
Stir in pepper and flour until well mixed. Allow the mixture to cook for a minute before adding broth and thyme.
Stir well and bring to a simmer until the sauce has thickened, about 1-2 minutes.
In a 8x8 pan add the meat mixture, then layer the vegetables and mashed potatoes.
Top with a sprinkle of cheese, and chives and bake for 20 to 25 minutes or until the potatoes begin to brown, and crisp on top.
Remove from the oven and allow it to cool for 10 minutes before serving.