I want to preface this by saying that our lives are far from glamorous. Chuck and I live in a modest apartment on a dead end road, and aside from being fairly small it is also laid
out pretty horribly. It is warm and charming with lots of updated windows, and cute molding, but everything is pretty boxy and cut off, which makes entertaining hard. Don't worry we manage. The kitchen is eat-in style, though there isn't much room for the two of us at the table let alone any guests. We make it work, and improvisation is key. And since cooking for my friends is something that I have always loved to do and simply cannot stop doing; regardless of how impossible it may seem.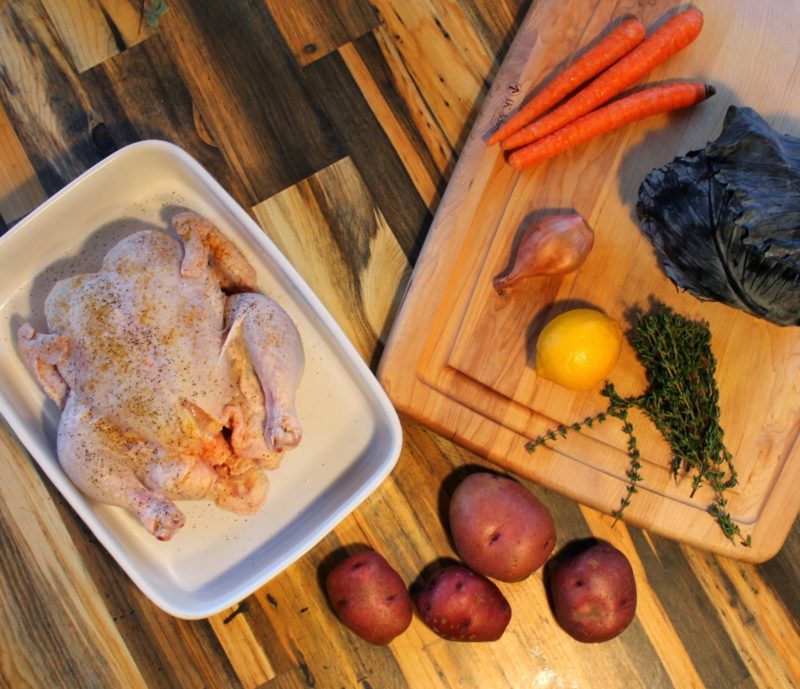 I try to have everything close to ready if not already done before anyone arrives; along with the kitchen table clear, because that has to serve as the buffet. The small fold-able table that does triple duty as dining table, craft space, and beer die set up is pulled out just before we are ready to eat, otherwise it's cumbersome presence takes up too much of the living room. Chuck and I usually take the couch as it is a little low for table eating as well as maneuvering in and out of. We handle it. Then out comes the plates and cutlery stacked neatly on the counter, it has to be self serve because that folding table doesn't fit everything.
It works, and I haven't had a complaint yet. Of course that could be because all of our friends are also living in modest, horribly laid out apartments, so they get it.
Last weekend Chuck and I entertained our friends Alicia and Wil. She was gracious enough to bring chocolate covered strawberries for desert as well as a good white wine. Here is what the menu Looked like: Salad with Lemon Shallot Vinaigrette, Simply Roasted Chicken with mashed potatoes and Gravy as well as Braised Cabbage & Carrots.
Though it sounds like a lot it was all pretty easy to prepare, basically I popped the chicken in the oven, peeled & while they boiled prepared the cabbage & carrots. When the chicken came out in went the veggies, and I made the gravy and mashed the potatoes; which gave the chicken plenty of time to rest before being carved. The salad was just greens rinsed and spun, and the vinaigrette made the day before. From start to finish it took probably 2 hours to prepare, and there was plenty of time to mix a few
drinks, chat with Chuck and take Brody outside 4 or 5 times (he really likes the snow) in between. The perfect end to the week.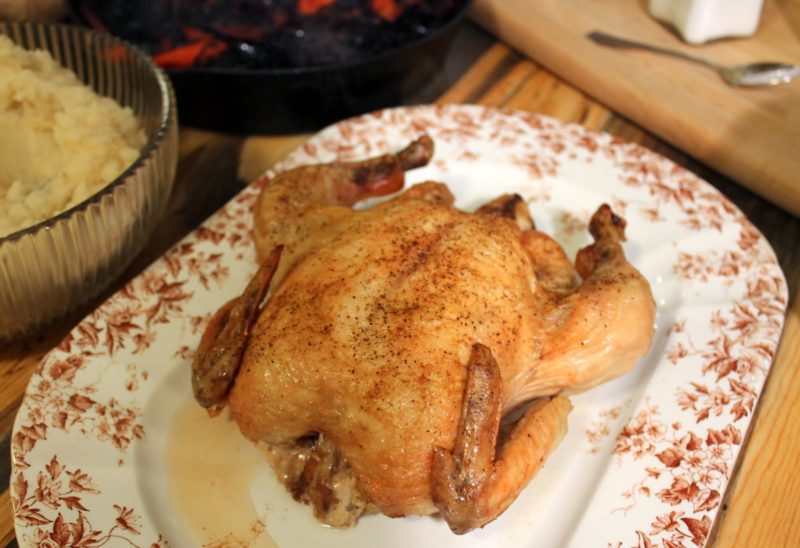 Simple Roasted Chicken
Ingredients
1 whole 4 lb chicken
2 tablespoons olive oil
½ tablespoons salt
1 teaspoon pepper
1 teaspoon curry powder
1 teaspoon garlic
Instructions
Preheat oven to 425 degrees.
Remove the chicken from all packaging (including giblets) and pat dry with paper towels.
Rub the outside with oil, spices and place breast side up in a shallow roasting pan. (Optional: tie the legs up with kitchen twine and fold the wing tips under.)
Place chicken in the oven and cook for about an hour and 20 minutes, or until the skin is golden and crisp. When poked with a knife or fork in the thickest part of the thigh the juices should run clear. A thermometer also inserted into this part of the chicken should read 165.
Remove the chicken to a platter and allow it to rest for about 10 to 15 minutes.
Carve the chicken and serve.
Quick Chicken Gravy
1 cup drippings from roast chicken pan
1/3 cup flour
1 tsp salt
1 tsp pepper
2 springs thyme
Broth as needed
In a small sauce pan heat drippings over medium heat. Whisk
in flour and spices and cook, allowing the mixture to reduce slightly and
thicken. If it is too thick add broth or water by the tablespoon, whisking
until blended each time.
3 tbsp butter
5 strips of bacon, cooked & crumbled
1 head of cabbage, shredded
4 large carrots, peeled & chopped
2 tbsp brown sugar
1/3 cup apple cider vinegar
1 tbsp Worcestershire sauce
½ cup vegetable broth or water
Salt & pepper to taste
Preheat oven to 425. In an oven proof skillet melt butter
with bacon, and then add cabbage, and carrots, tossing lightly. Stir in the
remaining ingredients and place in the oven for 30-40 minutes stirring
occasionally until carrots have reached desired doneness. Serve warm.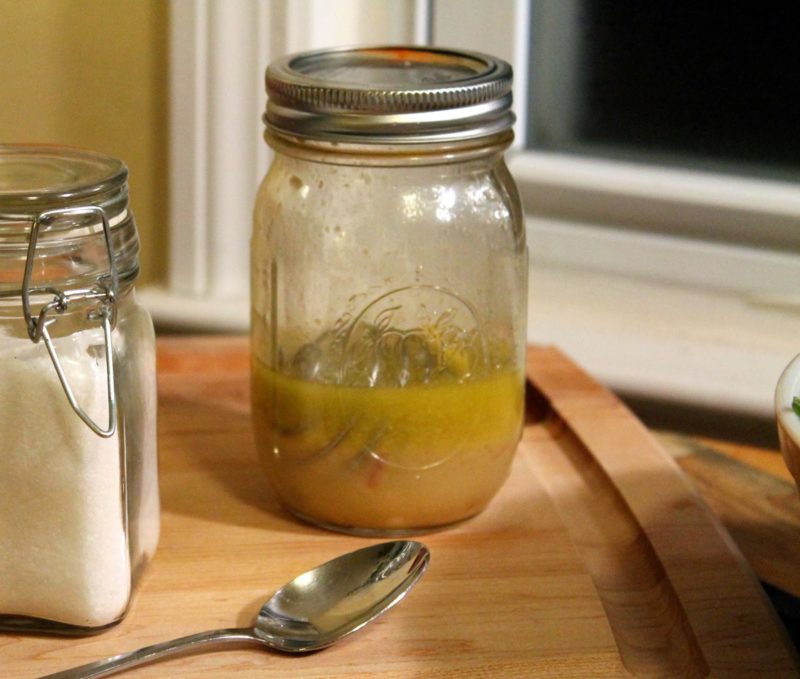 Lemon Shallot Vinaigrette
2 tsp grated lemon zest
¼ cup fresh lemon juice
1 tbsp Dijon mustard
1 tbsp white wine vinegar
1 large garlic clove, crushed
2/3 cup extra virgin olive oil
Combine all ingredients in a small bowl and whisk until well
combined. May serve immediately, or be kept in the fridge for up to 1 week.