Again: Broken computer = unedited pics, bare with me.
Fallfamily outings, football games, and festivities usually require warm food, especially if its going to be outside in crisp weather. I always turn to mini meatballs for these kind of events because they are super easy, warm, filling and even all the little kids love them.
Meatballs can be considered a blank canvas, since you can add whatever spices and sauce that you feel like. I love playing around with the recipes to come up with something new, and over time have made probably a dozen stellar recipes. Recently I came up with this one inspired by fall and brought them to a family event, where they were a hit!
This recipe is super simple which is a plus in my book, but you can always make it a little more challenging by making your own meatballs. Just follow my basic meatball recipe and make quarter sized meatballs instead of the large ones.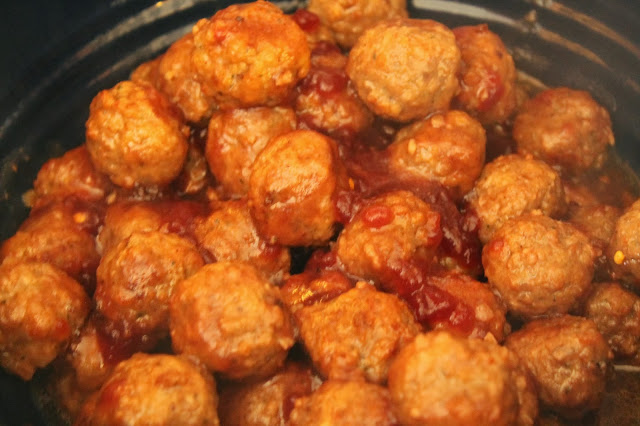 Apple Spice Meatballs
6 dozen frozen packaged frozen meatballs
1 can (14 oz) cranberry sauce
1 jar (12 oz) Apple butter, or jelly
1 tsp pumpkin pie spice
½ tsp crushed red pepper
¾ cups ketchup
¼ cup water
Cook meatballs according to package instructions. \
Meanwhile in a large Dutch oven or sauce pan combine remaining ingredients. Bring to a simmer and cook for 10 – 15 minutes, stirring regularly, until well combined and thickened.
Gently stir in the meatballs and serve warm.
May be refrigerated and warmed before serving, or placed in a crock pot on warm.