Sidenote: These, and several other pictures over the last little while are completely un edited, as my computer has died, and I've been stuck to uploading them at work in the wee morning hours before my day starts, please go easy on me for the time being.
I broke a cardinal rule of the book worms club. I saw the
movie first. In the case of Julie & Julia, I didn't even know there was a
book until the movie came out, so I watched the movie first. Then when I was in
Ithaca way back in the spring
I went to the most amazing book sale and
bought the book for 25 cents (I bought a whole bunch of books that' day and
spent less than 3$ can you say score?). The book opens up with a discussion of Potato
& Leek Soup or Potage Parmentier.
Also on this trip to Ithaca I bought some specialty herbed cheese at
the farmers market that was really good, and somewhere fairly recently read
that tossing the cheese rinds into soup helps to add creaminess and flavor.
Now all these seemingly separate thoughts are not in fact
separate. This is what adds up in my mind to an amazing potato soup that I of
course have to share with you. Now before we go on I do have to admit that I
waited this long to share it with you, because I waited this long to make it.
Summer is hot, and so not the time for soup, but now that it's fall I decided
that it was finally time to make it.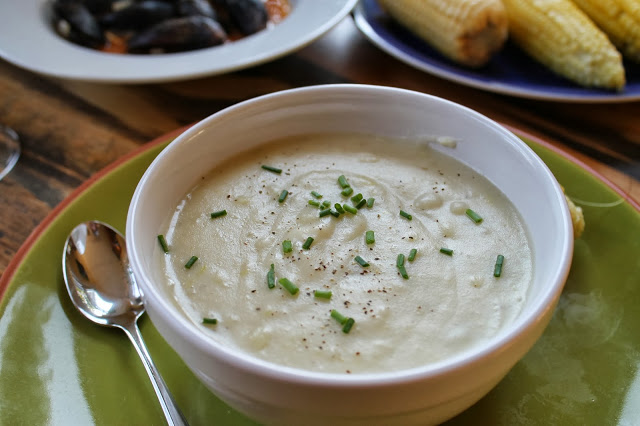 I love this concept because it allows me to save the cheese
rind, something I have always felt bad about throwing out, anything that helps
reduce waste, even a little is a great thing in my book. From now on I will be
throwing cheese rinds into a bag in the freezer for later use, and I can't wait
to see what this will do for numerous other recipes.
I know not everyone buys specialty cheeses, but I'm sure the
same idea would work with a small block of your favorite cheese as well. Also
this is not Julia's recipe, this is mine, the one I have always used, but I promise
it's still delicious.
Simple Potato Soup
1 tbsp unsalted butter

1 tbsp extra virgin olive oil

2 leeks, sliced thin (white and tender greens only)

1 lb potatoes, peeled & diced

½ cup specialty cheese rinds (optional)

4 cups low sodium vegetable broth

4 tbsp heavy cream

2-3 tbsp chopped chives

Fresh cracked pepper

In a large thick bottomed sauce pan heat butter and oil over
medium-high heat, add leeks and cook for 2-3 minutes, stirring often. Stir in potatoes,
cheese and broth and bring to a simmer. Cook stirring occasionally for 20-30
minutes or until the potatoes are softened. Puree in a large blender or
carefully in batches until smooth (you may need to check for un melted parts of
the rind or unseen papers). Return to the pan and stir in cream. Serve hot in
bowls with chives and pepper on top. (Serves 4)