Tis' the season for dandelions. This hardy, hard to remove weed is actually one of the many overlooked super foods in my opinion. It gets its name from "dents de lion" which is French for "teeth of the lion". And in case you're wondering it's on the FDA's list of safe foods and is approved by the Council of Europe, so you can go look it up if you don't believe me. The leaf and root are mild laxatives and have been used for centuries to treat problems in the liver, kidneys, stomach and gall bladder. They also help to stimulate a weak digestive system, and aid with rheumatism, as well as get rid of warts, soothe bee stings, sores and calluses. On top of all this it is a great source of vitamins A, C, D B-Complex, and the minerals Zinc, Iron, Potassium. It's even believed that making dandelion tea can help you lose weight. Now remind me why everyone hates these things?
I have always liked dandelions, and never understood why so many people strive to remove them from their lawns. I always thought that nice little pop of yellow helped to cheer a lawn up; and as kids who did not love to blow all the little seed copters away? But I digress; I wanted to write this post to discuss the varied ways in which one can introduce this neat little vegetable into their diet. At this time I would also like to note that while you can find the plant just about anywhere in the US it's important to use your brain while picking them. Try to avoid areas where pesticides are sprayed, or areas near traffic, you could just end up eating exhaust fumes and carcinogens. Once you've picked and thoroughly washed your greens you can eat them raw, though beware they tend to be a bit bitter, and the older the leaves are the more bitter they become. The best time to pick them is just around Easter, when the leaves are still fresh and young, however even the older leaves can be tamed with some vinegar and/or fatty meat.
Last night I made Bitter Green Salad with Fried Potatoes, and Hot Bacon Dressing. This recipe has a surprising depth of flavor for its simplicity. To make it a full meal I also cooked up a simple steak with some mason butter on top. The juices from the steak, and the butter mixed with the dressing to create a downright delicious combination.
2 cups chopped dandelion leaves (about 1/2 pound)
2 cups baby red leaf lettuce
1 cup romaine lettuce
1 cup chopped escarole
1/2 cup thinly sliced radishes
¼ cup red onion sliced thin
½ lb maple flavored bacon
1/4 cup apple cider vineager
1 tablespoon packed light  brown sugar
1 med. apple, peeled and chopped into 1/4in pieces
4-5 medium potatoes peeled and chopped into ¼-1/2 in. pieces
3 tablespoons EVOO
salt/pepper
garlic powder
½ teaspoon dried parsley
Place potatoes in a saucepan and cover with salted water. Boil until potatoes are soft (about 10 minutes).
Drain and set aside. In a large pan heat EVOO and season with salt, garlic, and parsley. Once hot add potatoes and fry stirring constantly until they are browned and crispy on the outside (about 5 mins).
Meanwhile in a skillet, cook the bacon over medium heat, stirring, until
crisp
and brown. Remove bacon and half drippings.  Add the vinegar and sugar, and cook, stirring to dissolve the sugar. Add the apples and stir to combine. Sauté apples until they are a little soft, about 5-10 minutes.
In a large bowl, combine the dandelions, red leaf lettuce, escarole, romaine, radishes, onion, and a few crumbled pieces of bacon. Toss to mix. Add fried potatoes, and pour hot bacon and apple mixture over salad.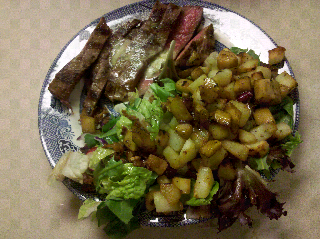 Another one of my favorite recipes is one that I adapted from one of Anne Burrell's (Food Network). It's a twist on a BLT, and I love it. To spice it up even more it is delicious with some deli turkey but beware it's a big sandwich!
Honey crisp apple, Smoked Cheddar, Bacon, and Dandelion Sanwich
· 4-8 strips thick-cut bacon (depends on how much bacon you like)
· 2 Slices of your favorite bread
· 1 Honeycrisp apple, sliced thin
· 1/2 cup grated smoked Cheddar
· 1 tablespoons cider vinegar
· 1 cups dandelion greens, sliced into 1/2-inch ribbons
Directions
Preheat the oven to 350 degrees F.
Cook the bacon until browned and crisp. Drain the bacon on paper towels. DO NOT ditch the bacon fat. Reserve it for finishing the bread.
Toast the bread slices lightly on both sides in the oven. Remove the toast from the oven and arrange a thin layer of the sliced apples on each toast. Top the apples with the cheese and return the toasts to the oven. Bake until the cheese starts to melt, about 5 minutes
Place bacon strips on each crostino and return to the oven for 1 to 2 minutes.
While the crostini are doing their final toast, ditch about half the bacon fat. Heat the remaining bacon fat in the pan and whisk in the vinegar. Turn the heat off and toss in the dandelion greens, season with salt and stir to coat the greens with the vinaigrette.
Remove the crostini from the oven, cut the bread in half and then top with the wilted dandelion greens.
You can keep this as an open faced sandwich or Place another piece of toasted bread on top.