This is a recipe for Balsamic Roasted Vegetable Toasts, a simple appetizer that does double duty as a great vegetarian meal.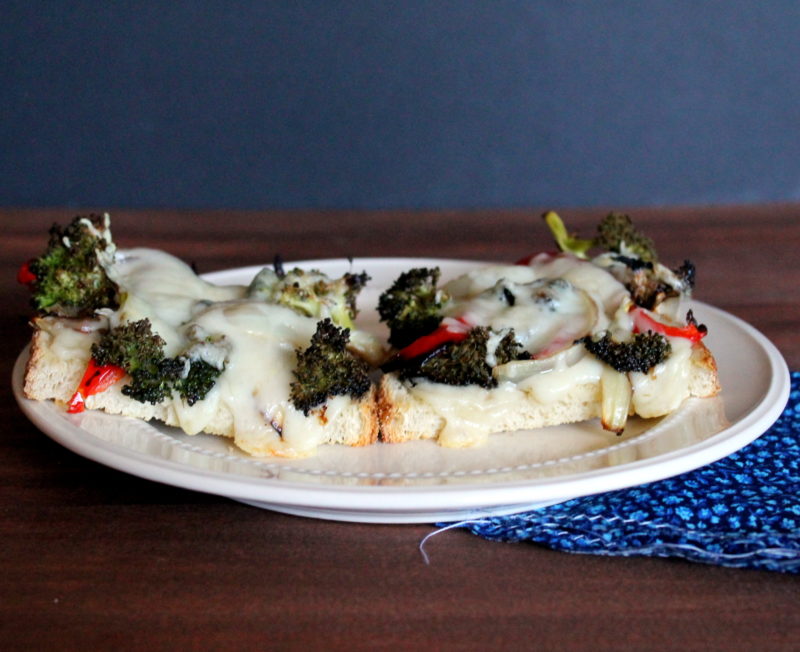 Winter is a time of soups, stews, roasts and sweets. Savory and filling are the stars this time of year, but it's always this time of year that I want to bring a little freshness into my life. Things like lemon, balsamic vinegar and winter fruits are defiantly requirements in my house. They add a hint of brightness, complexity and freshness that so many meals this time of year are lacking.
This recipe is pretty adaptable in that it can easily be made into a sandwich, and eaten as a main dish or when cut to size it makes a wonderful appetizer to accompany most winter meals.
I love the way that the sweet balsamic melds with the stringy, salty gruyere. Using different vegetables such as asparagus, broccoli, zucchini, red pepper, onion or even roasted garlic only adds to the complexity of flavor and texture. I think this dish is so simple that it takes dinner party guests by surprise with its addictive flavor.
It's also a good way to get young ones to eat their vegetables.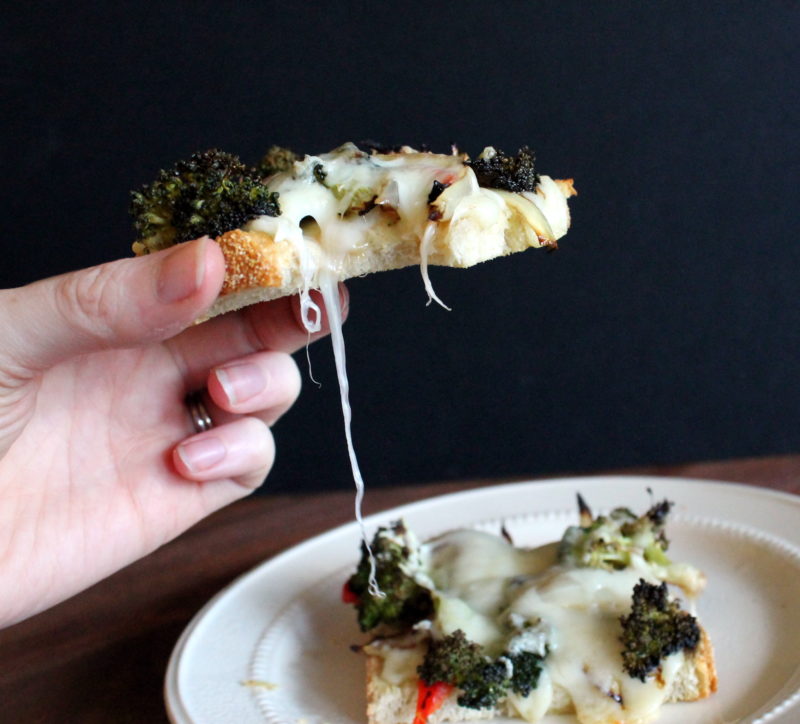 Balsamic Roast Veggie Toasts
Ingredients
8 oz broccoli florets
1 red bell pepper, sliced thick
1 small red onion, quartered
2 tablespoons olive oil (plus 1 tablespoon)
2 tablespoons balsamic vinegar
¼ teaspoon sea salt
⅛ teaspoon black pepper
8 slices sourdough bread, halved (or quartered depending on preference)
12 oz shredded soft gruyere cheese
Instructions
Preheat oven to 425F.
Spread the veggies out on a rimmed baking sheet and drizzle with olive oil, balsamic, salt pepper and toss well to coat. Place in the oven for 20 to 25 minutes or until the veggies have softened and begun to caramelize, tossing once halfway through. Remove from heat and set aside.
On a separate baking sheet spread the bread slices out and lightly brush with olive oil and place in the oven until crisp and golden, about 22 minutes. Remove from heat and let stand for 5 minutes.
After the bread has rested carefully divide the veggies up evenly on each toast. Top with cheese and place back in the oven for 10 to 12 minutes or until the cheese has melted.
Serve immediately.
Similar Recipes: