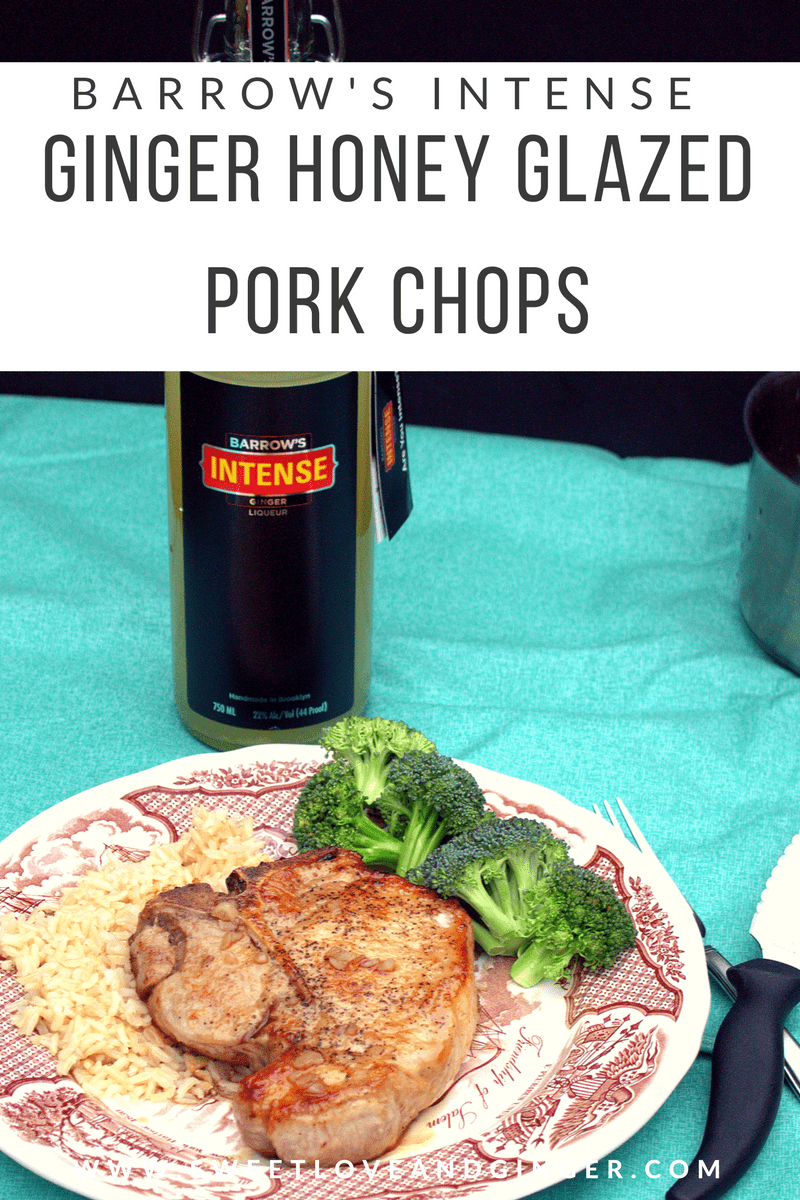 You guys, this sauce is AH-mazing. Like, lick the spoon amazing.
I've been making this same basic sauce for years now. It's an Asian inspired sauce that comes together easily with many variations, but generally, the main ingredients include ginger, garlic, honey, and soy sauce.
When  Barrow's Intense contacted me recently to see if I was interested in testing out their product, I didn't have to think twice. Afterall, ginger is hand's down one of my favorite flavors. Ask Chuck, I would eat ginger every day if allowed. The liqueur is surprisingly smooth and wonderfully delicious. Unfortunately, being less than 2 months into breastfeeding means that I'm not exactly able to partake in too many cocktails.
That's when this sauce came to mind.
First, the garlic is sauteed to release its flavor, then the liqueur is added. That smooth and flavorful liqueur reduces down to an even more amazing syrupy sauce. Adding in the honey not only sweetens the mixture but gives it a little thickness. The soy sauce brings a salty Asian kick that rounds it all out.
For these pork chops, the sauce is used as a glaze to finish the dish, which is something that you can do with various types of meat, but more than once I've used it drizzled it over vegetables. Additionally, it makes a wonderful stir fry sauce.  It's wonderfully versatile, which is what makes it a house favorite.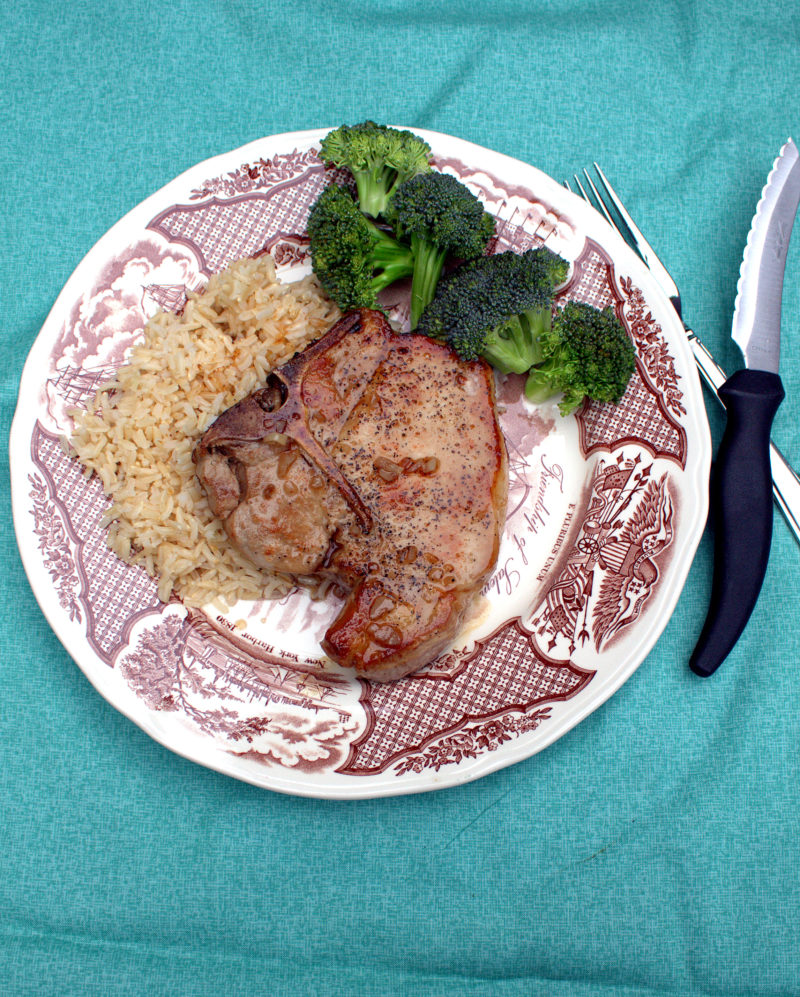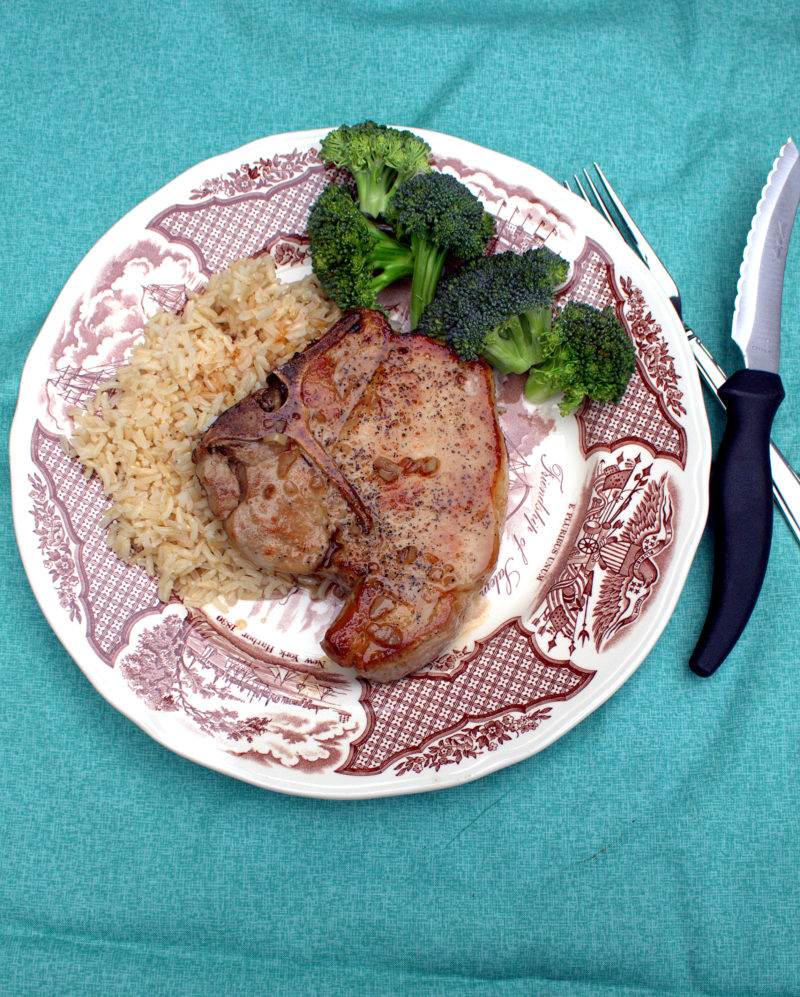 If you are interested in making this sauce without the liqueur swap it out for about a thumbs worth of fresh ginger and add about 1/2 a cup of water or broth.

Barrow's Intense Ginger Honey Glazed Pork Chops
Ingredients
1 teaspoon vegetable oil
2 cloves of garlic, minced
1 cup of Barrow's Intense Ginger Liqueur
¼ cup honey
2 tablespoons soy sauce
1 lb bone in pork chops
salt and pepper
3 tablespoons butter
Instructions
Heat oil over medium high heat.
Add garlic and saute until fragrant, about 1 minute.
Deglaze with the Barrow's Intense Ginger Liqueur and bring to a simmer. Simmer until reduced by half.
Stir in honey and soy sauce, until well blended, and cook for another minute. Then remove from heat and set aside.
Sprinkle pork chops liberally with salt and pepper.
In a large skillet melt butter over medium high heat. Add pork chops to the pan and sear. Let cook for 3 minutes. Flip and continue to cook for 2 minutes or more depending on thickness.
Use a brush to glaze the chops on both sides with the sauce.
Remove from heat and serve with additional sauce on the side.