In this house, I'm usually the chef de cuisine, but once in a while, Chuck takes the opportunity to step up to the plate. This is one of the first things he made me when we were dating. Obviously, it was well received. A super flavorful, smooth, and creamy sauce drizzled over aldente pasta served with a light salad and some bread to scoop up any leftover sauce makes me one happy lady. Since I'm sure that I'm not the only one who appreciates this kind of thing, I dubbed it his lady-killing dish.
Typically, Chuck's food is more meat-centric, and "masculine" (if there is such a thing). He likes to make and eat things like Chili, meatloaf, potatoes (in multiple ways see here and here), and all the breakfast foods (see here and here, but he's also amazing at making eggs, French toast and so much more). While I am usually the main cook, I really love to get spoiled once in a while, with a night off when he offers.
I especially love that he has no qualms about loading this recipe up with all the butter and cheese required to make it really amazing. Unfortunately, I can never seem to turn the "clean eating" side of my brain off, so my version of this sauce is nowhere near as delectable as his. Again this is what makes it so great.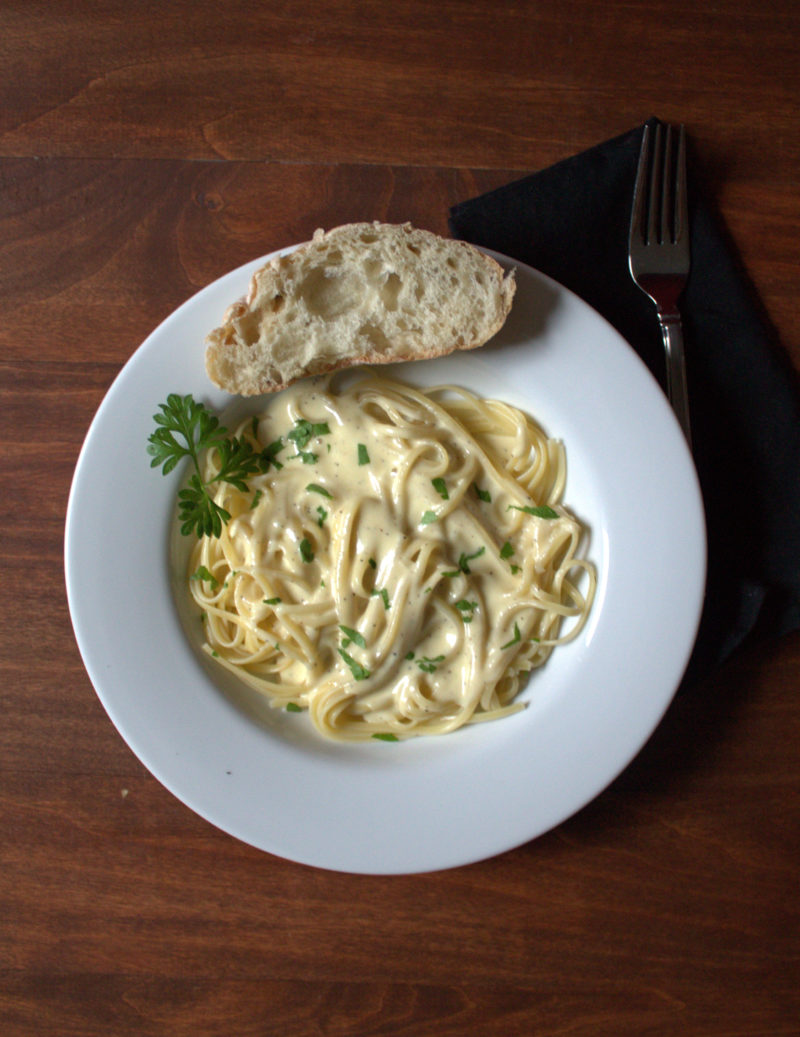 This particular recipe is just for a simple Alfredo, however, he often uses it as a base sauce. Adding other ingredients such as vegetables, meat, or seafood makes the dish feel entirely different each time. It adds not only additional flavor but also complexity and texture. My personal favorite is a combination of sundried tomatoes and spinach. Not only is this a wonderfully flavorful combination but it also has a very vibrant color that just makes you excited to eat it.
Chuck's Lady Killing Alfredo Sauce
Ingredients
1 lb fettuccini pasta
3 tablespoons unsalted butter
4 cloves garlic, minced
2 cups heavy cream
1½ cups grated parmesan cheese + more for garnish
⅛ teaspoon pepper
salt to taste
Chopped parsley for garnish
Instructions
Prepare pasta according to package instructions and set aside.
Melt butter in a medium saucepan over medium heat.
Add the garlic and saute for 30 seconds.
Add the cream and bring to a simmer, stirring often.
Stir in the parmesan cheese and simmer until the sauce has thickened, about 8 to 10 minutes.
Adjust seasonings, and remove from heat.
Serve sauce over pasta with a garnish of parsley.