See this? This is a picture of what an actual dinner at our house looks like. It's a little messy, and not exactly "perfect", but it's real life over here. Don't mind the banana to the left, that was part of Baby James dinner since braised meat was a little much for him at that stage.
It's been very chilly lately. Lot's of ice and a bit of snow. Unfortunately, it's kept us inside quote a bit lately, and Momma is starting to get cabin fever.
I usually love winter. It's a reason to stay in, drink tea, read a good book, and cuddle by the fire. I don't mind shoveling, it gives me a bit of exercise, and I like to go cross-country skiing, but this winter hasn't really been good for outdoor activities. The constant thaw and freeze has left so many trails just an icy mess and the little boy is still a bit young to be traipsing around in the below freezing weather. So what does one do when trapped inside?
We cook all the things.
We bake bread, and make soup from scratch, and concoct fancy meals that take a long time to put together. Winter is for eating, after all, right? It's not a surprise that we all pack on a few extra pounds this time of year. Shoveling helps to balance it out a bit at least. Right? That's what I'm going with.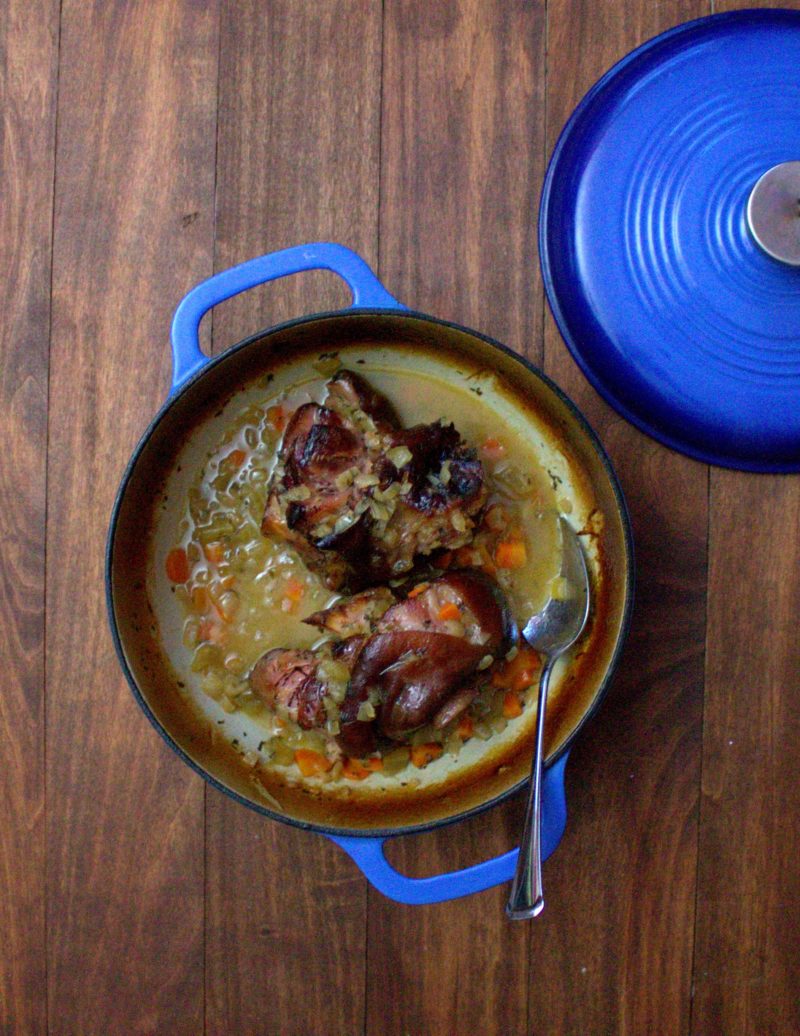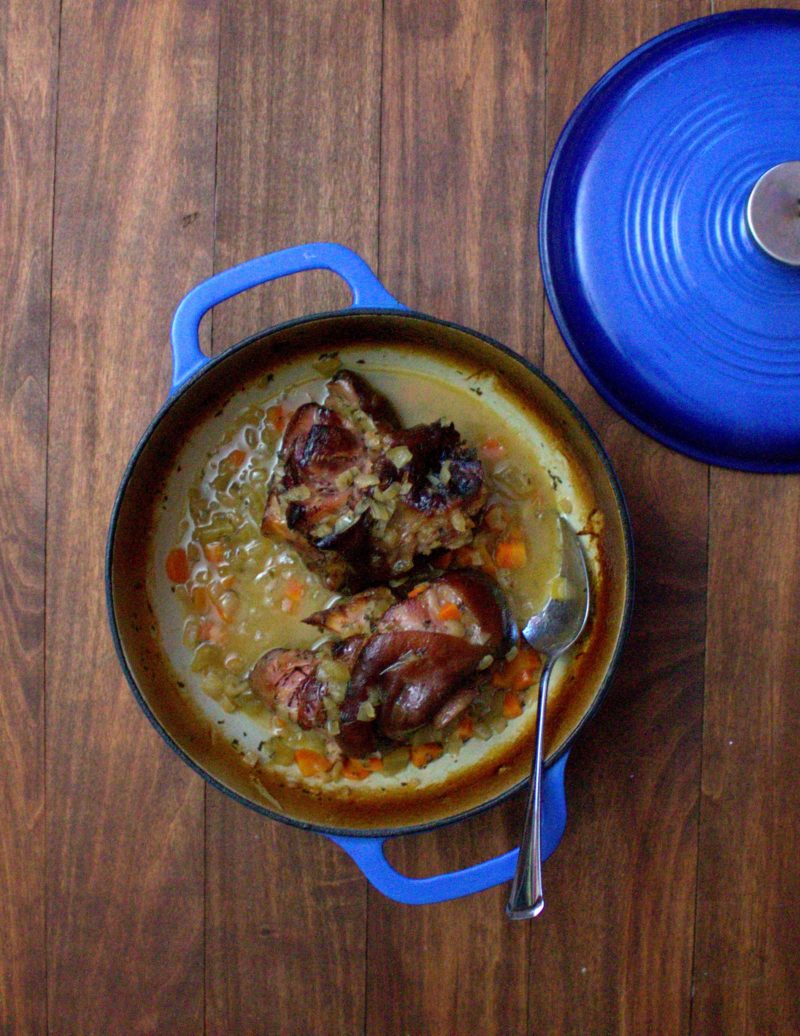 This dish isn't really the kind of thing that's going to make you gain weight necessarily, but it is incredibly hearty and so very very satisfying. You start with a ham hock. If your wondering, a hock is the ankle or shin section of the pig. It doesn't have a ton of fat but does have a lot of skin, bones and connective tissue. All those things mean there is a lot of collagen to be had. Ya know, collagen is the stuff that makes your skin stay firm and young looking right? Take it from me, it's good stuff.
When you do a good slow braise of a cut like this the meat just falls off the bone. It is full of flavor and incredibly succulent. The vegetables and sauce in the bottom of the pan are so full of flavor that you don't need much in the way of sides. I made Appalachian style peas and rice, and double garlic kale (not shown is the daily side salad), but plain rice and nearly any vegetable will do.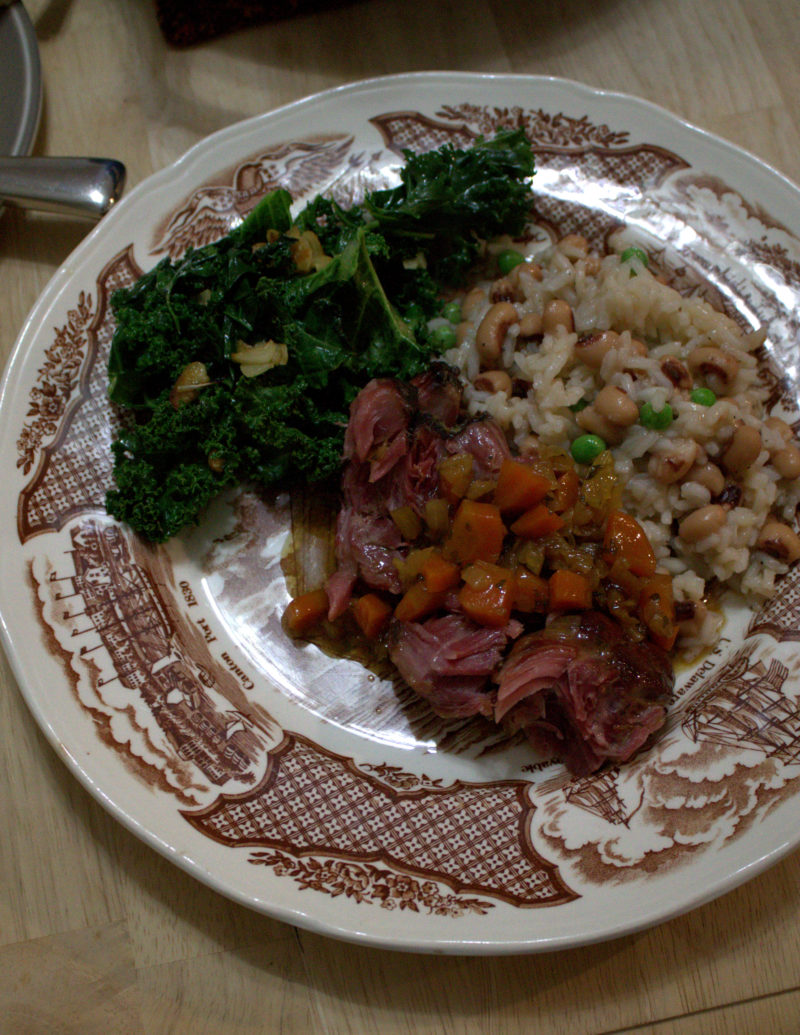 Don't have time to do the whole slow braise thing? Pop it in the crockpot instead. Cook it on high for 4 hours or low for 8 hours. You won't get as much caramelization, but it will still be mighty tasty.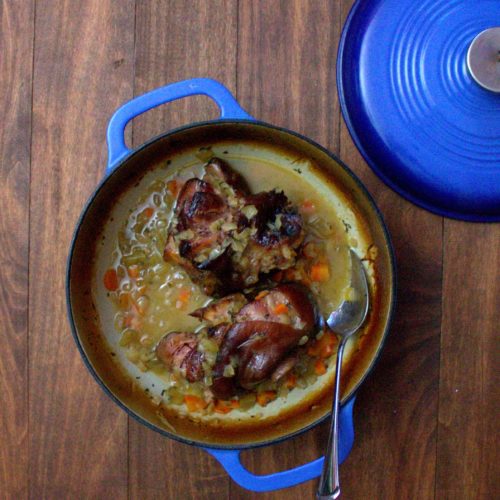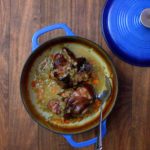 Beer Braised Ham Hocks
Ingredients
1 large carrot peeled & diced
1 large onion peeled & diced
1 rib celery diced
2 cloves garlic minced
2 teaspoons salt omit if using smoked hocks
1   bay leaf
1 teaspoon dried parsley
2 tablespoons honey
2 tablespoon dijon mustard
4 large ham hocks
1/2 to 1 can beer
Instructions
Preheat the oven to 375 degrees.

In a large dutch oven or braiser combine the carrot, onion, celery, and spices.

In a small bowl combine the honey and dijon mustard. Rub this combination over the ham hocks until well covered. Nestle the meat into the vegetables.

Add beer to the pot until it covers at least one-quarter to one-half of the meat.

Place in the oven and cook for 2 to 3 hours, until the meat seperated from the bone easily.

Remove from heat and serve warm.