Last week
Joy the Baker
shared a post about eating pasta for
breakfast. I loved her take on a carbonara style pasta, with a poached egg,
bacon and parsley. I also loved the idea of eating pasta for breakfast, not
that this is really new territory for me, mac and cheese, is a frequent
breakfast favorite in this house. I can often be found making hot dogs with
eggs over easy, chicken and gravy, ramen noodles, bagels with cream cheese and Doritos
on top or burritos for breakfast. What can I say, I eat what moves me, and I have
very few boundaries.
Last Sunday I woke up thinking about joy, and her pasta for
breakfast, eyeing the newly ripened cherry tomatoes in my garden while Brody
did his business, and decided that it must be done. I must make pasta for
breakfast.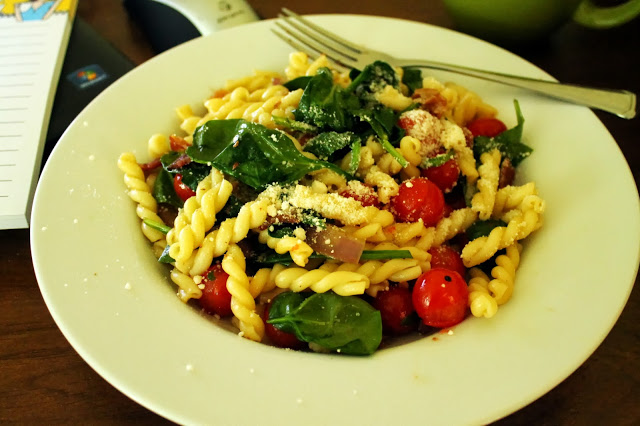 With all the fresh tomatoes I have been loving Egg BLT's for
breakfast, so my thoughts went first to BLT pasta salad, but a mayo laden pasta
salad wasn't really what I was looking for so I lightened it up a bit, and
bumped up the health with a little spinach instead of plain old lettuce.
Bacon Tomato Spinach Pasta Toss

8 oz
dry pasta
1 tbsp extra virgin olive oil
2 tbsp red onion, chopped
1 cup cherry tomatoes
3 strips of bacon, cooked and crumbled
1 cup fresh baby spinach
1 tsp fresh cracked pepper
Fresh Grated Parmesan Cheese for garnish

Cook the pasta according to package instructions, reserving ½
cup cooking water. In a large skillet heat oil over medium high heat, add onion
and tomato to the pan and sauté for 3-4 minutes. Stir in bacon and cook for an
additional minute, before adding the pasta water. Simmer for 2-3 minutes or
until the liquid reduces to half, then add spinach and cook until the spinach
just begins to wilt. Add pasta, pepper to the pan and toss, before removing
from heat. Serve immediately with a sprinkle of parmesan cheese.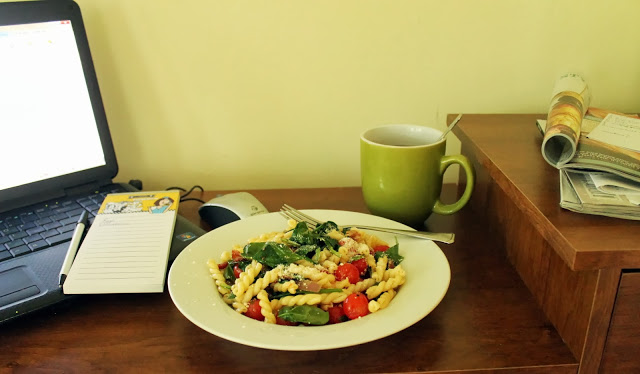 I ate my breakfast at my newly set up desk; I finally found
a location that I think will work for me. The spare bed room is too far away
from the kitchen, and Chuck, so I always used to do my computer wok for the
couch, which needless to say is not the best for productivity. I like this
spot, nestled into the corner, next to Chuck's side of the couch so he can play
video games, while I waste my evenings away on this silly laptop.
I'm hoping that this means that you will be seeing some
positive changes around this place. I suppose we will see.