Smoked Cheddar Mac & Cheese is a unique take on a classic that is perfect for any fall event.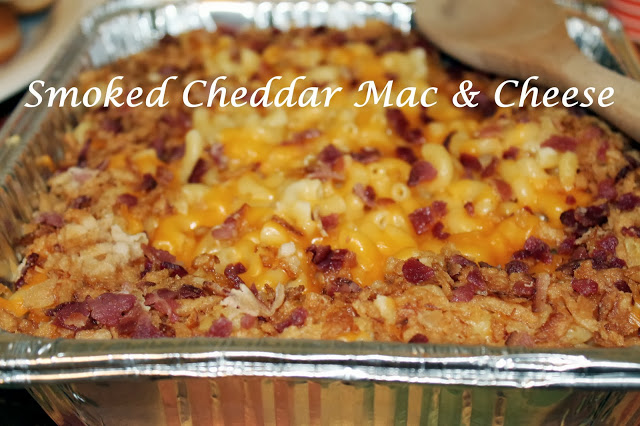 It's getting to be that time of year when football or hunting is all that I hear about from Chuck. That means game day parties, and post hunting potlucks. I usually only have a handful of recipes that I use for these events, and honestly I never thought to post them, because they aren't fun and exciting to me, though after a few people recently asked me for the recipes I realized that just because they aren't new to me doesn't me they are new and exciting to you. So I'm going to make an effort this year to share some of my favorites with you as I make them.
A fair warning very few of these recipes are any good for you at all, but that's not exactly the goal here either. So remember to indulge sparingly and share a lot with them.
This one I made recently for concert pre-gaming session. It's important to eat delicious and filling things before you drink yourself silly and spend the evening screaming and jumping to the music, and hey it's prefect for fall!
Smoked Cheddar Mac & Cheese
Ingredients
1 lb elbow macaroni
1 stick butter
3 tbsp flour
¾ lb (12oz) Smoked Cheddar, grated
¼ cup heavy Cream
¼ cup milk
½ lb sharp cheddar cheese, grated
1 6 oz container crispy onions, crushed
½ lb bacon, cooked & crumbled
Instructions
Preheat the oven to 375 degrees.
In a large thick bottomed sauce pan, melt the butter and whisk in flour. Cook for 1-2 minutes or until the mixture begins to thicken, whisking continually.
Reduce the heat to low and stir in cream, milk and smoked cheddar. Cook, stirring continuously until the mixture is smooth.
Remove from heat and slowly stir in the pasta, ensuring that it all gets coated.
Add half the sharp cheddar and stir well.
Transfer the mixture to a large baking dish and top with cheddar, bacon and onions.
Place in the oven and bake for 30 to 40 minutes or until the cheese has melted, and browned. Serve immediately.