Sometimes there's just a whole lot of stuff going on and you get overwhelmed by it all. It feels like you're going crazy because you just can't keep track of it all.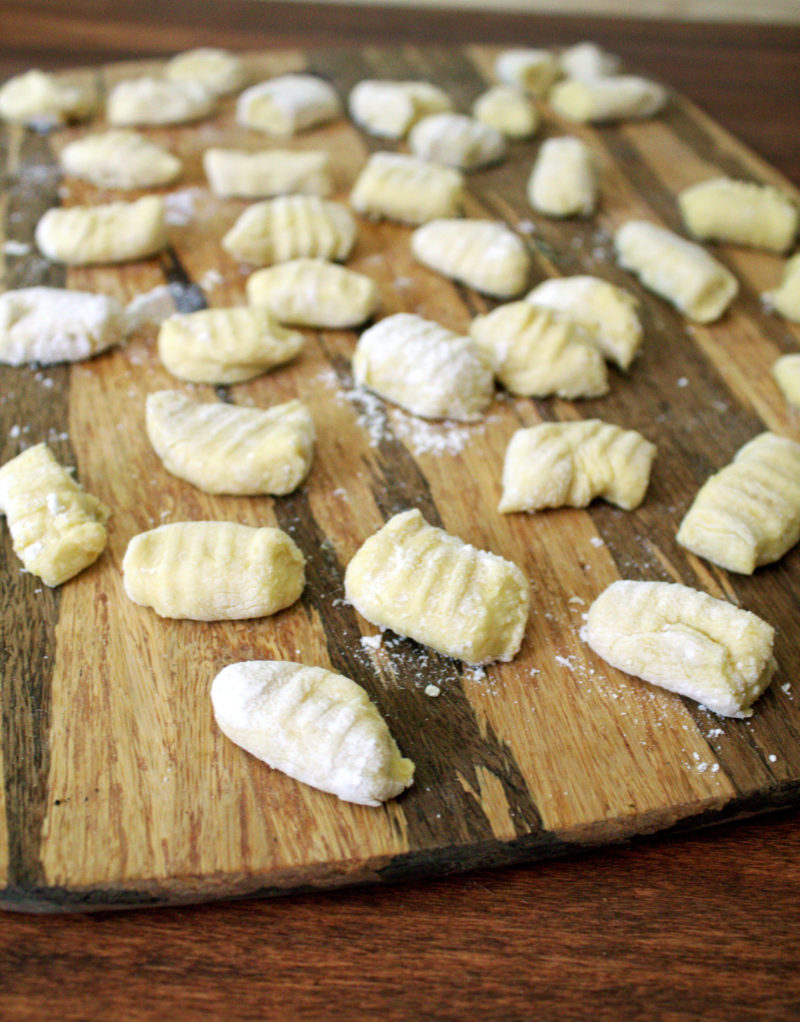 I feel like this happens to me every fall. There's so much stuff to pack into an unbelievably short season. Fun stuff like, hikes, and beautiful views to see are at the top of the list, then there is produce to store, and gardens to prep for winter, all those outdoor house projects that never got done, holiday shopping is just looming around the corner, and it seems like fall is the new wedding season, because wow are there wedding things going on. Not to mention the apple picking, pumpkin carving, and Halloween festivities. So much fun stuff!
Thinking about it all can feel daunting, so that's about the time I take a deep breath and step into the kitchen to make some ridiculously involved meal that just soothes the soul. Fall is for cooking after all. Am I the only one who thinks that? I can live with it.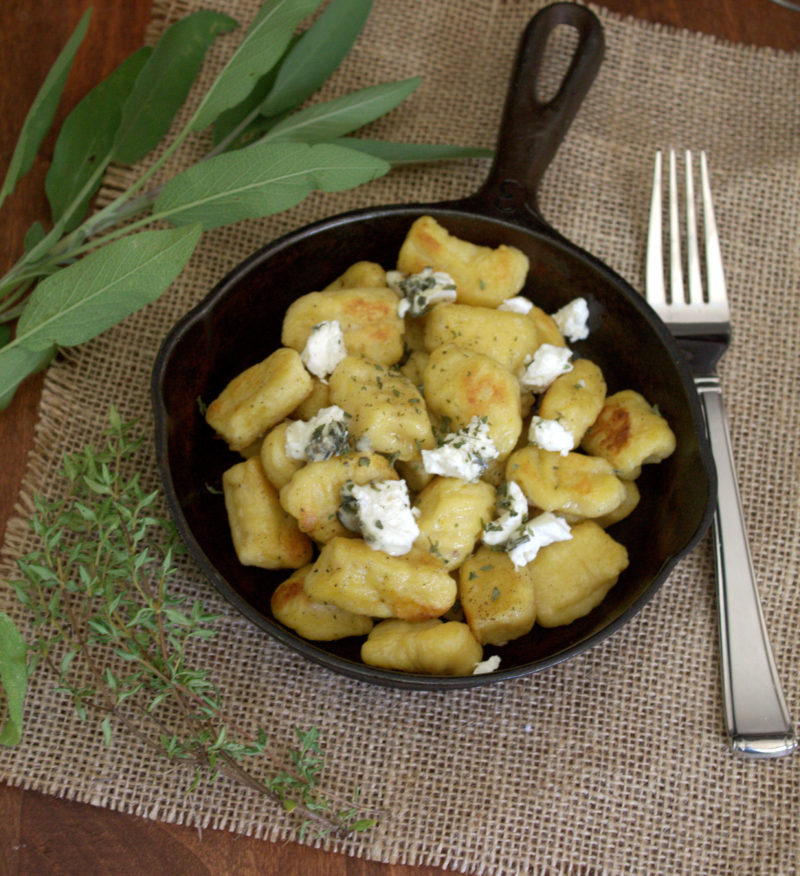 This recipe was just one of those long involved recipes that I love to help calm the crazy. It takes a while to roast the squash, let it cool and then work it into the dough. Working dough can really help out with stress relief let me tell you. Shaping the gnocchi is a whole other thing that I'm still working on perfecting and then cooking it happens in a flash compared to the rest of the process.
What's great about this recipe is that it's totally doable with leftover roast squash, because eating squash mash night after night can get old, even if it is home-grown and delicious. It's great with a red, or white sauce, or just some herbs and goat cheese like in this recipe. Sometimes you just have to let that thing you spent hours making shine all on its own.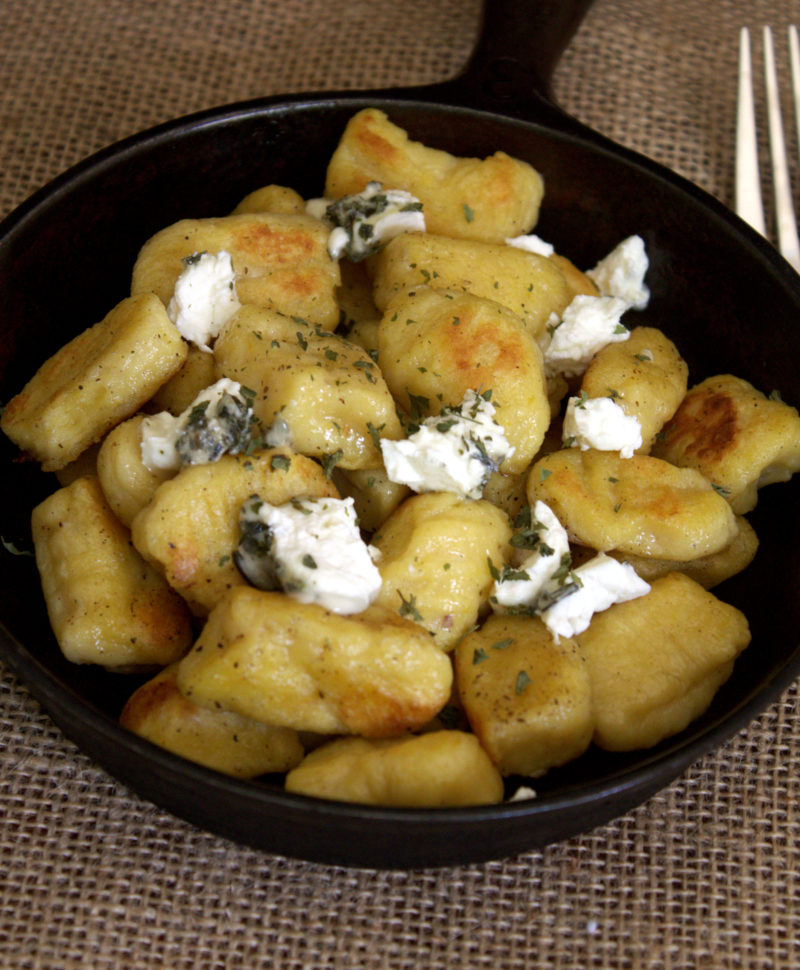 Butternut Squash Gnocchi with Oil & Herbed Goat Cheese
Ingredients
1 (12 ounce) Russet Potato, peeled & Quartered
1 ½ cups roasted butternut Squash, mashed
1 large egg
1 teaspoon salt
1 ¾ cups all-purpose flour + more for kneading
½ stick (1/4 cup) butter
2 tablespoons mixed herbs (parsley, sage, thyme, etc) + more for garnish
Instructions
Bring a small sauce pan of water and the potato up to a boil and cook until the potato is very tender, about 20 minutes. Drain, and mash with a fork or potato masher into a fine paste. Let cool.
In a large bowl, mix together the squash, potato, egg, and salt until well blended. Gradually stir in the flour until a smooth dough forms. If the dough is stick add more flour a tablespoon at a time.
Move the dough to a lightly flowered surface and knead gently for 1 to 2 minutes.
Working with small chunks of dough at a time, roll the dough by hand to create a roughly ½ inch-thick rope. With a floured knife cut the rope into ¾ inch pieces. Use a grooved gnocchi board or the back of a fork to roll the small pieces, creating grooves on one side and place on a floured baking sheet. Repeat this process until there is no more dough left.
Place the gnocchi on the baking sheet in the fridge to chill for 1 hour or more.
Once the gnocchi has chilled bring a large pot of salted water to a boil. Working in batches drop the gnocchi into the water and cook for 3 to 4 minutes, or until the gnocchi begins to float. Drain and set aside.
In a large thick bottomed skillet, melt butter over medium high heat. Add the gnocchi in an even layer and cook for 1 minute and then occasionally stir the gnocchi until it begins to brown. Add the herbs to the pan and remove from heat.
Transfer the gnocchi to a serving tray. Add the goat cheese and garnish with additional herbs.
Serve immediately.
More Squash Recipes: