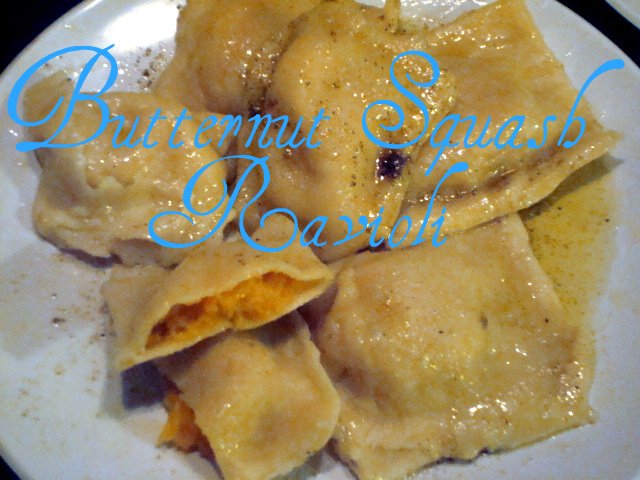 I'm throwing my regularly scheduled content out the window. I have to, simply because I must share this recipe with you. I made it last night and thought I was in heaven, which is saying something for someone who previously thought they did not like squash.
I originally found the recipe
here
; however I decided to put it all together here with what I did, and what I learned for your ease and entertainment. This was also my first foray into actually making my own homemade pasta (spaetzle doesn't count right?) so it was a big step for me.
Butternut Squash Ravioli in a Sage Butter Sauce
1 medium butternut squash, de-skinned, & deseeded, chopped
1 tbsp EVOO
¼ cup parmesan cheese
¼ tsp nutmeg
Salt & Pepper to taste
2 cups flour (plus some for surface)
3 eggs
1-4 tbsp cold water
1 stick of butter
10-12 sage leaves or 1 tbsp of dried sage (this is to taste)
Chop the squash into roughly 2 inch pieces and scatter over a baking sheet. Drizzle with oil and toss, before putting them in the oven. They should cook at 400 for 30-35 minutes, or until soft. Remove from the oven and let stand to cool, before making the filling. Meanwhile prepare the dough. In a medium bowl add flour and eggs. Mix well using an electric mixer. The dough should begin to form a ball. If the dough is too dry it will remain crumbly, so add a few tablespoons of water until the ball forms. Use a pasta machine, roller, or rolling pin to roll out the dough into 3 inch wide, foot long sheets. Once the squash is sufficiently cooled mash it with a fork. Stir in the parmesan cheese, nutmeg, and salt and pepper. Place 4 dollops about the size of a half dollar in the middle of a pasta sheet evenly spaced, using your finger dip it into water and trace the outside of the dollop. Place another sheet on top and press it down around the dollop, using water to cement the dough together. Slice the dough to create separate ravioli. Bring a large pot of water to a boil and drop in the ravioli, they should only take a few minutes to cook, rising to the top as they finish. Strain the ravioli and set aside. In a skillet melt a stick of butter, and stir in sage, cook for 2-3 minutes, until the butter begins to brown. Drizzle over warm ravioli and serve, with sage leaves as a garnish.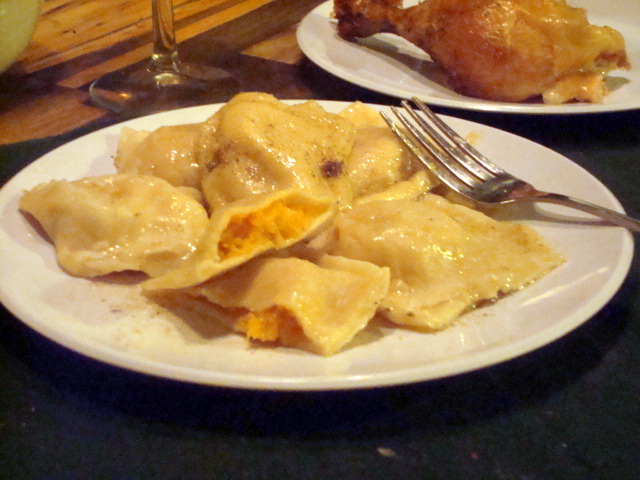 It's a lot easier than the recipe initially sounds isn't it? The most difficult part for me was getting the dough flat enough and the correct shape, as I do not have a pasta roller I had to use my rolling pin, and a lightly floured counter top. I also was lacking a fancy cutter to make the edges pretty, so I simply used a butter knife. I think it is beneficial to get your water boiling as you're making the pasta so you can toss it right in the water when it's finished. I couldn't find fresh sage, or even whole dried leaves, so I ended up using ground sage, and used about a tablespoon of it, however I LOVE herbs so some people may not appreciate that strong a flavor, I would suggest beginning with half a tablespoon and adding more according to taste.
The ravioli and sauce are so hearty they could have been a meal on their own, however I wasn't sure how this endeavor would turn out is I also slow roasted a chicken rubbed with salt, pepper, garlic, and curry. This proved to be a fantastic combination. The creamy ravioli, and sage, with the spice from the curry mixed together to create one of the best meals I think I have ever made. The random stop at the wine store to pick up some dry white wine couldn't have been better placed either.
I spent the whole rest of the night lying in bed reveling in the deliciousness, and thinking about what else I want to try next. I can get into this whole homemade pasta thing.