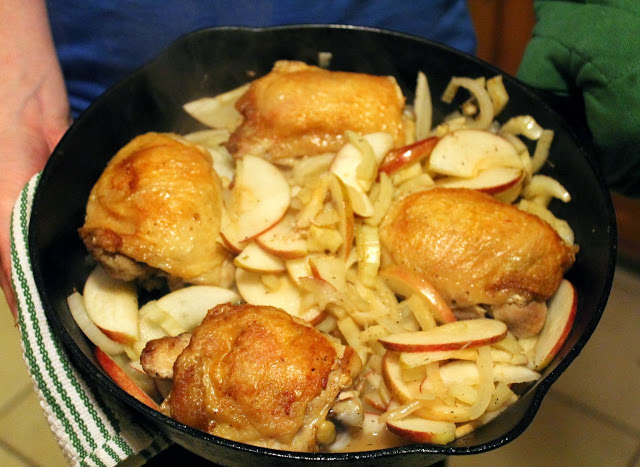 I have really enjoyed cooking with apples
this season, and not just in my traditional deserts, sauces and butters but I
like finding ways to add them to more savory dishes also. This particular
recipe I found while looking for a new chicken thigh recipe and it was
delicious. I usually gravitate to more salty dishes so this vinegar based dish
was a little different than what I was used to and a fun change to our week day
dinners.
You can find the original recipe
here
. Mine has a few small changes based on our own personal tastes, mainly
less vinegar, I didn't want it to be too strong, although we do enjoy those
flavors, we prefer them in smaller doses, but those are just our personal
tastes.
Braised Chicken with Apples
and Fennel
4 bone in chicken thighs (with skin)

Salt & pepper to taste

1 tbsp extra virgin olive oil

1 yellow onion, chopped

3 cloves of garlic chopped

1 fennel bulb, cored and chopped

½ cup dry white wine

1 cup apple cider

1 large tart apple, cored and sliced

2 bay leaves

1 tsp thyme

Season chicken generously with salt and pepper. Heat the oil
in a large skillet and place the chicken skin side down in the pan. Cook
without flipping until the skin is golden and separates from the pan easily,
roughly 9-10 minutes. Remove the chicken from the pan. You may want to also
drain some of the juices from the pan, though leave some to sauté the
vegetables in. Add onions, garlic, and
fennel to the skillet and cook, stirring regularly until the onions begin to caramelize,
roughly 5-7 minutes. Deglaze with the wine and then add the cider, allowing it
to simmer and reduce to half. Add the chicken skin side up, apples, thyme and
bay leaves to the pan, cover and allow it to simmer until the chicken is cooked
through, roughly 30 minutes. Remove the cover and increase the heat for 5-10 minutes
or until the sauce begins to thicken slightly. Then stir gently and serve warm.
(Serves 4)