We have moved days, instead of the second Tuesday of the month Cooking Lessons will now be on the second Monday of the month. It's what seems to work best, I'm sure you don't mind do you?
Back to lessons!
Being able to serve the perfect steak is a skill that every cook should know, unless of course you are a veggie person, in which case this post will still be a good read for you since the skills can be transferred.
My preferred method for cooking steak utilizes a good sear and finishes in the oven. I like this method because it produces a crisp crust and a perfectly tender and juicy inside. While I like a very rare steak this method allows for virtually any type of finish from black and blue to well done.
Personally, I tend to think that good steak is worth the price, especially if it's going to be the star of the show. I prefer a well marbled, grass fed steak from a local butcher. The butchering process is very important to the flavor of the meat so having a good butcher is key. If you don't have a preferred butcher just choose the best-looking cut you can find. It does take time to learn what is best, so just keep trying until you find something that you really like.
How to Cook a Perfect Steak
Open the steak up, blot it dry with a paper towel and let it sit out until it comes up to room temperature, about 30 minutes. This should help the steak cook more evenly.
Brush the steak with olive oil and then sprinkle the outside liberally with salt and pepper.
Heat the skillet only 6 to 8 inches under the broiler for 20 minutes.
Once heated carefully move it to the stovetop over high heat. Then turn the oven down to 375 degrees.
Place the steak in the pan and cook for 1-2 minutes, do not touch the steak during this time. Flip once and cook for an additional 1-2 minutes. The steak should be browned and a crust should start to form on the outside.
Move the skillet into the oven and roast until desired doneness. The chart below shows the best times for cooking to desired doneness based on thickness.


| | | | | |
| --- | --- | --- | --- | --- |
| Thickness | 1 inch | 1 ¼ inches | 1 ¾ inches | For ea. Additional ¼ inch |
| Rare | 8 Min. | 10 Min. | 12 Min. | +1 Min. |
| Medium Rare | 10 Min. | 12 Min. | 14 Min. | +1 Min. |
| Medium | 13 Min. | 15 Min. | 17 Min. | +1 Min. |
| Medium Well | 18 Min. | 20 Min. | 22 Min. | +1 Min. |
| Well Done | 20 Min. | 23 Min. | 35 Min. | +1 Min. |

Remove the pan from the oven and transfer the steaks to a cutting board to rest. Let stand for 5 minutes and place a small pat of butter (preferably herbed) before serving.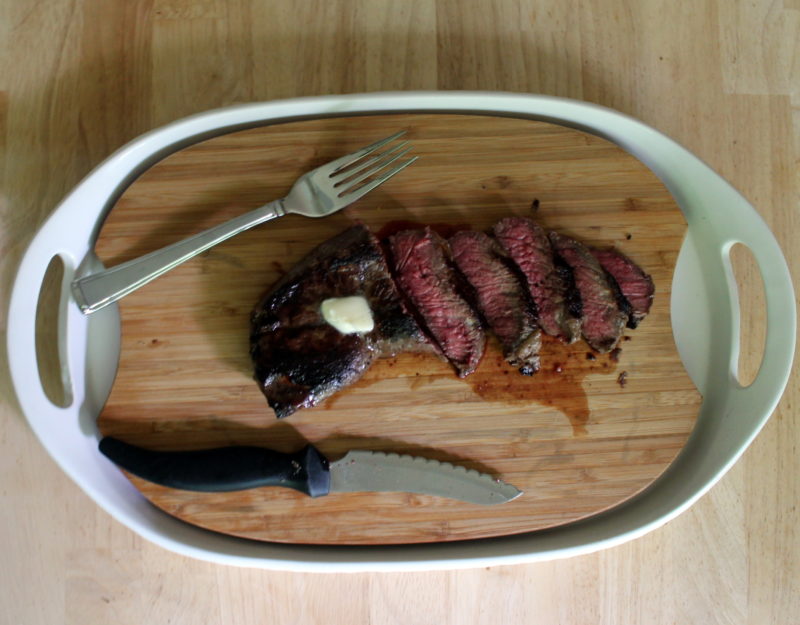 Cooking a great steak does not have to be hard or scary, these steps help to make it super easy and can be transferred to other meats such as roasts, and pork chops.
Now once you have mastered the skill of cooking a steak and making salad dressing you can very easily put together a simple meal of steak and salad without too much trouble. Add some fresh bread from the market and a glass of wine and you have a luxurious and fancy meal that will be sure to please.