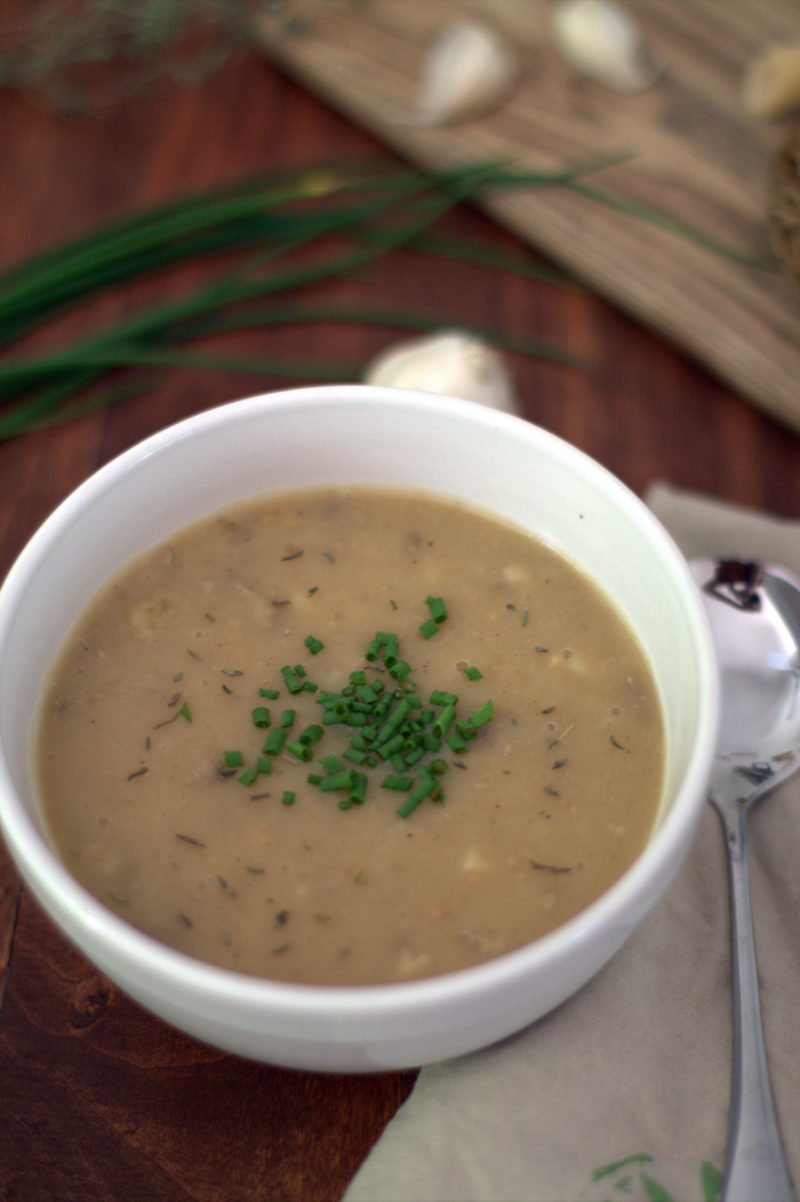 It's a pretty awesome thing when morels just pop up in your back yard. It happened last year as well, but honestly, I didn't expect that kind of luck twice. There were even more of them this year, which is super exciting. I'm not holding out hope for next year so as not to be disappointed. I know that I'm eventually going to have to learn how to actually find these guys out in the wild, but for now, this works.
Also this year we transplanted some ramps into the yard. I've decided to make the back garden along the fence line a food forest garden. For those who aren't familiar, a food forest garden is a low-maintenance and sustainable food production system based on woodland ecosystems.  Since this area is already right on the tree line, and the fiddleheads are already prevalent, I figured why not just go with it? So go with it, we shall.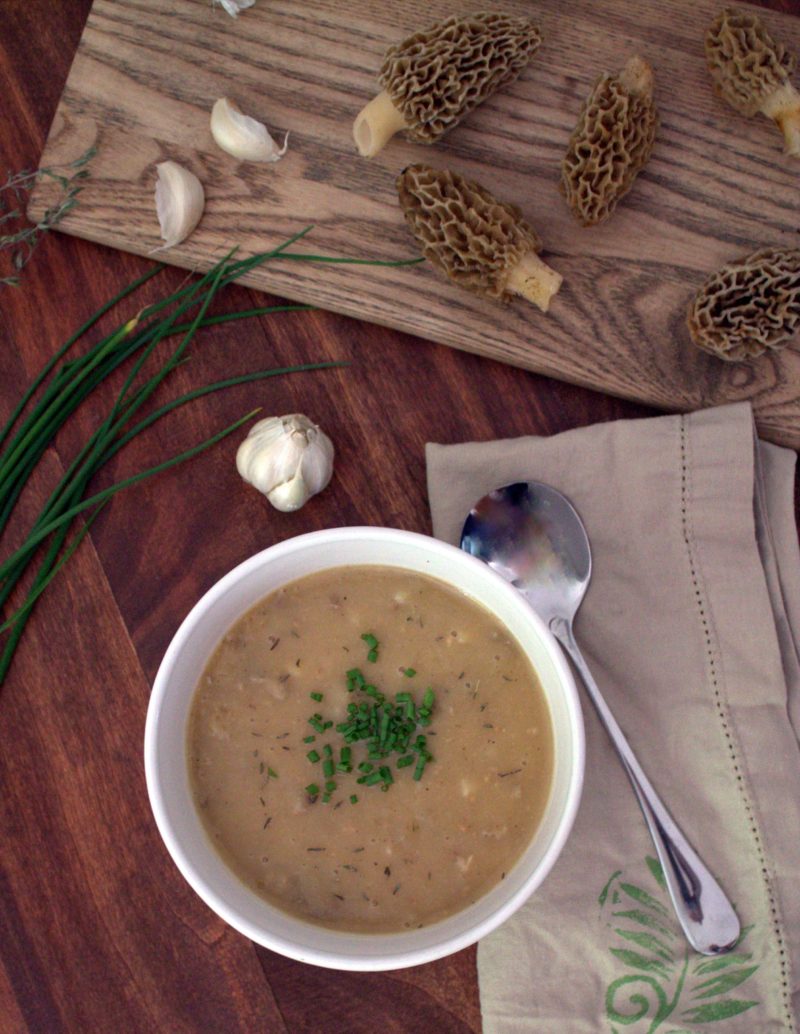 It's really exciting for me to have all this wild food growing right in my backyard. While it's not enough to feed us (yet), it definitely helps me gauge when to go searching for these beauties nearby, which is an amazing bonus. Additionally, I feel like I'm doing something good for the environment. Ramps have been so over foraged in our area that they are actually endangered. Transplanting some from a few local thickets, and cultivating them, might do some good. At least that's the hope.
This particular recipe was made on a cold rainy Saturday. I was lonely and craving soup, and when you know you can step right outside for some fresh mushrooms how could you not make mushroom soup? So make mushroom soup I did.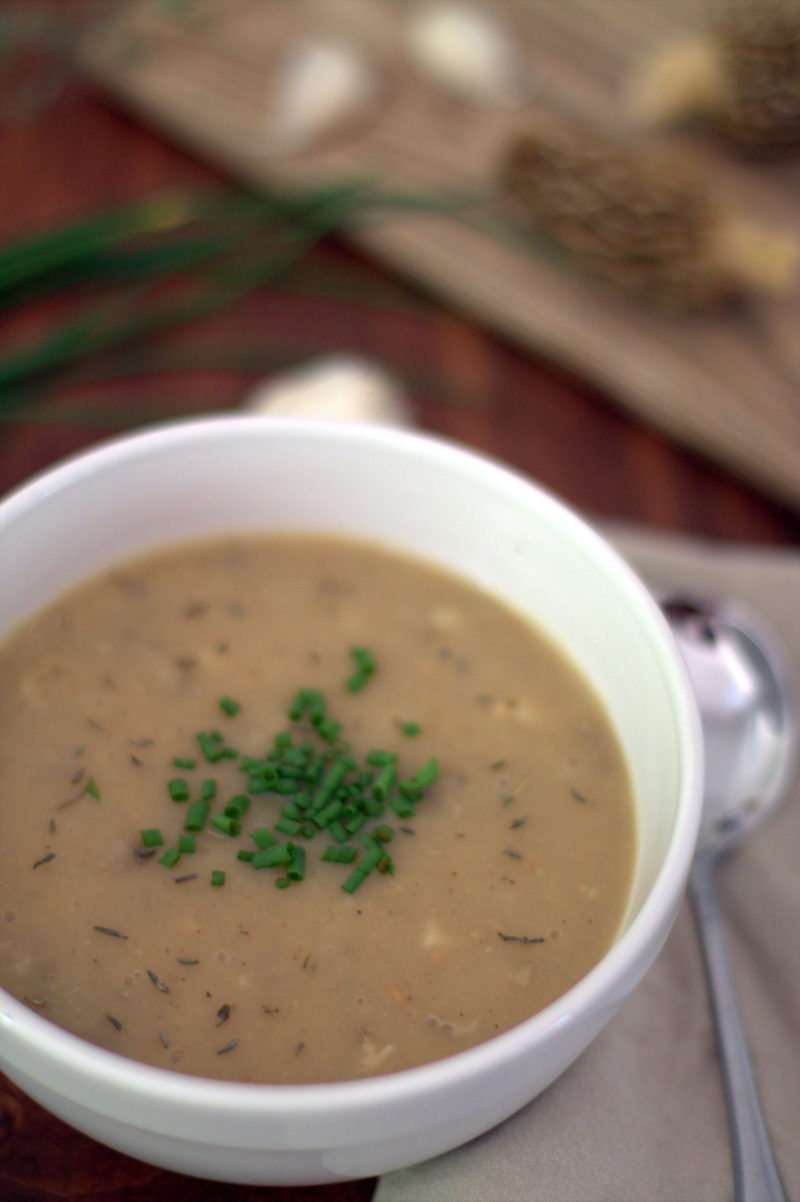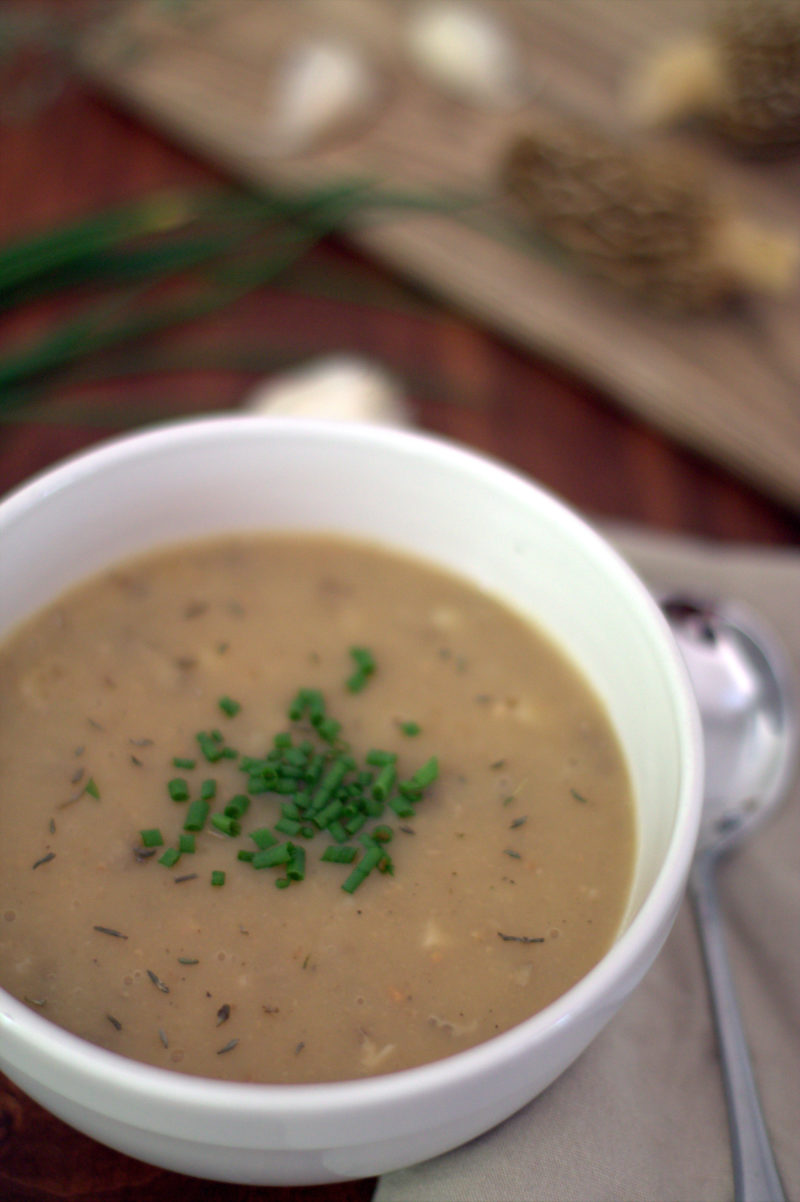 I opted to use go the whole food, plant-based route because we are trying to eat well around here (aren't we always?), but you can always feel free to add a bit of butter or swap the almond milk for cream if that's more your thing. I didn't use any butter or oil in this dish because mushrooms and onions don't really need it, but if you're nervous about that feel free to add a bit of oil, or butter at the beginning.

Creamy Morel Soup (Vegan)
Ingredients
1 shallot, peeled and chopped
2 heaping cups fresh morels, chopped fine
¼ teaspoon dried thyme
Pinch of salt
4-6 cups vegetable broth
1 small russet potato (less than a cup), peeled and diced
¼ cup unsweetened almond milk
Instructions
Place the mushrooms and all of the onions in a medium sized saucepan over medium heat. Cook for 1-2 minutes, stirring often. The mushrooms will release their liquid and become darker, while the onions will turn translucent. Remove about ¼ to ½ of the mushrooms from the pan and set aside.
Add the thyme, salt, broth and potatoes to the pot. Bring to a boil and then reduce to a simmer. Cook until potatoes are soft, about 15 to 20 minutes.
Use an immersion blender or blend in batches until smooth. Add the reserved mushrooms back into the pan with the almond milk, and stir well to combine. If the soup is too thick, add more broth, if it is too thin, bring it back up to a simmer and cook until reduced.
Adjust seasonings and serve.