Apple season is starting to wind down over here as the frost starts to creep in so I'm trying to get the last of my favorite fair weather recipes out while I can.
Unfortunately I have been super busy lately trying to get all of these big ideas out of my head and into effect, as well as prepare for the impending holidays. I think I'm almost there I'm almost ready to let you guys in on what I have been doing/am going to be doing. You might already have some ideas, however we are moving on now.
What I meant to say there was that this recipe is great for the super busy. It's one of those prepare it and leave it types, and when it's done you just need to grab your buns and choose your toppings. I served it with some shredded cabbage, and a side of carrot sticks. Did I mention that I've been busy? Carrot sticks come in a lot around here when we lack time, or the energy to cook.
It's also one of those recipes that is great for football season, since apples are around for pretty much its entirety and you can doubleor triple it easily. It could also be served over rice or pasta pretty easily if
you are looking for something different.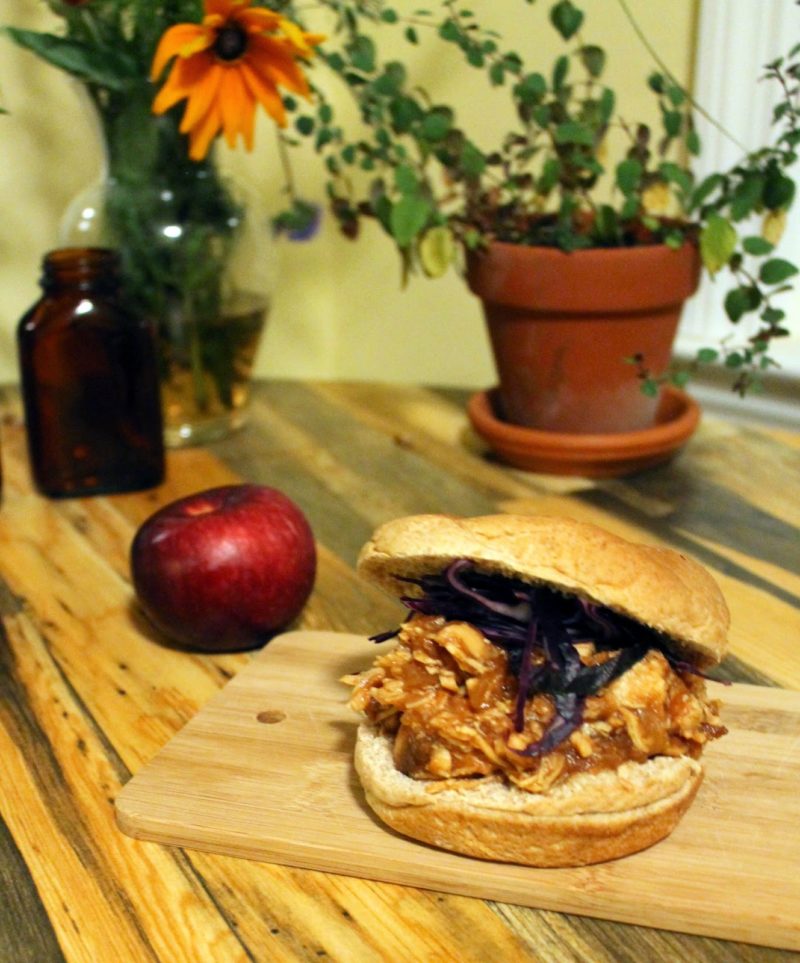 Crock Pot Apple Barbecue Pulled Chicken Sandwiches (Serves 6-8)
1 Apple, peeled, cored and sliced
1 large onion, sliced thin
2 lbs boneless, skinless chicken breasts
1 tsp salt
1 tsp pepper
1 tsp smoked paprika
2 cups apple cider
1 cup ketchup
½ cup apple cider vinegar
½ cup apple cider
½ cup packed brown sugar
2 tsp ground mustard
¼ cup Worcestershire sauce
1 tsp garlic powder
1 tsp smoked paprika
1 tsp dried onion
Place the first 7 ingredients in a large crock pot and cook
on low for 6-8 hours. Once the chicken is done use two forks to shred the
chicken. In a large saucepan combine the ketchup, vinegar, cider, brown sugar,
mustard, Worcestershire sauce, garlic, paprika and onion, and stir until well
combined. Bring to a boil and then reduced to a simmer. Cook uncovered for 10
to 15 minutes until the sauce has thickened. Stir the sauce into the chicken
until well combined. Serve immediately.