Recently I told you all about our
favorite crock pot meals
, 100 of them to be exact, but I skipped a big one, perhaps the one that we use most often. That is the
crock pot roast chicken
. I might still be sounding crazy since I'm telling that roasting chicken in the crock pot is the single most important thing that we do around our house, but let me explain.
Using the crock pot ensures that the chicken is cooked through. I know that many people have problems and nervousness about whether the chicken is cooked correctly; using the crock pot takes all of that away. Using the crock pot means that it can cook while I'm at work, so that dinner only takes a few minutes to throw together when I get home. The last thing I want to mention is the benefit of having cooked chicken in the house to help us get through the week. It's so convenient! Whole young chickens go on sale and are pretty inexpensive per pound. Additionally a single 4-5 pound chicken can provide 3-4 meals for the two of us that is 6-8 servings.
A few notes on this recipe:If you do not require crispy skin than you can omit the foil and additional oven time. However the crock pot does cause the chicken to pretty much fall off the bone, and the foil is very convenient for  transferring the chicken out of the crock pot to a cutting board.
 I do not suggest adding vegetables to the crock pot, because the liquid from the chicken tends to remain in the crock pot it will cause the vegetables to be overly mushy and greasy. I like to roast them in the oven while the chicken is crisping, usually in their own pan. However this is just my opinion feel free to experiment with your own methods.Typically when you buy a whole chicken it is packaged in plastic. Once you take it out of the plastic there is also a bag on the inside of the chicken cavity that contains the giblets. This has to be removed before cooking. The giblets can be thrown away, used for gravy or saved for later use in stock.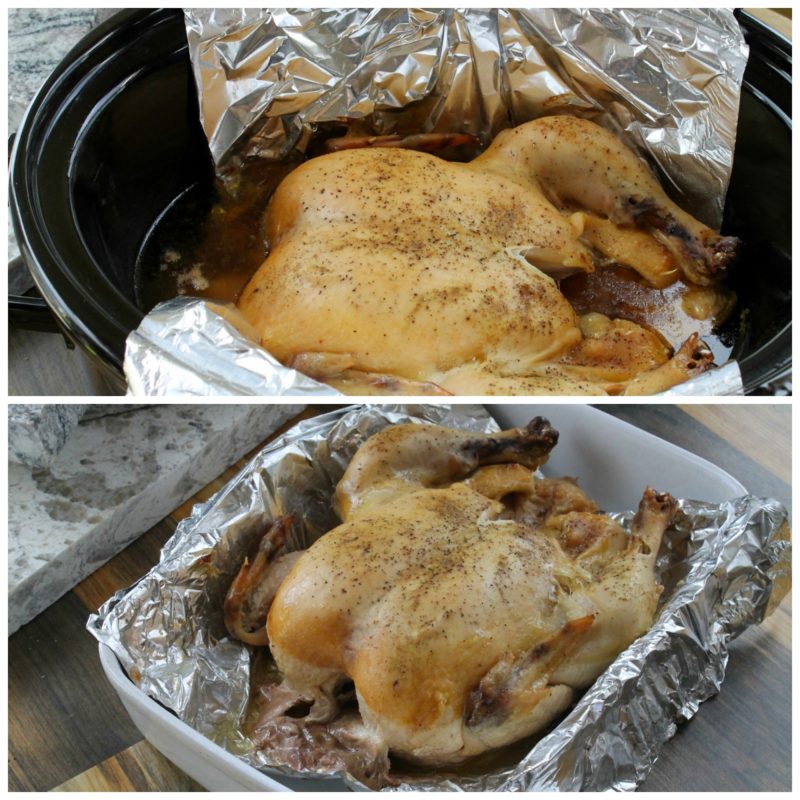 Crock Pot Roast Chicken; Home Cooking Made Easy
Serves: 10 to 12 Servings
Ingredients
1 whole (4-5 lb)
Chicken
½ tbsp salt
1 tsp pepper
1 tsp curry powder
1 tsp garlic
Instructions
Place a large piece of tin foil in the crock pot so that the edges hang over the sides.
Place the chicken, breast side up inside (Optional: tie the legs up with kitchen twine and fold the wing tips under). Sprinkle with spices and
cover.
Cook on low for 6-8 hours. Remove lid and using foil transfer the chicken to a roasting pan.
Place in a preheated 475 degree oven and cook for 15-20 minutes or until the skin gets crispy.
Remove from oven and let stand 5-10 minutes before serving.
The spices that I use to roast my chicken are simple, but I am wondering what are your favorite roast chicken seasonings?