These fall days often make me crave something warm and comforting, especially when I am home alone. On this particular day I decided to comfort myself with one of my favorite fall dishes for lunch. This recipe is a simplified version of my favorite Sweet Potato Soup recipe that is so easy for the single person to whip up!
Simple Single Sweet Potato Soup
1 medium sweet potato, peeled and cubed
1 ½ cups vegetable broth (or chicken broth)
1 tablespoon brown sugar
1/4 teaspoon ground ginger
1/8 teaspoon ground cinnamon
½ cup milk or cream
Pinch salt
In a sauce pan boil potatoes and broth until tender. The liquid will begin to evaporate, so be sure to stir. Add spices and place in the blender. Blend until smooth and return to saucepan, on low heat stir in milk, adjust seasoning and serve.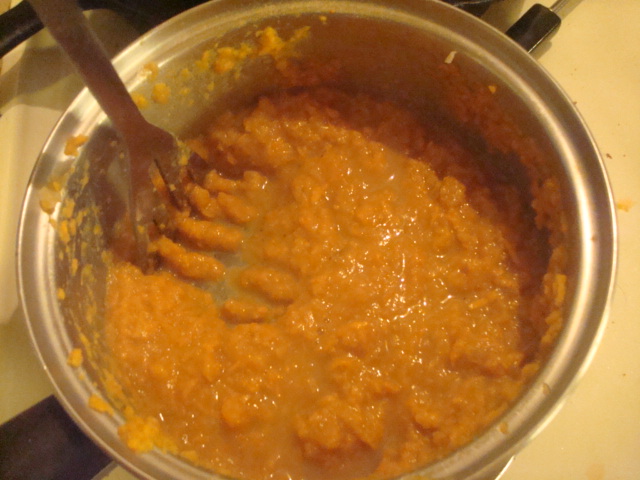 Now I don't always use a blender for this recipe. I often simply use a potato masher as shown above. Mostly because I am too lazy to do all those dishes for just me and I enjoy a little texture in the soup. This however is up to you.