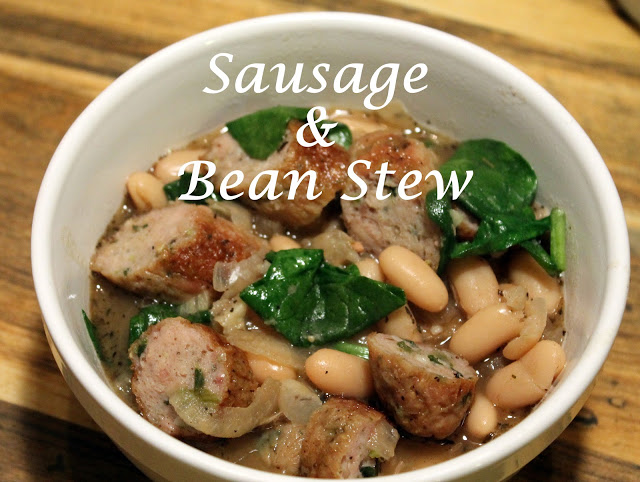 This is my cleaned up take on a Spanish classic. Typically in Spain
chorizo would be used, but I chose to go with garlic and spinach chicken
sausage, you could also use Italian sausage if you wanted as well, giving you
lots of choices. It can also very easily be multiplied for a large family, and
because it is so easy my bet is that you will be making it a lot. I even had it leftover cold and it was delicious, so this is a good one to have for the summer months as well. Please give it a shot.
Sausage & Bean Stew
1 tbs olive oil

½ lb turkey sausage links

1 small onion, sliced thin

2 cloves of garlic, minced

1 tsp thyme

1 can cannellini beans, rinsed

1 cup low sodium chicken broth

2 cups fresh baby spinach

Add half the oil to a large skillet over medium heat, and add sausage.
Cook sausage, turning occasionally until cooked through, roughly 10-15 minutes,
then set aside. Reduce heat to medium, and sauté onion, garlic and thyme until
softened, roughly 5 minutes. Add the beans and broth and cook for about 10
minutes. Add spinach and cook until it just begins to wilt. Slice sausage into
bite size pieces, and stir into stew. Remove stew from heat and serve in bowls,
warm.