Fried rice is probably one of the easiest recipes ever, and shrimp fried rice is only about 1/8 of a degree more difficult. It's also something that can be made pretty easily from pantry staples, so no additional shopping is needed.  I made this recipe the easiest I possibly could, even cutting out a lot of chopping and shucking by using frozen peas and carrots. Of course you can also use fresh veggies, I do suggest cutting them up pretty small, and at least tossing the carrots in the pan at the same time as the onion so that it cooks all the way through, and otherwise it's basically all the same.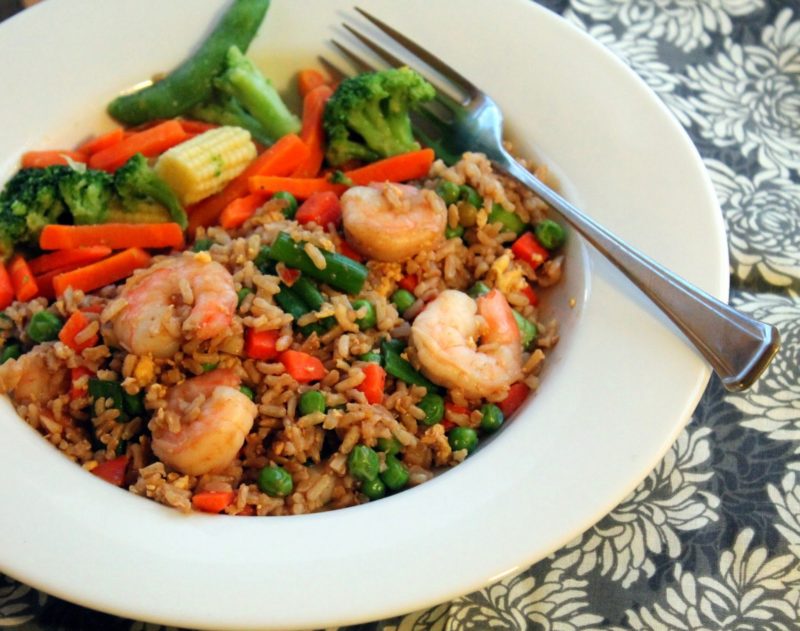 This recipe, though suited for one is pretty easy to double, triple, or even quadruple to feed a crowd. I was able to stretch this recipe for one to feed both me and Chuck by steaming up a large batch of Asian style veggies. We are trying to keep it a little healthy over here.
Shrimp Fried Rice
Ingredients
4 oz. of Shrimp (about 9 medium shrimp), peeled & deveined
1 tbsp low sodium soy sauce
1 tbsp low sodium teriyaki sauce
1 tsp ground ginger
1 tbsp extra virgin olive oil
½ a small onion, peeled and chopped
1 egg
½ cup of frozen peas and carrots
½ cup of cooked brown rice
handfull of green onions, chopped (optional)
Instructions
In a small bowl combine soy sauce, teriyaki sauce and ginger then add shrimp and toss. Allow them to marinate at room temperature for about 10 minutes.
Preheat a large sauté pan with oil over medium high heat. Add the shrimp and sauté for about 30 seconds a side, or until they begin to turn pink. Remove from heat and set aside.
Reduce the heat to medium (you may need to add some more oil) and add onion to the pan cooking for 2-3 minutes, or until they begin to turn translucent.
Add the egg right into the pan and using a spatula mix well, breaking the yolk and cooking through.
Then add the vegetables, and rice tossing well to mix and heat through.
Stir in the shrimp, and green onion to the pan and again mix well.
Serve immediately with an extra drizzle of soy sauce.